Costa Rica holds off Mexico in Olympic qualifying
Raquel Rodriguez had two goals and Costa Rica held off a late charge from Mexico for a 2-1 victory Monday to secure a spot in the semifinals at the CONCACAF women's Olympic qualifying tournament.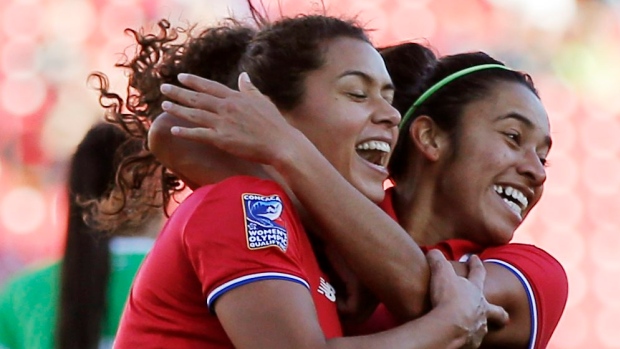 FRISCO, Texas - Mexico will miss its third straight Olympic women's soccer tournament.
Raquel Rodriguez scored goals and Costa Rica held off a late charge for a 2-1 victory Monday that secured a spot in the semifinals of CONCACAF Olympic qualifying.
Maribel Dominguez scored for Mexico, which is missing out on the semifinals for the first time in the history of the tournament for the North and Central America and Caribbean region.
After reaching the quarterfinals in Greece in 2004, Mexico has missed out on Olympic tournaments in China, England and Brazil.
Rodriquez, recently the second overall pick in the NWSL by Sky Blue, scored in the ninth minute to put Costa Rica ahead. A Hermann Trophy winner, Rodriguez was co-captain of the Penn State team that won the 2015 NCAA title.
She added her fifth goal of the tournament on a penalty kick in the 57th minute.
The United States also advanced to the semifinals from Group A. The winners of Friday's semifinals qualify for the Olympics.