Countdown to TradeCentre: A 'right' fit for the Leafs?
Follow the latest trade rumours and speculation leading up to Monday's trade deadline with TSN.ca's Countdown to TradeCentre. In today's roundup, options for the Toronto Maple Leafs to boost their blueline, the trade outlook in Columbus and who the Bruins are willing to part with this week.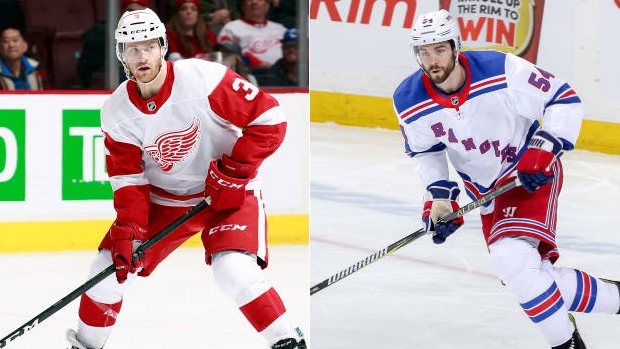 The National Hockey League's Trade Deadline is 3 p.m. ET on Monday and teams will be making decisions on whether to buy or sell and decide which players can make the biggest difference and hold the greatest value. Check out the latest trade rumours and speculation from around the NHL beat.
---

Right on Target?
The Toronto Maple Leafs bolstered their blueline last month, acquiring Jake Muzzin from the Los Angeles Kings for their 2019 first-round pick and two prospects. Muzzin, however, has been moved to the team's second pairing and Ron Hainsey has rejoined Morgan Rielly on the team's top unit. With the team still appearing to need a right-hand shot, TSN Hockey Insider Bob McKenzie speculated last week that Detroit Red Wings blueliner Nick Jensen may be of interest.
On Monday, McKenzie threw out another possible trade option for the Leafs in New York Rangers defenceman Adam McQuaid.
"I mentioned Jensen just in a hypothetical sense of the lower-case guy," McKenzie told TSN Radio 1050 Toronto. "I wonder if Adam McQuaid is another guy that would be like that with the New York Rangers. Real hard rock, more of a depth defenceman, more of a 5-6-7, but brings an element that the Leafs and other teams look for at the deadline. There's no question in my mind that the Rangers are going to trade him.
"The bar for them - they gave up Steve Kampfer and a fourth and a seventh to get him, but the Kampfer part of it was neither here nor there, that was just contract for a contract. I think the Rangers believe if they can get a fourth and a seventh for Adam McQuaid, or anything better than that, then they're going to trade him because he's on an expiring contract and they're a rebuilding hockey team.
"So there would be just a plug-in-the-gap dimensional defenceman who has got one dimension - that is toughness - for a low price. Now whether the Leafs are in on that or whatever - but those are the types of deals that might make more sense than trying to do a blockbuster or what have you."
McKenzie has previously stated that the Leafs are expected to trade even cap hits in any trades ahead of the deadline in order to keep space for the bonuses of Auston Matthews and Mitch Marner.
McQuaid, who has two goals and five points in 34 games with the Rangers this season, carries a $2.75 million cap hit in the final year of his current contract.

---

Staying and Going
With less than one week before the deadline, Aaron Portzline of The Athletic believes the chances Sergei Bobrovsky gets dealt are less than 50-50, while he thinks the team is more likely than not to trade Artemi Panarin.
The Blue Jackets have been linked to Ottawa Senators centre Matt Duchene ahead of the deadline and Portzline believes that if Columbus moves Panarin, the team will look to replace his production for their own playoff run.
As for Bobrovsky, Portzline notes the goalie market is "soft" with very few true contenders seeking goaltending help.
Panarin, who carries a $6 million cap hit, has 24 goals and 67 points in 56 games this season and is ranked No. 1 on the TSN Trade Bait Board.
Through 42 games this season, Bobrovsky has a save percentage of .904, his worst since the 2011-12 season when he was with the Philadelphia Flyers. The two-time Vezina winner has a 24-17-1 record on the season with a 2.88 goals-against average.

---

Pieces to Move?
The Boston Bruins have been rumoured to be seeking forward help throughout the season and TSN Hockey Insider Darren Dreger explained Monday the team may be willing to part with developing forwards to get it.
"When you look at Boston, they've got two or three very similar young forwards like (Danton) Heinen, (Anders) Bjork," Dreger said on TSN Radio 1050 Toronto. "There's three or four of them that they could part with. These are good players, players that you'd want to hold onto in a perfect world and watch them develop and grow.
"But the Bruins are in it to win it, no pun intended here. They feel like they're designed to contend for the Stanley Cup right now, and it's pretty obvious why when you look at some of their aging forwards like (David) Backes and (David) Krejci. (Patrice) Bergeron is just a marvel - this guy is a science experiment because he seemingly gets better every time he steps onto the ice. Tuukka Rask. Go down to all of the pieces that they feel are Stanley Cup-worthy.
"They just would like to add a little bit more and they're willing to part with the assets, be it draft picks or some of the young pieces that I've talked about."
The Bruins have won six straight games despite losing leading goal-scorer David Pastrnak to a broken thumb last week. Dreger said the team could pursue scoring help ahead of the deadline, pointing one of the Ottawa Senators' three pending UFAs as a potential target.
"Let's say Boston adds a piece," Dreger said. "I feel like we wanted to link Tyler Toffoli of the L.A. Kings to Boston relatively early in the search. So we're probably talking six weeks, eight weeks ago. I don't think that Toffoli is their main target anymore.
"I think like so many other teams are watching the Ottawa Senators. If someone like Ryan Dzingel popped into the market, depending on what's going to happen this week with Stone and Duchene, I think Boston would be all over that. So you add another piece like that - this young man is trending toward a 30-goal scorer this year.
"They're going to do something, and that's going to make them even tougher."

---