Countdown to TradeCentre: Senators picking up the phone?
Follow the latest trade rumours and speculation leading up to the Feb. 25 trade deadline with TSN.ca's Countdown to TradeCentre. Tuesday's roundup includes how many of their UFA forwards the Senators can expect to keep, the Golden Knights' deadline plans and how the Oilers can set up their next GM for a better future.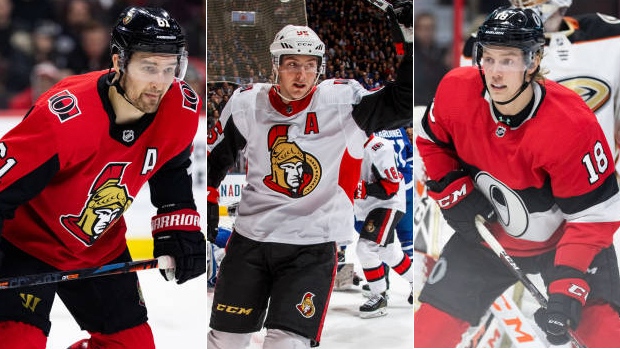 The National Hockey League's Trade Deadline is 3 p.m. ET on Monday, Feb. 25, and teams will be making decisions on whether to buy or sell and decide which players can make the biggest difference and hold the greatest value. Check out the latest trade rumours and speculation from around the NHL beat.
---

Picking Up The Phone?
TSN Hockey Insider Pierre LeBrun reported Monday that Matt Duchene's agent is expected to touch base with the Senators on Tuesday to further dialogue, while the team plans to take another run at signing Mark Stone in the coming days.
LeBrun noted that with no extensions in place, he expects the Senators' phone line to start lighting up with calls from interested teams.
TSN Hockey Insider Darren Dreger told TSN Radio Edmonton 1260 on Monday that the Senators could be without all three of their top pending UFAs - Stone, Duchene and Ryan Dzingel - by the end of the day of Feb. 25. He explained that while the Senators want to keep their top scoring forwards, the decision will boil down to the players.
"That's a great question if the players want that," said Dreger. "And I think you're right, I think Ottawa would love to have the ability to sign all three of those guys - Stone, Duchene, and Dzingel. It's unlikely. I don't see any way that they get all three signed, and I think that it's a bit of a longshot that they get two of the three. Some who I trust think that all three might be walking. We're going to find out sooner than later.
"It feels like something may go down this week. And that might be something as little - although it's significant - as one or both of the big boys in Stone and Duchene just coming clean and saying, 'Look, we're not signing here. We're going to go to the market or at least we're open to be traded. We understand the Ottawa Senators can't let us walk into unrestricted free agency, but we're just not signing here.'
"Now, whether that happens with both of those guys this week, one of those guys this week, we're going to have to wait and see. But when you're this close to the February 25 trade deadline and you're trying to maximize the return for two star players, then I feel like Pierre Dorion and the Ottawa Senators are going to need as much time as possible to try and manufacture the greatest return."
---

Standing Pat?
David Schoen of the Las Vegas Review Journal reports that Vegas Golden Knights general manager George McPhee has been "actively working the phone lines" to gauge the trade market and notes the Golden Knights have plenty of draft picks and cap space to use as fodder at the deadline.
McPhee, however, told the Review Journal that he may opt to stand pat at the deadline and trust in his current roster.
"There are years where you feel like you have to do something to help your team, and there are years you look at your team and say, 'It's a solid team and we like it as is.' And that's how we feel this year," McPhee said. "We're a pretty solid team, and we're not interested in taking anyone off of our team, off our roster. We'll be involved, and we'll see where it goes."
McPhee made a big splash at the deadline last year, acquiring Tomas Tatar from the Detroit Red Wings for a first, second, and third-round pick. The move failed to work out for the team as Tatar dressed in only eight of the team's playoff games, posting one goal and two points before being traded again to the Montreal Canadiens in September.
The team has $3.55 million in cap space and could free up to $8 million more by placing David Clarkson and Erik Haula on LTIR, but McPhee said the team isn't interested in doing so just for a rental player.
"We have cap space to do things, but the inclination is to not take on rentals," McPhee said.
The Golden Knights sit firmly in a playoff spot once again this year, with a nine-point lead for third in the Pacific Division.
---

In the Interim
The Edmonton Oilers appear set to have interim general manager Keith Gretzky handle their trade deadline, while head coach Ken Hitchcock is on an expiring deal with the club.
TSN Hockey Insider Bob McKenzie said the franchise should look to start a brighter future for the Oilers at the deadline, and not focus on the immediate needs of Hitchcock.
"They obviously brought (Hithcock) in and they value him, in terms of coming in to try to stop the bleeding," McKenzie explained on TSN Radio 1260 Edmonton. "But the bleeding hasn't necessarily stopped. I think he's viewed as a valuable resource, but you've also got to be careful.
"To your point, at some point here they're going to bring in a new boss. The new boss may have different ideas than anybody else. So you've got to be careful what you do between now and the new boss comes in.
"That said, when you bring a new boss in - a new general manager in - if the first thing you do is handcuff him with salary cap concerns, that's not so good.
"I think the best thing anybody could hope for here down the stretch is that the Oilers find a way to alleviate some of the cap crunch for next year. If there's a way to move some contracts, then do so. But I think you've also got be really, really careful in terms of what assets you give up and how significant your moves are in terms of the cost of doing business.
"Because somewhere down the line here, whether it's a month from now or three months from now, there's going to be a new general manager. He doesn't want to be saddled with a whole bunch of knee-jerk decisions between now and the trade deadline to satisfy some short-term situation.
"But I think the Oilers know that, from Bob Nicholson on down, that they've got be a little bit careful in terms of what they do, and judge each of those decisions accordingly."
Nicholson stated last month the team would not trade their first-round pick this season at the deadline and said they would not trade top prospects "unless we get some real good pieces back."
The Oilers sit six points back of the Minnesota Wild for the final wild-card spot in the Western Conference.

---

Sticking It Out
TSN Hockey Insider Pierre LeBrun said Monday that unless Jeff Skinner wants to leave the Buffalo Sabres, he will not be moved at the trade deadline.
"I mentioned this in my piece today, unless Jeff Skinner wants out of Buffalo - which we're getting the complete opposite indications, he seems to love playing there with Jack Eichel and is trying to sign an extension - he's got a full no-move," LeBrun told TSN Radio Winnipeg 1290.
"And I think a lot of people forgot about that because he got traded from Carolina to Buffalo, but I was made to understand yesterday by a source - and I had forgotten yesterday myself - that that no-move and no-trade actually carried over, it did not leave. So he's in full control of his destiny.
"Again, unless he comes out and says, 'I want out,' I don't think Jeff Skinner is part of the trade deadline coverage. So we can probably forget about that side of things, whether he signs or not."
Through 55 games, Skinner has 33 goals and 50 points and is on pace for career-best marks in both.
Skinner, a pending free agent, is listed at No. 50 on the TSN Trade Bait board.
The Sabres currently sit four points back of the Pittsburgh Penguins for the final wild-card spot in the Eastern Conference with one game in hand.