Countdown to TradeCentre: Could Capitals, Kings deal?
Follow the latest trade rumours and speculation leading up to Monday's trade deadline with TSN.ca's Countdown to TradeCentre. In today's roundup, potential suitors for Matt Duchene, the market for Devils winger Marcus Johansson and a target the Montreal Canadiens could circle back on.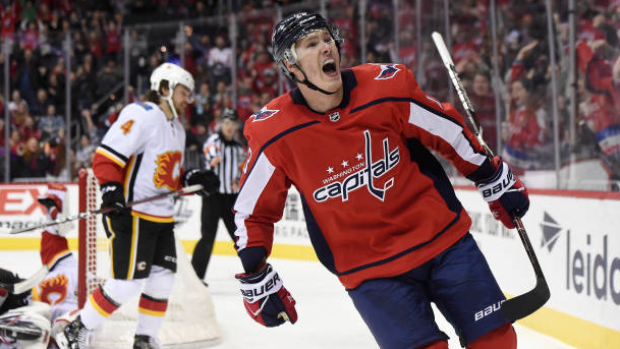 The National Hockey League's Trade Deadline is 3 p.m. ET on Monday and teams will be making decisions on whether to buy or sell and decide which players can make the biggest difference and hold the greatest value. Check out the latest trade rumours and speculation from around the NHL beat.
---

Change of Heart?
The Washington Capitals placed winger Devante Smith-Pelly on waivers Wednesday, catching members of the team's media by surprise.
A team spokesperson told multiple media members during the team's morning skate that forward Dmitrij Jaskin was absent because he would be placed on waivers. Smith-Pelly took part in practice, but was then pulled off the ice and waived at Noon et.
Head coach Todd Reirden said the team "changed their mind" on which forward to waive.
"There is lots going on right now," Reirden said. "We're always trying to improve our team and the direction we're going and get better. There are lots of moving parts right now in a number of different spots."
TSN Hockey Insider Bob McKenzie says that the waiver maneuver from Jaskin to Smith-Pelly makes it pretty clear that the Capitals have something in the works, though nothing can be done until the waiver is resolved on Thursday at noon. There is lots of speculation that the deal could be with the Los Angeles Kings and could be for a veteran depth forward. Possibilities include: Carl Hagelin, Trevor Lewis or Kyle Clifford.
Jaskin, claimed from the St. Louis Blues off waivers in October, has been a healthy scratch in each of the team's past three games. He has two goals and eight points in 36 games with the Capitals this season, while averaging 10:05 of ice time per game.
Both Jaskin and Smith-Pelly are pending unrestricted free agents with Jaskin signed at a $1.1 million cap hit and Smith-Pelly at $1 million.
---
On the Way Out
Matt Duchene has likely played his final game with the Ottawa Senators as TSN Hockey Insider Darren Dreger reported Tuesday that the team will hold him out of their games on Thursday and Friday to ensure he stays healthy ahead of the trade deadline.
According to Bruce Garrioch of Postmedia, about five teams have expressed interest in the 28-year-old, including the Columbus Blue Jackets, Nashville Predators and Winnipeg Jets.
TSN Hockey Insider Bob McKenzie also listed the Predators and Blue Jackets as teams who are interested in Duchene, but said the Jets may have a different target on the Senators.
"Well, they're talking obviously. On Matt Duchene, they've already decided that that's the road they're going down," McKenzie said on TSN Radio 1040 Vancouver on Tuesday. "So they'll have conversations about that, and there's lots of interest in Duchene - obviously Nashville, Columbus, probably the Islanders, a bunch of teams will be interested. There may or may not be Winnipeg there. I think Winnipeg is probably more interested in Mark Stone."
Duchene, who was acquired by the Senators in Nov. 2017 for a package that included the team's first-round pick this year, has 27 goals and 58 points through 50 games this season. He is listed at No. 2 on the TSN Trade Bait board.

---

No Discounts
TSN Hockey Insider Pierre LeBrun said Tuesday he believes the New Jersey Devils will trade winger Marcus Johansson before the trade deadline, but added they won't be giving the pending free agent away.
"A lot of traction, a lot of interest," LeBrun told TSN Radio 1040 Vancouver of Johansson. "Ray Shero is getting a ton of calls on him, I think in part because I think there are teams who wanted to get in on that because he's sort of on that secondary list.
"But the Devils really like him, and I think even if they dealt him - which seems likely because he's UFA - I think they have interest in talking to him again after the year. I think they really like the way that he's been an example for their young guys, like (Nico) Hischier.
"My understanding is Ray Shero is not just going to move Marcus Johansson because he's a pending UFA and that's what you've got to do at this time of year. Someone has to step up because they really like what he brings to that team, even if it's a lost season.
"I do think he ends up moving him, but I think it's important to note that this isn't like, 'Give me a fourth-round pick and he's yours.' I think teams are going to have to step up for this guy, who's finally healthy and looking like the 20-goal scorer he was when he was in Washington."
Johansson, 28, posted a goal and an assist in the Devils 4-3 loss to the Pittsburgh Penguins on Tuesday, bringing his season totals to 12 goals and 27 points in 48 games.
Johansson was limited to just 29 games in his first season with the team. He carries a $4.58 million cap hit this season and has a five-team no-trade list in his contract.

---

Staying Quiet?
Montreal Canadiens general manager Marc Bergevin stated last month that he would not pursue rentals at the deadline and so far he's only made fourth-line adjustments to his team, bringing in Dale Weise and Nate Thompson, who is a pending a free agent.
TSN Hockey Insider Darren Dreger said Tuesday he does not expect the Canadiens to make a major splash at the deadline, but said Bergevin could continue to tinker with his lineup.
Dreger told TSN Radio Montreal 690 things have been quiet on the trade front for the Canadiens, but wondered whether they could circle back on a former target - Washington Capitals winger Andre Burakovsky.
"If they do (something), I think it'd be lower-level," said Dreger. "I think that there's been a back and forth with the Washington Capitals, and I don't believe that there's been anything recent. But I know a while back there was some discussions on Andre Burakovsky with Montreal, and I think Bergevin instantly went exit stage left when the ask was for (Artturi) Lehkonen.
"But that would have been an interesting deal. I happen to like Burakovsky. I think he's a good player. He doesn't seem to be a good fit anymore in Washington with a new coach in Todd Reirden. But I feel like he's going to get traded, so maybe - just maybe - those two teams reconnect.
"But again, just to make sure everybody understands, I haven't heard anything recent. But that's how trades happen though, right? There's an initial engagement and then one side doesn't like the other in terms of the return or what you have to give up entirely, and so talks go cold. And then you creep closer to the deadline and there doesn't seem to be another fit for a player like Burakovsky, maybe then Brian MacLellan softens his ask and looks for somebody else with the Canadiens, and they get a deal done.
"So stuff like that happens."
Burakovsky has been a healthy scratch in three straight games and has been rumoured to be on the trade block throughout the season. He has seven goals and 17 points in 54 games this season with the Capitals and is listed at No. 28 on the TSN Trade Bait Board.