Craig Button's TSN Hockey Mock Draft: Post-Lottery Edition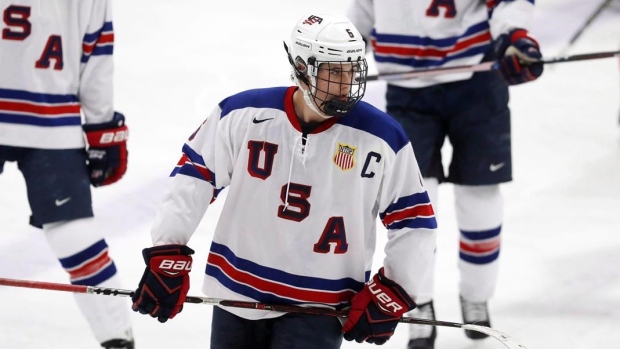 By Craig Button
For the second time in three years, the New Jersey Devils have the first-overall pick and for the second time in three years, general manager Ray Shero should take a centre.
After selecting Nico Hischier No. 1 in 2017, the Devils can get even stronger down the middle picking Jack Hughes from USA Hockey's National Team Development Program. Hughes remains the best player available this year, with a package of elite offensive skill, imagination and the will to compete every time he hits the ice.
The New York Rangers vaulted up to get the second-overall pick and should select Kaapo Kakko. The Finnish winger plays with skill, power and will and made a name for himself scoring the gold medal-winning goal for Finland at the 2019 World Juniors. Going from 12th to third-overall, the Chicago Blackhawks could take Vasili Podkolzin - a skilled, smart and driven winger with the ability to take his game to the next level.
At No. 8, the Edmonton Oilers go with centre Alex Turcotte - a highly-skilled, dog-on-a-bone type of player. The Vancouver Canucks at No. 10 should take defenceman Victor Soderstrom - a right-shooting Yin to the left-shooting Yang that's Quinn Hughes.
For Montreal, winger Raphael Lavoie is lighting it up in the QMJHL with Halifax. A big guy who can score goals for the Habs? That's not a bad fit.
The rest of the picks go as follows:
The Top 15

1. Jack Hughes
Centre | USA NTDP (USHL) | 5'10 | 168 lbs. | May 14, 2001
2018-19 Statistics

2. Kaapo Kakko
Centre/Right Wing | Turku (SM Liiga) | 6'2 | 194 lbs. | Feb. 13, 2001
2018-19 Statistics

3. Vasili Podkolzin
Right Wing | St. Petersburg (MHL) | 6'1 | 183 lbs. | Jun. 24, 2001
2018-19 Statistics

4. Dylan Cozens
Centre | Lethbridge (WHL) | 6'3 | 181 lbs. | Feb. 9, 2001
2018-19 Statistics

5. Kirby Dach
Centre/Right Wing | Saskatoon (WHL) | 6'4 | 199 lbs. | Jan. 21, 2001
2018-19 Statistics

6. Bowen Byram
Defence | Vancouver (WHL) | 6'1 | 194 lbs. | Jun. 13, 2001
2018-19 Statistics

7. Matthew Boldy
Left Wing | USA NTDP (WHL) | 6'2 | 187 lbs. | Apr. 5, 2001
2018-19 Statistics

8. Alex Turcotte
Centre | USA NTDP (WHL) | 5'11 | 189 lbs. | Feb. 26, 2001
2018-19 Statistics

9. Philip Broberg
Defence | AIK (SWE-Als) | 6'3 | 199 lbs. | Jun. 25, 2001
2018-19 Statistics

10. Victor Soderstrom
Defence | Brynas (SHL) | 5'11 | 179 lbs. | Feb. 26, 2001
2018-19 Statistics

11. Peyton Krebs
Centre | Kootenay (WHL) | 5'11 | 180 lbs. | Jan. 26, 2001
2018-19 Statistics
GP

64

G

19

PTS

68

+/-

-50

12. Trevor Zegras
Centre | USA NTDP (WHL) | 6'0 | 166 lbs. | Mar. 20, 2001
2018-19 Statistics

13. Spencer Knight
Goaltender | USA NTDP (USHL) | 6'3 | 193 lbs. | Apr. 19, 2001
2018-19 Statistics
GP

32

GAA

2.50

SV%

.906

SO

1

14. Thomas Harley
Defence | Mississauga (OHL) | 6'3 | 188 lbs. | Aug. 19, 2001
2018-19 Statistics
GP

68

G

11

PTS

58

+/-

-15

15. Raphael Lavoie
Left Wing/Right Wing | Halifax (QMJHL) | 6'4 | 191 lbs. | Sept. 25, 2000
2018-19 Statistics