Crease competition front and centre at Team Canada scrimmage
Carter Hart, Michael McNiven and Connor Ingram will all see action as Canada takes on a group of university all-stars on Monday night. TSN's Mark Masters has more from Team Canada's selection camp.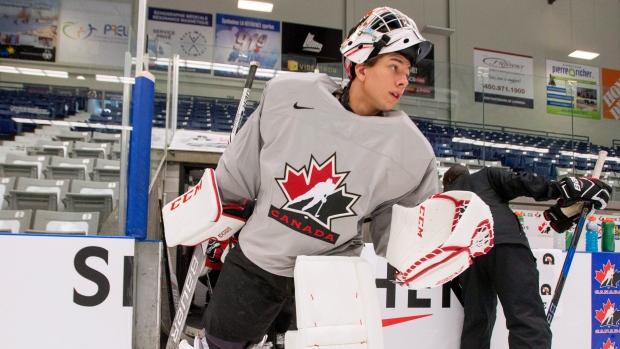 Canada's national junior team held a morning skate today in Boisbriand, Que., ahead of Monday night's scrimmage against a team of university all-stars. TSN Toronto reporter Mark Masters checks in with news and notes from training camp.
* The crease competition will be front and centre Monday night when Canada's world junior hopefuls take on a group of Canadian university all-stars in a scrimmage. Carter Hart and Michael McNiven will split time in Team Canada's crease while Connor Ingram will play for the university squad.
* Picked by the Flyers in the second round of last June's draft, Hart received some good advice from Philadelphia general manager Ron Hextall during his first NHL training camp. "One thing we really focused on in training camp was pushing the pace. He told me that it's not the same as juniors," said Hart, the reigning CHL goalie of the year. "You can't get away with the same stuff in juniors that you can in the NHL and I realized that on my first day when the first shot I got in training camp was Wayne Simmonds coming down the wing and ripping one over my ear. I was like, 'Whoa.' It went in and out just like that so I realized I had to pick up my game. I thought that really helped." Asked to describe his style of play, Hart notes that's not an easy question to answer these days. "I think we've gone away from either butterfly or stand-up goalies. I think there are a lot of hybrids out there now. Really, I just try to play my game and that's try to push the pace and hard, explosive movements in everything I do and really focusing on tracking the puck and being really efficient in my game."
* Hart works with a sports psychologist (Edmonton based John Stevenson), who helps him cope with pressure-packed situations like this selection camp. "I've been working with him since I was nine-years-old," Hart said. "He was my first goalie coach, actually. Then he switched over to the sports psychology field and I sort of followed him. He always makes himself available whenever I need to talk. We'll talk about hockey and sometimes we'll just talk about life, because he's a good friend also. He's just a great resource to have."
* Of the three goalies, McNiven may have the most to prove, because he wasn't invited to Canada's summer camp. "The pressure's on me and I love pressure. It's a big thing for me. I don't know if I feel the games are easier or I'm more confident, but when the pressure's on it's on, so I have a job to do here and it's got to be done." McNiven is used to the underdog role. He was passed over at the NHL draft, but still managed to earn a contract from the Montreal Canadiens. "I'm a very raw goaltender," said McNiven, who had never worked with a goalie coach until he started his OHL career. "Owen Sound was my first goalie coach ever so just working with him a couple times a week I'm more controlled and I'm not all over the place all the time."
* Ingram is your classic quirky goalie. He has a picture of Heath Ledger's Joker character from the Dark Knight movie on the back of his mask in Kamloops. "I just think it looks cool," he said. Here are just a few of the one-liners from the Tampa Bay prospect's media session: How does he deal with the mental side of the game? "Try not to cry, I guess," Ingram said with a smile. How will his lack of international experience impact his chances? "Maybe it's a good thing. Maybe I'm a little naive. I don't know what I'm getting myself into." If he makes Team Canada, Ingram said the experience would be so special that it "would rival having a child or something like that." Ingram isn't afraid to show his personality off the ice, but on the ice he tries to be fairly quiet. "My style is quiet and calm," he said. "Kind of laid-back almost. Try to be like a Martin Jones or a Braden Holtby."
* Right winger Taylor Raddysh will start Monday's scrimmage on a line with centre Dylan Strome, who he also plays with in Erie. "We want to put guys in position to feel comfortable and be able to show what they can do," said head coach Dominique Ducharme. "We want guys not thinking and just playing so we're going with that tonight." Raddysh leads the OHL in scoring this season with 61 points in 28 games.
* Sam Steel will also be getting a big opportunity slotting in as the left winger on a line with returning players Mathew Barzal and Julien Gauthier. "We want to put offensive guys in a position to display their skill," Ducharme said. Steel wasn't invited to Canada's summer camp, but the Regina Pat earned a ticket to the selection camp by putting up 48 points in 23 games in the WHL. "You got a little bit of everything on that line," said Steel. "Barzal is so smart. Gauthier is a big body who can skate fast. They are great players, who know what it takes to play at this level so I'll try to learn from them, but also contribute."
Team Canada's lines for Monday's scrimmage:
Dube-Strome-Raddysh
Steel-Barzal-Gauthier
Wagner-McLeod-Merkley
Howden-Stephens-Senyshyn
Chabot-Fabbro
Lauzon-Mete
Girard-Myers
Brisebois-Clague
Hart
McNiven
Ingram (plays for university team)
Scratches: Joseph, Cirelli, Speers (wrist), Dubois, Roy, Jost, Bean, Juulsen