Dave Naylor's Kickoff: Aging Als require full rebuild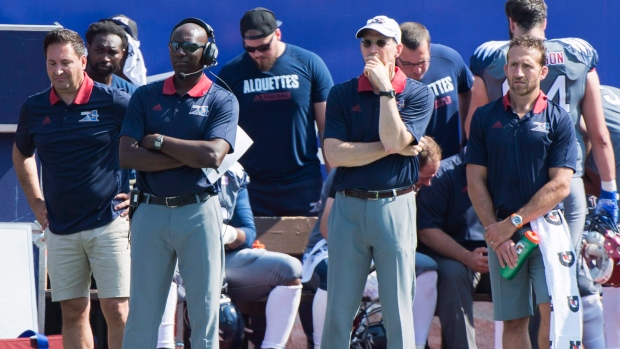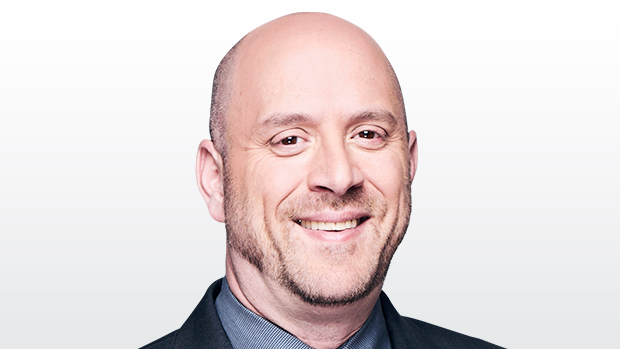 Football is a young man's game, but you wouldn't know it from looking at the Montreal Alouettes right now.
The Als are not only riding a five-game losing streak, during which they've been outscored 174-70 and recently fired their head coach in midseason for the fourth time in five seasons, they've also got the oldest roster in the CFL.
And it's not close.
Montreal has 21 players on its current 46-man roster age 30 or older, which is roughly double the CFL average. Five current Alouettes are at least 35.
So not only are the Alouettes in need of new head coach for next season, they're going to need a slew of new, younger players as well.
All of which presents an enormous challenge to rookie general manager (and now interim head coach) Kavis Reed, who took over last season after more than 20 years of stewardship from former GM Jim Popp.
Assembling such a veteran roster for this season was a curious approach for a new GM, coming off a season in which Montreal missed the playoffs for the second consecutive season – the first time that had occurred since the Als returned to the CFL in 1996. Hiring a new GM ordinarily buys time for a team to go younger, exercise patience, and put up with mistakes in the name of being better in the long term.
The Als seemed to go the opposite direction, chasing the playoffs with a veteran team and trying to bridge to the future on the fly. It hasn't worked.
Of course, trying to understand anything that happens in Montreal should always include the consideration of ownership, where Bob Wetenhall and son Andrew wield more influence on the operation of their team than anywhere else in the CFL.
Did the Wetenhalls tie the hands of their new general manager by insisting the Als be competitive this season? The fact Montreal fired Jacques Chapdelaine barely a week after Labour Day certainly suggests that patience remains at a premium for the Als.
Consider this quote from Reed in the Montreal Gazette back in May, on the eve of training camp: "I'm … realistic that this process has to be expedited to make certain we're successful right away," Reed said at the time.
With this season quickly looking like a lost cause, the biggest decision ownership needs to address is whether Reed, who had solely been a coach in the CFL before this season, is up to the task of hiring the team's next head coach and overhauling a roster that's become ancient by pro football standards.
What the Als need is a rebuild, one that will require some pain and a step or two backward before things get better. Getting ownership to accept that reality may be Reed's biggest challenge.
A breakdown of players age 30+ on current 46-man rosters:
Montreal - 21
B.C. - 12
Saskatchewan - 12
Winnipeg - 12
Edmonton - 11
Calgary - 11
Toronto - 10
Hamilton - 4
Ottawa - 3
Headshots
From an optics perspective, the timing couldn't have been worse.
The same week that the CFL and its players' association announced an end to in-season padded practices, Week 13 featured more than its share of vicious head-shots – many of which went unpenalized on the field.
The worst of those were delivered by B.C. linebacker Micah Awe whose headshot knocked Calgary running back Jerome Messam out of a game and might have done the same to Stamps returner Roy Finch.
Another non-call on Toronto's Matt Black on a third-down sack against Edmonton quarterback Mike Reilly should have given the Eskimos a first-down and a chance to tie the game. (The league apologized to the Eskimos for what it admitted was a missed call.)
Headshots happen quickly on the field and not always within the clear view of the officials. The question then becomes, should the league's command centre be able to pick out such plays and inform the officials, resulting in penalties and, theoretically, a safer game?
That's a debate for the off-season, but for now the league is hesitant to go down the road to having the command centre officiate part of the game, even in an area with such direct ties to health and safety.
For now, the league will rely on continuing to coach up its officials and lean on the players' association to communicate to its membership the responsibility and importance of safe tackling.
Manziel may change CFL policy on players with checkered backgrounds
The CFLPA had no objection to the league indefinitely extending the 10-day window for Hamilton to decide whether it will offer a contract to Johnny Manziel or trade his rights to a team that will do so.
The CFL is putting Manziel through an examination to determine his readiness to return to pro football. But because the 10-day window is included in the CFL bylaws but is not part of the league's collective bargaining agreement with its players, the union had no ability to prevent the league arbitrarily extending it indefinitely.
The Manziel situation highlights the league's need to establish standard policies and procedures for any player entering the league with legal or behavioural issues in their background. Right now, it appears that the league's scrutiny is at least partly based on the profile of the player involved, which is why Manziel is being put under the league microscope.
But had Manziel had been a Division II quarterback and not the former Heisman Trophy winner and first-round NFL draft pick, would the league be putting him through a domestic violence assessment and interview with the commissioner? It's a fair question.
The league needs to determine what resources it can devote to assessing players with checkered backgrounds. It also needs to determine where it should draw the line on which players are going to be subject to scrutiny before being allowed to play in the CFL.
Manziel may or may not have a long career in the CFL, but he might have already set in motion changes in how the league approaches players who come with both a high risk and reward.
Roughriders reload
Aside from the off-season, September tends to be the most important roster-building month for CFL teams.
The start of the NFL season means many players who've been holding-out for a shot in that league will turn their attention north. That's especially true for the many ex-CFL players who've been auditioning for NFL teams over the summer.
No team has been more aggressive in that regard than the Saskatchewan Roughriders who so far this month have added:
- LB Jeff Knox, recent cut of Tampa Bay, who was Roughriders outstanding player in 2015.
- WR/KR Marcus Thigpen, former Ticat and veteran of several NFL seasons.
- Otha Foster, recent cut of Baltimore Ravens, who was Roughriders outstanding defensive player in 2016.
- LB Marc-Olivier Brouillette, seven-year CFL vet who retired before training camp after signing with Saskatchewan as free agent.
- CB Elie Bouka, 2016 draft pick who spent last season on injured with Arizona Cardinals.
That's a lot of talent and experience added to a team already on the rise.
In-season coaching changes
For those who like to note the differences between the NFL and CFL brands of football, here's a new one: CFL teams have a much, much greater tendency to replace a coach during a season than teams in the NFL.
Since 2000, the 32 NFL teams have collectively replaced a coach midseason in 29 instances. The nine-team CFL has experienced 18 midseason coaching changes over the same span, which means teams north of the border are making midseason changes at nearly twice the pace of teams in the NFL, led by the Montreal Alouettes, who have changed coaches in the middle of a season six times since 2000.
In fact, every team in the CFL has changed coaches in the middle of a season at least twice since 2000 besides Ottawa (which did not have team from 2006-2013), Edmonton and Calgary.
The trend has continued through this season with Hamilton and Montreal both changing coaches.
A couple of theories jump to mind for why this tendency is so much stronger in Canada. In the CFL, where six of nine teams reach the playoffs each season, teams are tempted to change head coaches in order to try and save a season by squeaking into the playoffs. When a team is a mess during the first half of the season, there is still the sense that all is not lost so a new head coach is brought it to try and resurrect playoff chances.
In the NFL, where 12 of 32 teams reach the playoffs, changing head coaches in midseason is usually an exercise in futility. Hence the fact that no NFL team in the past 40 years has fired its head coach midway through the season and made the playoffs.
The other theory has to do with the influence of the game of hockey in Canada. In all levels of competitive hockey, firing a head coach in the middle of the season is hardly unusual. In fact, there have been several instances of teams changing head coaches and going on to win the Stanley Cup. A hockey mentality to all things in this country may be partly responsible for the midseason attrition rate of head CFL head coaches.
The curious case of Darian Durant
Quarterbacks have good days and bad, but several CFL execs said they could not recall seeing a player looking as off his game as Als pivot Darian Durant did last week against Ottawa. Durant failed to complete his first six passes before being pulled.
Durant is apparently not injured. But many around the CFL said they'd never seen a quarterback struggle in such an extreme manner, especially a veteran. And while Kavis Reed attributed his struggles to poor footwork and fundamentals, he added during the week that Durant was putting pressure on himself to do too much.
All eyes will be on how he looks in the early going against Toronto Saturday night.
Bridge makes ratio plea
Saskatchewan quarterback Brandon Bridge made an impassioned plea during his post-game interview Friday night, just moments after he'd led his team to a win over Hamilton to become the first Canadian quarterback to start and win a CFL game since 1985.
Bridge highlighted the fact that the Roughriders were not allowed to count him as one of seven Canadians they're required to play throughout the game. The issue of counting a backup Canadian quarterback against the ratio is loaded with potential problems, since coaches could dress a Canadian quarterback to gain an advantage without actually putting him into the game.
But when a Canadian is actually under centre during the game, the league has to find a way to make it count. ​