De Bruyne: I only spoke to Mourinho twice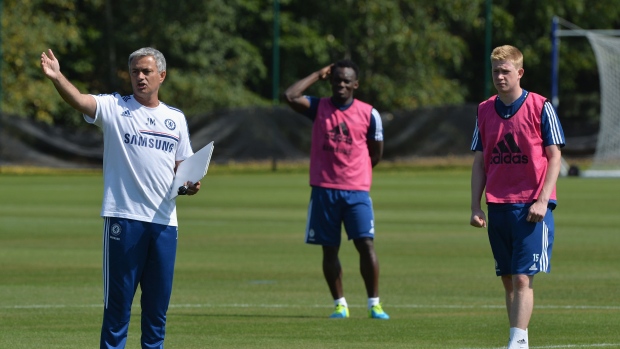 Manchester City midfielder says that he barely spoke to boss Jose Mourinho during his brief spell at Chelsea.
"There was so much in the press about my relationship with Jose Mourinho," the 27-year-old Belgium international wrote in The Players' Tribune. "But the truth is that I only ever spoke to him twice. The plan was always for me to go on loan for a bit."
Bought from Genk in 2012, De Bruyne would go on to make just nines appearances for the Blues over two years and spent a full season on loan at Werder Bremen. He was sold to Wolfsburg prior to the 2013-14 season.
De Bruyne recalled a strange meeting with Mourinho in his office.
"Jose called me into his office in December, and it was probably the second big life-changing moment for me," De Bruyne wrote. "He had some papers in front of him, and he said, 'One assist. Zero goals. Ten recoveries.'"
Capped 68 times by the Red Devils, De Bruyne said he was taken aback by what was happening in the manager's office.
"It took me a minute to understand what he was doing," De Bruyne wrote. "Then he started reading the stats of the other attacking forwards - Willian, Oscar, [Juan] Mata, [Andre] Schürrle. And it's like - five goals, 10 assists, whatever."
De Bruyne said he attempted to defend himself, but the encounter soured him on the club.
"Jose was just kind of waiting for me to say something, and finally I said, 'But… some of these guys have played 15, 20 games. I've only played three. So it's going to be different, no?'" De Bruyne wrote. It was so strange. I was completely honest. I said, 'I feel like the club doesn't really want me here. I want to play football. I'd rather you sell me.'"
That January, he was sold to Wolfsburg for £18 million.
DeBruyne went on to become City's then-record signing in 2015, returning to the Premier League for £55 million.