DeBrincat proving doubters wrong by continuing to score without McDavid
Alex DeBrincat is stepping out of the shadow of Connor McDavid.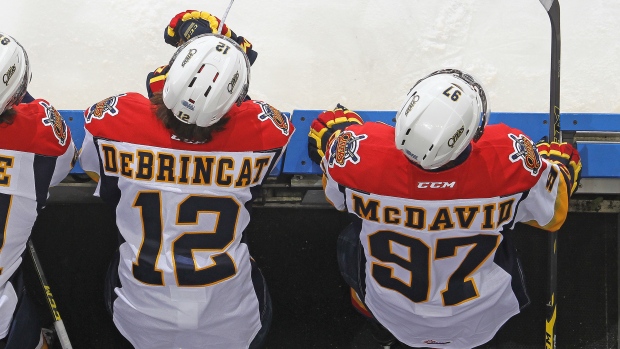 Alex DeBrincat is stepping out of the shadow of Connor McDavid.
The five-foot-seven, 165-pound Erie Otters left-winger is proving he can be a dominant scorer without his former star centre. He's leading the Ontario Hockey League in scoring with 27 goals and 40 points in 19 games and is on pace to score 97 goals, which would shatter the league record of 87 set by Ernie Godden of the Windsor Spitfires in 1980-81.
DeBrincat scored 51 goals and 104 points in 68 games as a 16-year-old last season while riding shotgun for McDavid, who joined the Edmonton Oilers this season after being selected with the No. 1 pick in the 2015 NHL draft. Some felt his superstar linemate was the reason DeBrincat was named last season's OHL rookie of the year.
"I heard that a lot and I just blocked it out," the Detroit native said. "Obviously it's not that easy to get points in this league and it's a little bit easier when you are playing with a guy like that, but I think it's tough to say one guy can make another guy's career."
The biggest obstacle to DeBrincat following McDavid's path to the NHL is his size. When draft guru Bob McKenzie of TSN released his prospect rankings for the 2016 NHL draft in September, DeBrincat was neither a part of his 15 top-ranked players nor his six honourable mentions. Sportsnet also did a pre-season ranking of its top 30 prospects and had DeBrincat ranked 20th.
DeBrincat said he is not dwelling on the draft at this stage of the season.
"I try not to think about it too much," DeBrincat said. "Once you start to think about it you start playing a different game than what you normally play. I try to zone it out as much as possible. I just worry about my game and how I am playing."
Hockey was once a big man's game, but the sport has evolved so that smaller players such as DeBrincat can excel. Martin St. Louis, who retired following last season, is a strong candidate to be elected to the Hockey Hall of Fame despite being just five-foot-eight and 180 pounds and never having been drafted. Johnny Gaudreau of the Calgary Flames is among the NHL's leading scorers at 5-9 and 157 pounds.
DeBrincat looks at the success small NHL players are enjoying and believes he can follow the same path.
"It actually motivates me a little bit," DeBrincat said. "It is awesome to see guys my height, maybe a little bit bigger, doing great things in the NHL. Tyler Johnson (5-8, 185 pounds) of the Tampa Bay Lightning was a huge part of his team making the Stanley Cup final and that really encourages me to see smaller guys have that kind of success. It helps me believe I can do it too."
Erie coach Kris Knoblauch said DeBrincat has proven himself worthy of top-line duty.
"He is a pretty good player no matter who he was playing with," Knoblauch said. "This year he has benefited from playing with Dylan Strome, who is another really good player, but in the first four or five games of the season when Strome was still with the Arizona Coyotes, Alex was leading the league in scoring and he was doing it with two second-year, 17-year-old players. He has played with good players, but I believe he is starting to get the recognition he deserves."