Destined for Greatness: Growing up on the court with Milos Raonic
When TSN's Mia Gordon was eight-years old, she met a skinny seven-year old from Thornhill who would become her junior playing partner for years. Even back then, she knew that Milos Raonic was destined for bigger and better things.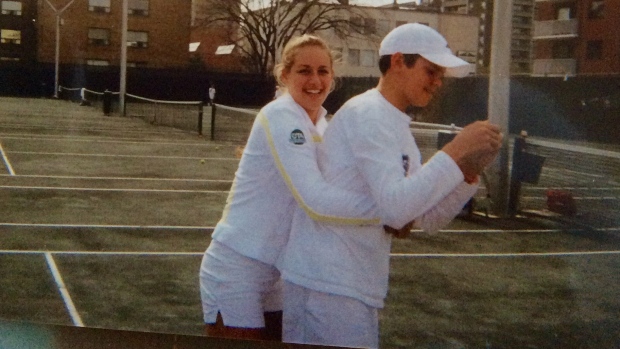 My parents were members at country clubs when I was growing up, more so for the social scene and swimming pool than the athletic offerings. One day at the Valleywood Tennis Club in Thornhill, Ont., I got bored of lying by the pool and made my way to the tennis courts, where I saw a girl a few years older than me taking a lesson.
I couldn't take my eyes off of her. She was hitting the ball with such power, but yet was so graceful in her tennis outfit. I was mesmerized. It looked like way more fun than lounging poolside. I ran to find my dad to tell him that I wanted to play tennis.
I picked up a racket for the first time at the age of seven and had my first lesson at eight. My height and power made me stand out at an early age. At eight I was winning tournaments in the under 10 and 12 categories against girls as much as four years older than me. One of the top coaches at Valleywood, Casey Curtis, took notice in my game and said he was willing to train me if I was willing to work hard.
Curtis eventually moved his program to Blackmore Tennis Club and German Mills Tennis Club in a neighbourhood in the north end of Toronto. There was a small group of us, but almost immediately I connected with the other youngest member of our group, a seven-year-old named Milos Raonic.
When I first met Milos he was a little over four feet tall and couldn't have weighed 100 pounds. He had a thick accent and a tennis bag that was bigger than his body.
Every day his dad, Dusan, would drop us off at the tennis courts at 5 a.m. We would train for a few hours before my mom would pick us up and take us to school. After the final bell rang it was right back to the courts for the afternoon session. Tennis was life.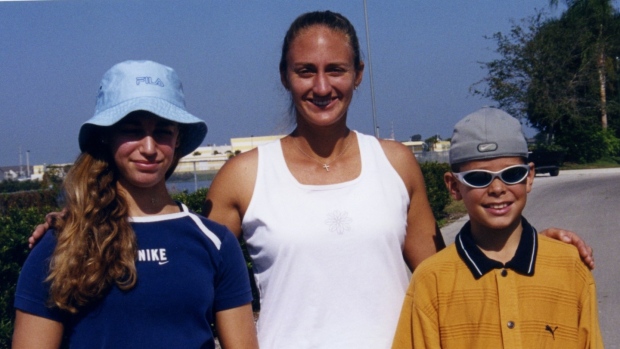 Summers were the best, with no classes to get in the way of our training. We would be at the tennis courts from 8 a.m. until 8 p.m., working on everything from our serves and returns to ground strokes and footwork (Milos's least favourite part of the day).
Whenever it came time to work on fitness, you could almost guarantee Milos would have an ache here or a pain there, a sore foot or an upset tummy. He hated running and sprints, but his raw talent would make up for that later in life.
Milos could pick up any technical instruction in a second. He was able to change his serve motion in the snap of a finger to get more power, or alter his backhand swing to get more topspin and consistency.
During the summer months we would always be looking for ways to amuse ourselves during breaks. I will never forget the time Milos got the entire group banned from a nearby Sears. He was egged on my some of the older guys in the group to jump from bed to bed inside the store. The manager was not impressed, to say the least.
Then there were our epic hide-and-go-seek competitions. Milos has always been extremely competitive, on and off the court. One time he decided to climb to the very top of a tree to hide. He won the game, but also needed some help to get back down.
It was always evident how much Milos loved tennis. He broke his foot when he was 12, but that didn't stop him. He would still come to the court every day and sit in a chair to hit volleys or practise his forehand motion on the net. No wonder he has been attacking the net in recent tournaments.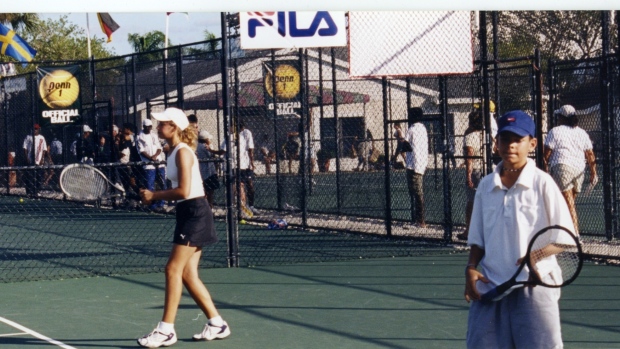 Another reason he has no fear coming to the net could be because of my favourite drill, which I liked to call "Hit the ball as hard as possible at Milos." He would basically stand at the net, and the rest of us would hit bullets right at his body to help him work on his reaction time. I like to think I had a big forehand that prepared him for the likes of Novak Djokovic and Roger Federer.
Milos loved to win and hated to lose. I will always remember our first trip down to Florida with Coach Curtis. We played mixed doubles together in the under 12 Eddie Herr tournament. We won our first-round match but lost in the following round to a team from Great Britain. Milos was not happy. I don't know if he said a word to me for the rest of the day. His competitive fire burned that intensely.
I was always a little jealous that because his family was from Montenegro he spoke Serbian. Whenever he got mad he would yell out in Serbian. No umpire could understand him, so he never got penalized. I unsuccessfully tried to get him to teach me a few words.
Because of our closeness in age and dedication to tennis, Milos and I spent a lot of time together. Not only did we train together every day, but we also ended up attending the same high school. I'm pretty sure Milos was my first passenger when I finally got my licence and wanted to drive us to Thornhill Secondary School. It was my way of toughening him up.
He would come over to our house a lot for dinners. His favourite food was my mom's artichoke and lemon butter sauce. Maybe that was the key ingredient to his growth spurt. He would eat three of them in a sitting.
Growing up, Milos always seemed to be on the verge of breaking through. He would have close three-set matches with the top players in Canada, but as a junior he just wasn't able to get that big win under his belt. He never gave up. He would wake up earlier to work on his serve, hitting basket after basket of balls. He would stay late hitting with a ball machine.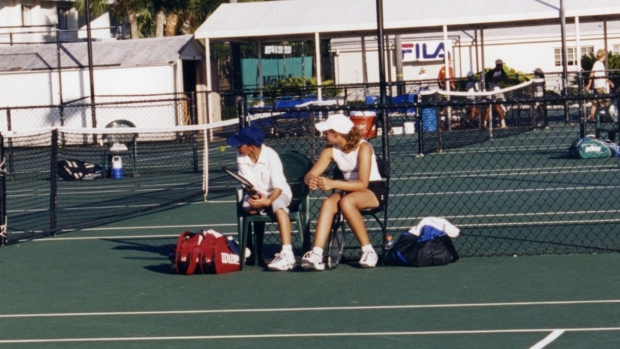 At 16, I finished top eight at the Canadian Nationals in singles and made the finals of the doubles. I really wanted to follow my dream of playing professionally, so I decided to move to Florida to train at the Chris Evert Tennis Academy. I lost touch with my friend and favourite mixed doubles partner.
For a few years I tried to climb the international rankings both on the junior circuit and on the WTA Tour. I would travel to different countries every week playing in either top junior tournaments or $10,000 challenger events, trying to get my ranking high enough to get chances to play in bigger tournaments.
It wasn't an easy life. I was finishing high school online while training eight hours a day. There was no time for anything but tennis, fitness, and classes. Then every weekend I was on the road, sleeping in a different hotel, eating at a different restaurant, trying to communicate in a different language. You are truly on your own.
My communication with my parents and friends was limited to Skype calls. My high school graduation, held at a conference centre in Florida, consisted of 10 people I had never met. I finally decided trying to make it as a pro was not my cup of tea. I took a full scholarship to the University of Louisiana and played Division I tennis.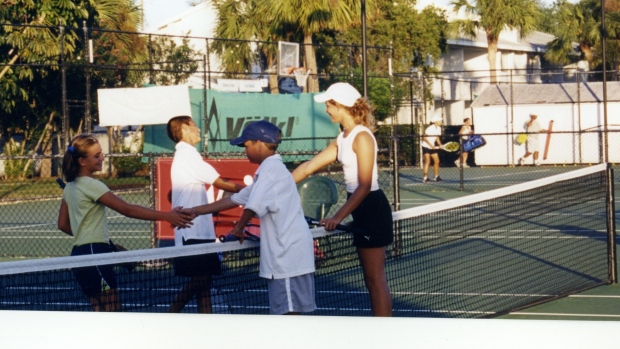 When I was home after my freshman year, I remember my mom being on the phone with Milos's mom, Vesna. She was concerned because Milos was offered a full scholarship to a school in Virginia, but he was considering going pro. I told my mom that Milos should take the scholarship; he is really smart and tennis isn't guaranteed to be a career. I knew firsthand how hard and lonely it could be. My mom said he needed to follow his dream.
She was right. Just look at Milos now. He's ranked in the top 10 in the world, using his big serve and forehand to compete on the biggest stages in tennis against guys like Rafael Nadal, Andy Murray, Federer and Djokovic.
He gave us some tickets to the 2013 U.S. Open to thank my mom for the morning drives to and from the tennis courts in the early days. We got to cheer him on from his box in his first-round match against Italy's Thomas Fabbiano. It was amazing to see my friend living his dream.
The world now sees Milos as an elite tennis player, one who has a real shot at winning Grand Slams and making it to the top of the rankings. To me he will forever be the kid I loved to play hide-and-seek with, waiting for our parents to pick us up from another day spent together at the tennis courts.