Djokovic, Nadal, Federer drawn in the same quarter at Indian Wells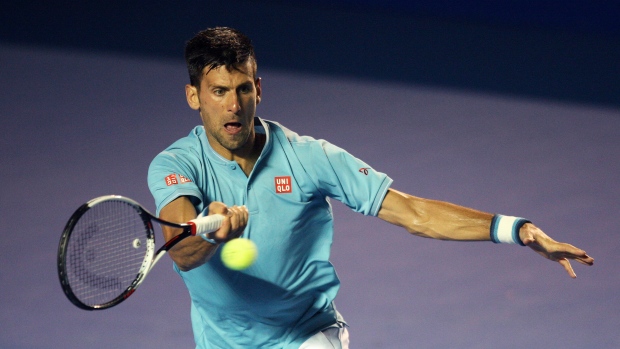 INDIAN WELLS, Calif. — You may have heard the words "Group of Death" when it comes to soccer's World Cup or any other multi-stage tournament in professional sports. The Group of Death is usually named as such because of the number of strong competitors in the group. Well, that is exactly what transpired after the ATP Men's draw was completed on Tuesday at the BNP Paribas Open in Indian Wells, Calif. The first Masters 1000 Series event of 2017 could turn out to be very entertaining, especially if you have a look at the bottom quarter of the draw.
World No. 2 Novak Djokovic, 2017 Australian Open champion Roger Federer, three-time Indian Wells champion Rafael Nadal, defending Olympic silver medalist Juan Martin del Potro and young stars Nick Kyrgios and Alexander Zverev are all in the bottom quarter of the draw.
To have this many big names in one quarter of a 96-man field is unusual. Not only are the names selected at random through a draw (similar to a lottery) but with Djokovic no longer the top player in the world, Federer the ninth seed, Nadal the World No. 6 and Del Potro still looking to bolster his ranking after being out of tennis for much of last year, this quarter was able to come about.
After their epic five-set final at the Australian Open in January, many thought it could be the last time Nadal and Federer would do battle in a competitive match again. Yet, less than two months later, we could very well be treated to another match between these great competitors and good friends. However, this time it would be in the fourth round here in the desert.
Djokovic's road to the semi-finals appears to be the toughest amongst the top 10 players in the game. His second-round opponent is likely to be Great Britain's Kyle Edmund. If he can get through that match he will likely face Del Potro in the third round. If he can get past the tough Argentine, Djokovic, who has won the Indian Wells title more than any other men's player in the tournament history (five times), would then likely see Kyrgios in the round of 16.
Kyrgios defeated Djokovic in the quarter-finals in Acapulco last week. If he were to win that match, Djokovic would then likely face Nadal or Federer in the quarter-finals. Perhaps getting word of his tough road ahead, Djokovic had a long hitting session Tuesday evening on the main Stadium Court with David Goffin.
World No. 1 Andy Murray doesn't have any real threats until the quarter-finals when he could face the red hot Jo-Wilfried Tsonga. Tsonga has already won two titles this year (Rotterdam & Marseille). Third seed Stan Wawrinka, coming off a disappointing early round loss in Dubai, wouldn't see a Top 10 opponent until the quarter-finals. Dominic Thiem or Gael Monfils would be his opponent in the final eight.
Fourth seed Kei Nishikori and No. 6 Marin Cilic could be on a collision course in their quarter of the draw. But Grigor Dimitrov and Sam Querrey likely have other ideas. Dimitrov is playing some of the best tennis of his career while Querrey jumped 14 spots in the world rankings after beating Thiem, Kyrgios and Nadal last week to win the Acapulco title.
One player missing from the tournament is Canadian Milos Raonic. The World No. 4 withdrew from the event on Monday after not fully recovering from his latest injury, a torn hamstring. The 26-year-old, who has battled multiple injuries during his career, reached the Indian Wells Final a year ago, but lost to Djokovic.
Temperatures are expected to be in the mid-30s C throughout the tournament, so it should be an eventful 11 days of men's tennis in California.