Drogba off to London for treatment, will miss game vs Orlando
Montreal star forward Didier Drogba will miss the Impact's visit to Orlando City on Saturday with a hip flexor injury. Coach Mauro Biello said Tuesday that Drogba will go home to London to see his family and have further tests and treatment.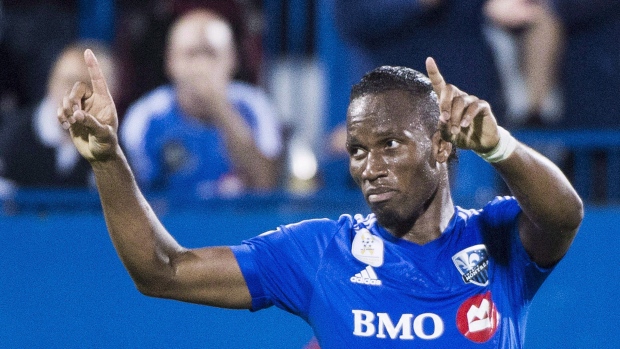 MONTREAL — While Montreal Impact striker Didier Drogba takes a break to heal a hip flexor injury, his likely replacement — Dominic Oduro — dreams of the scoring chances he hopes will come.
Drogba will be in London visiting his family and getting treatment when the Impact (4-3-4) visit Orlando City on Saturday looking to end a five-game winless run.
"We all know Didier's hurt," Oduro said Tuesday. "We're going to a hostile place, but we also know (Orlando) will want to come forward and put pressure on us.
"But guess what happens when they do that? There's space in behind."
That's where the player called Freaky Fast excels: getting to balls chipped behind the defence and going for the goal.
It worked for the Impact early in the season when Drogba sat out four of the first five games because they were played on artificial turf, as Oduro and midfielder Ignacio Piatti led the attack. Even without the injury, Drogba was unlikely to play at Orlando's Citrus Bowl because it has a synthetic surface.
Training this week has been about getting back to the patient, ball-control game they had success with early on. It has nothing to do with Drogba's absence, although they are an alarming 1-2-4 when he has played despite his four goals and three assists. It has to do with the doldrums they have been caught in since their 2-0 loss at home to Toronto FC on April 23.
Since then, they have bagged two draws on the road with last-minute equalizers and blown leads twice in a pair of ties at home, including last Saturday's 1-1 result against the Philadelphia Union.
"If (Drogba) is in the lineup, he has tendencies we need to exploit and when there are other players in the lineup, the way we play changes," said coach Mauro Biello. "If you have Oduro up top, who can get in behind, it's different from Didier, who is better back to goal and holding up play and being more physical.
"But the principles are the same."
Biello showed his players video of the system implemented in the pre-season and then held a longer than usual practice to work on getting them back on the program.
"I want (to) bring back clarity," he said.
Drogba, who was injured in the second half against the Union, is to rejoin the squad next week. The injury does not seem to be too serious.
"He's played a lot of games recently," said Biello. "It was a tough game, with rainy conditions.
"He felt a little something and felt that, if he pushed it even more, it could have got worse."
The Impact, who are 2-2-2 on the road this season, hope to still be in first place in the MLS Eastern Conference by then.
They have already been caught by New York City FC, who shares top spot with the Impact with 16 points. There are four other teams within three points of the top.
"We have to start with a W," said Oduro. "Once we get into gear, things will start moving.
"Right now it's not good enough. You (reporters) know it, we know it. We have to man up and get a win and a bit of separation because things are getting crowded in the table and we don't want to leave it too late. We're not winning, we're not losing, but we have to stop crawling."
The Impact learned that midfielder Johan Venegas was named to Costa Rica's squad for the Copa America. He will join his national team after the game in Orlando.