Ducharme pleased with Canada win over Sweden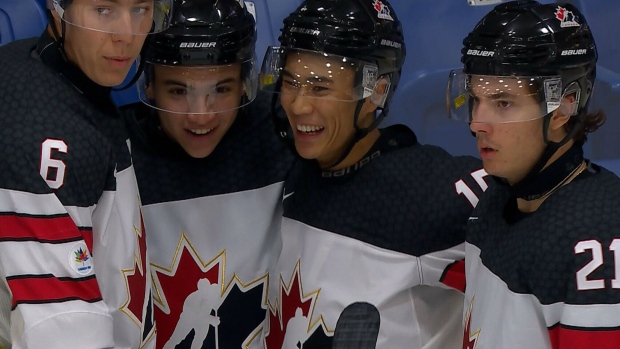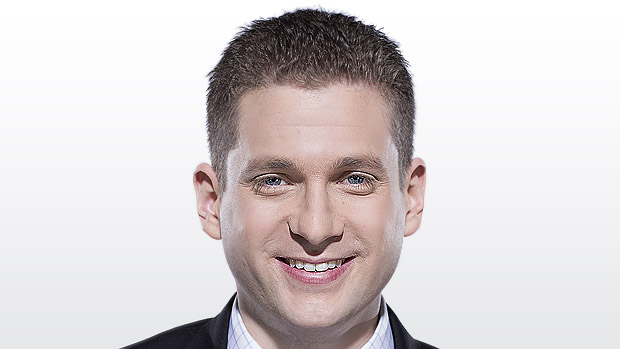 PLYMOUTH, Mich. – Team Canada beat Team Sweden 7-4 on Friday at the World Junior Summer Showcase. The lines are listed below.
"For a summer game it was a really good game," said Canadian head coach Dominique Ducharme. "The pace of the game for 60 minutes was really high, the intensity. I thought we were executing much better. We can see the guys are slowly getting their feel. We were pretty happy. It was not perfect, but I like the engagement of our team."
Jordan Kyrou scored twice to lead the way for Canada. The Blues prospect has been one of the standouts at the camp and a lot of that has to do with his improved physical condition. The Toronto native has gained 11 pounds this summer, and weighs in at 186 right now.
"On the ice I feel like guys aren't knocking me off the puck as easily and I feel like I can body them off the puck a bit more," he noted.
The path to weight/muscle gain was simple: eat more and work out hard. And his mom was more than happy to help out. "My mom cooks me food all the time and it's Greek food so it tastes really good too," Kyrou said with a smile. His favourite dish? "Chicken souvlaki on a pita with Tzatziki sauce, for sure."
Whatever the recipe for his success, the Canadian staff is taking note.
"Really good habits," said Ducharme when asked to assess Kyrou. "He's doing little things, provokes turnovers and he has the speed and the skill to make the most out of them. We like what we see right now. For sure, he's a player we'll be following and keeping an eye on."
Most of the players who suited up for Canada on Friday won't play Saturday against the Americans. Owen Tippett, who left Tuesday's scrimmage against Team USA after taking a big hit, and Michael Rasmussen, who only recently returned from a fractured wrist, will sit out the camp finale.
Team Canada's lines on Friday:
Smith-Steel-Kyrou
Kaspick-Thomas-Lind
Shaw-Ang-Phillips
Katchouk-Glass-Bitten
Suzuki
Stanley-Makar
Mete-Foote
Mahura-Timmins
Chollowski
DiPietro
Hart

TIPPETT AIMS TO IMPROVE 'SELF-TAUGHT' SHOT
Tippett is among the best pure goal scorers in junior hockey right now thanks to his incredible shot. But the Florida Panthers prospect isn't satisfied despite having his shot compared by some to the likes of Alexander Ovechkin, Phil Kessel and Steven Stamkos.
"Accuracy is my next thing," Tippett explained. "I feel like I have that quick release and that power behind it, it's just more kind of getting it to where I want it to be."
How do you get more accurate?
"You can sit there in front of the net by yourself and practice it, but a game and practice are entirely different," Tippett said. "So, I focus in practice when I'm coming down on a goalie seeing what's open and where I can put it."
Tippett scored 40 goals in 60 games with the Mississauga Steelheads last season. His incredible shot is the byproduct of hard work and natural talent.
"When I was a younger kind of in the driveway, it was just shooting pucks here and there and when I had extra time before or after practice," he said. "It was something I worked on and it came naturally. It was self-taught. I never really went to any coaches or anything to practice it."
Tippett was disappointed to miss out on the bulk of the game action at the camp, but he was able to practice with teammates on Friday morning.
"I'm feeling good," he said. "Almost no pain at all. It's more just taking my time getting back into it more than anything."
The Canada-USA rivalry is intense, but Tippett doesn't think the hit by Grant Mismash that knocked him out of Tuesday's scrimmage was dirty. "I just got caught in a bad spot," he said. "I remember wrapping the puck around and when you're in that situation you kind of lean toward the ice more and I looked up and he was right there so I couldn't protect myself."

RASMUSSEN MAKING MOST OF LATE INVITE
When the initial list of Canadian players invited to the Summer Showcase was released, Rasmussen wasn't on it. The Red Wings prospect sustained a fractured wrist in February and had been working hard to put himself in a position to have success if he got a late call. Sure enough, a couple other Canadian prospects sustained injuries and the door opened.
"It was a surprise," he said about getting called only a couple days before the start of the camp. "I thought I may get in if there was an injury so I was ready and training for it. I had to stay on my toes."
But while Rasmussen is in Plymouth the Canadian staff is being very careful with him and he only played in Tuesday's scrimmage.
"Watching is (tough) for sure, but I'm going to take it and learn from the other guys and just take it as a positive," he said. "I'm just happy to be here. Being out for about six months, it's tough getting back into game action, but it's about 100 per cent now and we're happy with it, just taking it step by step."
What's the toughest part of coming back from an injury like this?
"Just range of motion," said the Surrey, B.C. native who was picked ninth overall in June's draft. "Being in a cast and being straight like that for a lot of months is tough, but you do physio and stuff like that."
Rasmussen feels like now he's got a foot in the door with the Canadian staff and a chance to make an impression early in the new season. What do the World Juniors mean to him?
"It's pretty indescribable," he said. "As a kid you watch it and you get chills. I want to be here and help the team win and I want to show them I can do that."

LAMORIELLO ON STATE OF LEAFS PROSPECTS
The Maple Leafs' front office was out in full force at Friday's game to watch first round pick Timothy Liljegren, among others. The smooth-skating Swede opened the scoring against Canada, but wasn't thrilled with his overall performance.
"I think it was up and down," he said. "I lost a couple of pucks when Canada forechecked us. It was up and down. Not my best game."
GM Lou Lamoriello arrived on Thursday night to join head coach Mike Babcock as well as assistant GMs Mark Hunter and Kyle Dubas in Plymouth.
"We're extremely pleased," Lamoriello said when asked about Liljegren's progress overall. "Where he is today and what we've seen from him, we're happy."
Liljegren is one of four Leafs prospects taking part in the Summer Showcase, joining American goalie Joseph Woll (third round, 2016) and USA defenceman J.D. Greenway (third round, 2016) as well as Finnish defenceman Eemeli Rasanen (second round, 2017).
"Our scouting staff has just done a tremendous job," Lamoriello said. "The prospects we have, we don't have room for a lot of them so hopefully they can push some of the veterans."
Woll is expected to play on Saturday and is a frontrunner for a roster spot with the American World Junior squad after getting into a couple of games at the event last year, including the New Year's Eve win against Canada.
"He had a tremendous year at Boston College," Lamoriello said. "I wasn't here at the beginning at the week, but our people mentioned he played very well. He's a prospect, no question."

UPCOMING SCHEDULE
SATURDAY: Sweden v Finland, 4pm et on TSN3/5 ... USA v Canada, 11pm et (tape delayed) on TSN3/5
Gord Miller and Craig Button will call the games with Tessa Bonhomme hosting the coverage.