Edmonton Eskimos Season Preview
Get ready for the CFL season with TSN.ca's Team Previews. Check out roster breakdowns and season outlooks from CFL on TSN analysts. We'll roll out a new team each week day. Today, the Edmonton Eskimos.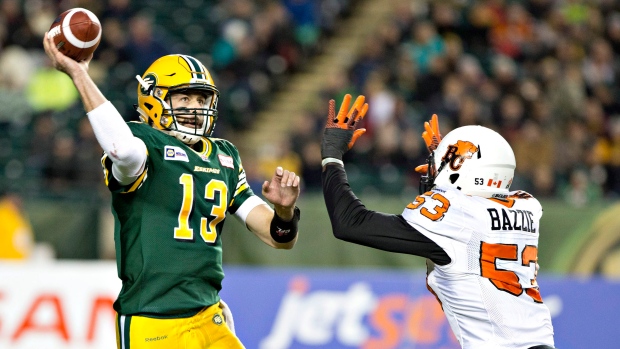 Chris Jones looks to keep the momentum
| Record | Offence | Defence |
| --- | --- | --- |
| 12-6 | 363.8 | 279.4 |
The CFL is known as a quarterback's league, and we're always talking about, debating, or trying to anoint the next great young QB. Maybe we should be doing the same with head coaches, certainly we should be talking more about Chris Jones.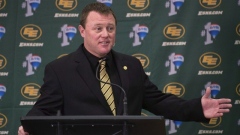 After straining through a couple of mediocre coaching regimes in Richie Hall and Kavis Reed, the City of Champions was due for a stud bench boss, and GM Ed Hervey hit it out of the park with Jones' hiring, at least according to early indications.
The Eskimos enter 2015 with perhaps the three most important foundation pieces in tact in Jones, quarterback Mike Reilly, and a suffocating defence.
Jones's specialty is defence, and he turned a below average unit into a great one; the Eskimos finishing first in both yards allowed per game and points allowed per game.
The loss of John White hurts, but with some luck Edmonton can find most of his production in other players. With the three pillars in place, the Eskimos should remain a contender in the competitive West Division.
Duane Forde's Canadian Content
The Eskimos roster doesn't include any National players whom most would consider CFL stars but there are some productive Canadian starters and solid depth behind them. Eddie Steele was Edmonton's Most Outstanding Canadian nominee last season after he and fellow Canuck DT Gregory Alexandre combined for 11 sacks.
Don Oramasionwu, projected as the top Canadian DT a year ago before a season ending injury, returns to add further D-Line depth, while Cauchy Muamba, Ryan Hinds, and Mike Dubuisson compete for playing time at safety.
Offensively, Nate Coehoorn was third in the CFL among Canadian receivers with a career high 52 catches in 2014. The Esks looked to 34-year old Paris Jackson down the stretch last year but the hope is that former first round picks Shamawd Chambers (coming off injury) and Devon Bailey will play a larger role this year. With former Blue Bomber Cory Watson also on board, it's possible that Edmonton could seek some ratio relief by starting three National receivers.
The Eskimos will start three Canadians on the O-Line, led by guard Simeon Rottier, a West All-Star in 2014, but the unit starts the season without Matt O'Donnell, who signed with the Cincinnati Bengals. Grade: B
Matt Dunigan's Quarterback Analysis
How can a veteran quarterback lead and improve a young offence?
Let's first define Mike's playing style. I'd describe it as aggressive, tenacious, entertaining, unpredictable, and tough with a "no holds bar," in your face kind of mentality. Fair enough? I could add more superlatives, but I think you get the picture. I believe this guy is a winner and applaud his interpretation of how to play this great game we call Canadian football.
A long successful career is not just based on how you play the game. Now, it certainly could lengthen a career if you chose to avoid contact by running out of bounds at the first sight of a closing defender, or slide feet first before maximum yards were gained. Each player/quarterback is different. Each player has certain strengths and capabilities. There are many obstacles, many variables and so many breaks that must go your way in order for a long successful career.
There are certainties that must be in place for Mike Reilly, or any other quarterback for that matter, to have a long successful career. Desire, commitment, dedication, and a willingness to subject yourself to the process day-in and day-out, week-in and week-out, year after year. Maybe the most important characteristic originates between the ears, and that's mental toughness and aptitude.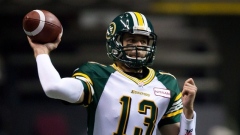 Reilly will continue to learn and absorb the new offensive system under Stephen McAdoo and man-oh-man did things get a whole lot better for the Eskimos last year when Reilly was saddled up with Coach McAdoo. As mentioned earlier, mental preparation and aptitude is what is going to separate one quarterback from the next at this level. By submitting to the process and being able to digest the endless amounts of information from week to week is so critical for a successful and long career.
Absorbing the information is one thing, disseminating that information when all hell is breaking loose around you and executing at an alarming rate of speed when the game is on the line, is another. Let me assure you, this guy Reilly, can, and as a fan like you, I hope he does for a long time! Full analysis
Farhan Lalji's Draft Analysis
The Edmonton Eskimos did not expect Danny Groulx to be available when they picked at No. 7. At one point he was the top rated player in the draft. At 6'6", 325 pounds, Groulx has the size that GM Ed Hervey so covets in all positions, and head coach Chris Jones on draft day said, "He's a guy who has the size and athleticism to come in and give us immediate help."
It appears that statement was prophetic. With Matt O'Donnell in the NFL and with injuries to as many as four starters on the offensive line at various times during camp, Groulx has had plenty of opportunities to be evaluated, getting a week's worth of reps as the starting right guard. Greg Wojt has now returned to fill that spot, but Groulx continues to impress in 1 on 1s. He still needs to work on his footwork as he adjusts to the quickness of the professional D-linemen he will face, but the Esks brass is confident that he will be able to handle it if called upon early.

Local offensive lineman David Beard, from the U of Alberta, was taken higher than many expected. And he has also been elevated on the depth chart early in camp with all of the injuries. Hervey feels Beard is the most athletic offensive lineman on the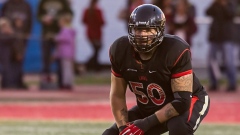 Eskimos roster, but isn't as far along in the development process as Groulx. He still has a year of eligibility remaining with the Golden Bears.

The most impressive member of the Esks draft class might be linebacker Adam Konar, a player many expected to be taken above the third round before the combine. Jones loves how fast the U of Calgary product plays and he was all over the field in the first pre-season game in Fort McMurray.
| Round (Pick) | Player | Pos. | College |
| --- | --- | --- | --- |
| 1 (7) | Danny Groulx | OL | Laval |
| 2 (16) | David Beard | OL | Alberta |
| 3 (25) | Adam Konar | LB | Calgary |
| 4 (34) | Andrew Johnson | WR | Fort Lewis College |
| 7 (60) | Blair Smith | LB | Angelo State |
Paul LaPolice's Scouting Report
The Eskimos' offence should be better because Mike Reilly is in the same system for the first time as a starter; he needs to help the offence cut down on giveaways.
This team is big and fast and the skill players sometimes seem to be playing faster than everyone else on the field.
They need to handle a big hurdle in their rise to the top however, they need to beat the Calgary Stampeders to move into first place.
Read LaPolice's full analysis here
East: Redblacks, Argonauts, Alouettes, Tiger-Cats
West: Blue Bombers, Lions, Roughriders, Eskimos, Stampeders