EE Football Team down to 7 possible names
The Edmonton Football Team says it has a shortlist of seven candidates for its new name. Elk, Evergreens, Evergolds, Eclipse, Elkhounds, Eagles and Elements are listed as possibilities on an online survey released Monday.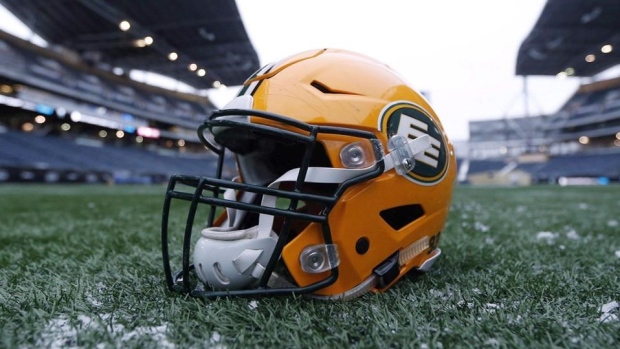 When it comes to picking a new name for the Edmonton Football Team, Eric Upton simply isn't a fan of some candidates.
The former Edmonton offensive lineman had a heavy heart as he looked through a shortlist of seven possibilities released by the team Monday. After playing 10 seasons and winning five Grey Cups with the CFL club in the 1970s and '80s, he still doesn't want to see the name Eskimos replaced.
"It's very emotional for me. It's very emotional to me to have the name changed," Upton said. "I get it, but I don't like it."
The team dropped its name last year, opting to temporarily be known as the Edmonton Football Team or EE Football Team as it searched for a replacement. The team made the decision after consulting with the Inuit community.
The decision followed a similar move by the NFL's Washington team as pressure mounts on teams to eliminate racist or stereotypical names.
Cleveland's Major League Baseball team has since announced it also is changing its name.
The Edmonton Football Team revealed the seven candidates in an online survey Monday. They include Elk, Evergreens, Evergolds, Eclipse, Elkhounds, Eagles and Elements.
Upton prefers the animal names and is leaning toward Eagles as his choice. There's one possibility he instantly axed.
"I think I'd be hard pressed to play for the Evergreens," he said.
Arriving at the seven possibilities has been a long process, said Chris Presson, the team's president and CEO.
Last year, the club held focus groups with shareholders, alumni, current players, season ticket holders and community members to help determine what they needed in a new moniker.
Presson said they wanted something that had a connection to the region, and was original, clear and compelling. They also wanted something that wasn't contentious, eliminating fan favourites Energy and Empire from the running.
It's rare for sports teams to change their name, so the Edmonton Football Team has looked to the NHL's latest addition for inspiration. Presson said he likes how the Seattle Kraken involved the community in the decision, but ultimately chose the name that they felt best represented the new team.
"It's important to gain the opinion of the public. That's why we're doing it and that's why there's such interest," Presson said. "At the same time, we understand that it's an opinion — everybody's view of it is different and we have to make a clear-cut choice here."
The Edmonton Football Team asked fans for their thoughts and received 14,833 submissions with 2,047 unique name ideas.
Now they're asking fans to rate the seven candidates from first to worst by Sunday.
The response was immediate, with nearly 15,000 votes registered by midday Monday, Presson said.
"We wanted to make sure that everybody had a voice and that those who have made us who we are — our fans — had a chance to express themselves," he said.
"When you look at changing, it's hard for a lot of people. And that's understood. But it's necessary at this time. And we're looking forward to the end result."
Data collected in the online survey will be given to the team's board of governors, who will make the ultimate decision. They're hoping to have a choice made in roughly six weeks so merchandise and stadium signage can be produced before the 2021 CFL campaign. The pre-season is scheduled to begin at the end of May.
"We're already very behind the 8-ball in our ability to do that," Presson said.
Because uniforms must be ordered about 18 months before the season begins, this year's squad will hit the field in the same green and gold double-E jerseys fans are already familiar with.
This report by The Canadian Press was first published Feb. 8, 2021.