Eli: 'I figure the Giants are going to get a young QB'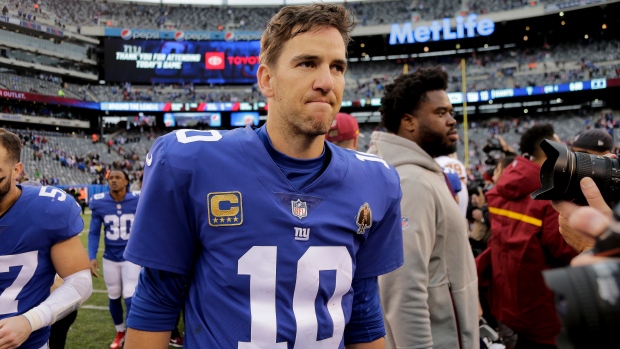 Eli Manning expects to meet his successor in short order.
The 38-year-old pivot believes the New York Giants will take a quarterback in next week's draft.
"Yeah, I figure the Giants are going to get a young quarterback," Manning said on Monday, the day the team began its offseason workouts. "So I understand that. I still have to do my job, and I'll do my part. And my job as I see it is to go out there and play quarterback and win football games. That is what I'll do."
It just so happened on that same day that Ohio State QB Dwayne Haskins was present at the Giants' facility for a pre-draft meeting. The team had previously met with Oklahoma's Kyler Murray and Drew Lock of Mizzou. The Giants have the sixth pick with the draft getting underway on April 25.
Manning says he's comfortable with helping out a younger teammate - and potential rival - as he enters his 16th NFL campaign.
"That's just kind of part of being a quarterback," Manning said. "Enjoy putting in the extra effort and work to get everybody up to speed and help young guys when they're trying to learn a new offence."
Retirement was not on Manning's mind as last season wrapped up and fully intended to return in 2019.
"I told the Giants that very quickly," Manning said. "I didn't have to think about it long. This is what I do and what I like to do and I have worked extremely hard the last few months to get ready. I liked how the team rallied toward the end of the year with the coaches. Everyone got on a better page together. Could have won a few more games but had great opportunities to win. We are headed in the right direction."
Manning is entering the final season of his current deal, but head coach Pat Shurmur says that it hasn't even been a topic of discussion.
"Eli is really terrific at staying in the moment," Shurmur said. "Right now, it is offseason training. Just trying to get comfortable with his receivers and try and master his decisions. I think that is where he is at. I don't feel the need to talk about that with him."
In 16 games last season, Manning threw for 4,299 yards on 380-for-576 passing and 21 touchdowns to 11 interceptions.