Ellingson: Ottawa negotiations 'disappointing'
Newly signed Edmonton Eskimos receiver Greg Ellingson characterized his negotiations with the Ottawa Redblacks as "disappointing."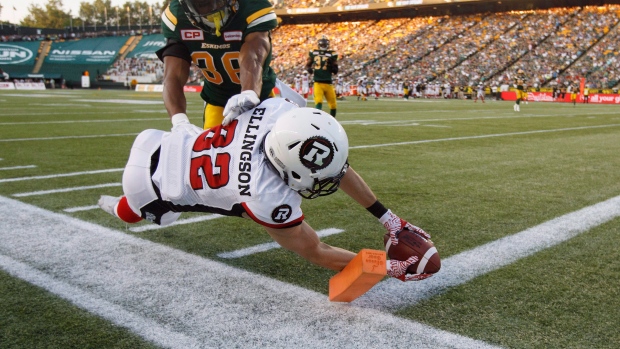 Newly signed Edmonton Eskimos receiver Greg Ellingson characterized his negotiations with the Ottawa Redblacks as "disappointing."
"When you have that feeling, and you have another team telling you that you are the guy and you are what they want, that makes a huge difference," Ellingson told TSN Radio 1200 Ottawa on Wednesday. "I can't let my loyalty to the city of four years dictate what's best for me – even though I wanted to stay there."
The Eskimos signed Ellington to a two-year, $500,000 deal on Tuesday. Ellington cited a lack of communication with Ottawa leading up to free agency, combined with the opportunity to continue playing with quarterback Trevor Harris – who also signed with Edmonton on Tuesday – as his reasons for making the move.
"When you get less of an offer, you feel like you are replaceable and they aren't as invested as they once were," Ellington said. "If you have that feeling at all as a player, that's not a good feeling to have and it's not really a position you want to be in. That's what it came down to, the feeling that I may not as valued as once was."
Ellingson had 91 receptions for 1,086 yards and five touchdowns in 17 games last season. He and Harris have been teammates for the last three seasons and were part of the team that won the 104th Grey Cup in 2016.
"Trevor just kind of let me know his thoughts and no matter where he was, whether it was Ottawa or somewhere else, that he'd like to have me as his target to kind of stick together and make it a joint deal," Ellingson said of Harris. "We never lost contact and we kind of let each other know what was going on."
The 30-year-old Ellingson says he is in the prime of his career and Edmonton made it clear he was going to have a big role with the club.
"It wasn't even about the money. It was about the principle that the money carries," Ellington said. "When you have a team that's willing to give you a substantial amount more, it shows the desire they have to have you, the appreciation they have for your game. Not that there is loyalty in football, but that they want you there and you're not replaceable in some aspects."