Eskimos fire general manager Hervey
The Edmonton Eskimos have fired general manager Ed Hervey. Team president Len Rhodes confirmed the move Friday at a news conference. Rhodes said the search for Hervey's successor begins immediately and Paul Jones, the club's executive director of player personnel, will serve as interim GM until Hervey's replacement is found.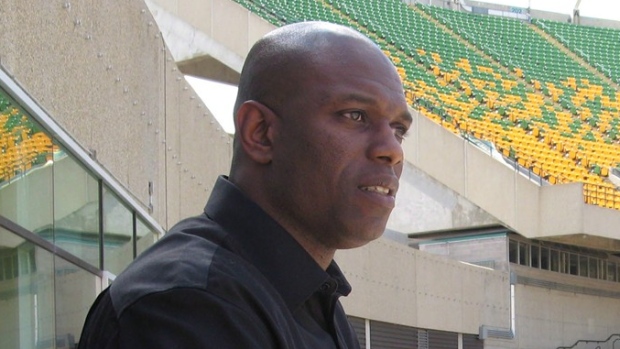 Winning wasn't enough for Ed Hervey to remain with the Edmonton Eskimos.
Hervey was fired as the club's vice-president of football operations and general manager on Friday just over a year after leading Edmonton to a Grey Cup title. Hervey was in the final year of his deal but president/CEO Len Rhodes said he decided — with the board of directors' blessing — to terminate Hervey after the two sides had reached an impasse in contract negotiations.
"Two major reasons drove this decision," Rhodes told reporters during a news conference in Edmonton. "First, both parties could not agree to contract extension terms.
"Secondly, there are differences in philosophy over the way we do business. During the course of recent negotiations for a possible contract extension, it became clear that we would be unable to meet Ed's expectations."
Paul Jones, Edmonton's veteran executive director of player personnel, will serve as interim GM. Rhodes said while his search for Hervey's successor begins immediately, he wouldn't provide a timeline regarding when he'd like a new general manager in place.
Rhodes said Maas, heading into his second season as Eskimos head coach, will remain in that post regardless of who's hired as GM.
"Jason Mass is our head coach, there is no doubt about that," he said. "A new GM is not coming in to fix something that's not broken."
Hervey's departure prompted an interesting response from Eskimos receiver Nate Coehoorn.
"Crazy news out of Eskimo land. I wonder if giving pay cuts to a lot of veteran players had anything to do with it," he tweeted before deleting his post.
Rhodes said philosophical differences regarding team access contributed to his decision to fire Hervey.
"The resistance to provide access became increasingly an difficult issue over the past year," Rhodes said. "It became a barrier to what we feel is required to grow our organization in terms of success in a marketplace that's increasingly competitive.
"We are a major brand in this community. We can't be held back by our own barriers. When you talk about access, that's the major gap we had."
Last season, the CFL fined Edmonton $20,000 and Maas $15,000 after Maas and starter Mike Reilly refused to wear live microphones during a game against the Montreal Alouettes. The live microphones were part of a league-wide move to provide fans with access to the interactions between coaches and quarterbacks.
In his ruling, commissioner Jeffrey Orridge said Maas's failure to wear the mic "was a direct contravention of a directive for this league's board of governors, a motion supported by all nine clubs."
Maas and Reilly wore live microphones in Edmonton's regular-season finale Nov. 6 against Toronto. But Reilly didn't play in the 41-17 home victory while Maas pretty much stood silent after relegating play-calling duties to his offensive assistants.
Media access has also been a hot-button topic since 2014 when the community-owned Eskimos abruptly closed their locker-room to reporters. The club still makes its players available on the field after practice but since '14 has only opened up the locker-room following home games.
Edmonton posted a 40-32 record over four seasons under Hervey, reaching the playoffs three times. In 2015, Edmonton captured the Grey Cup.
"Yes we did win a Grey Cup but it's not enough," Rhodes said. "We've got to approach this differently.
"After winning the Grey Cup we didn't fill the stands. Fan access, media access, season seat-holder access, sponsorship access and showcasing our athletes are all important areas allowing us to grow our fanbase and ultimately the success of the Edmonton Eskimos football club."
Hervey, 43, had served as Edmonton's GM since December 2012 and added the vice-president of football operations job title in 2015.
The six-foot-two, 195-pound Hervey joined the Eskimos as a receiver in 1999 after spending time in the NFL with the Dallas Cowboys, Denver Broncos and Oakland Raiders. He was taken in the fifth round, 166th overall, in the '95 NFL draft by Dallas following his collegiate career at USC.
He appeared in 118 career games with Edmonton, registering 476 catches for 6,715 yards and 43 TDs over eight seasons. He won two Grey Cups as a player (2003, '05) and in '06 received the David Boone Memorial Award his contributions to the community.
Hervey retired March 20, 2007 and served as a scout with Edmonton before being named the club's GM on Dec. 10, 2012. He added a third Grey Cup title in 2015 when the Eskimos beat the Ottawa Redblacks 26-20 in Winnipeg.
Overall, Edmonton posted a 40-32 record under Hervey, reaching the CFL playoffs in three of his four seasons at the helm.
Last year, Hervey received a bachelor of arts degree in multidisciplinary studies from the University of Nevada, Las Vegas, fulfilling a promise he'd made to his mother to earn a -college degree.