Eskimos LB Sherritt retires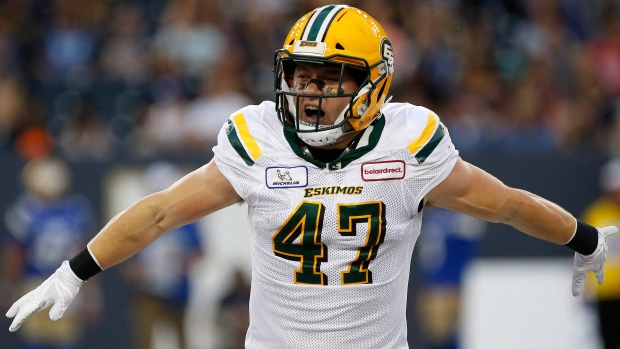 Edmonton Eskimos linebacker J.C. Sherritt announced his retirement from football Wednesday.
Sherritt is retiring after eight seasons in the CFL, all with the Eskimos. The 30-year-old played 18 games for the Eskimos last season, recording 100 tackles, three sacks, and two interceptions.
Sherritt was named the CFL's Most Outstanding Defensive Player in 2012 and helped the Eskimos win the Grey Cup in 2015.
"The last eight years in the Green and Gold have been one of the greatest honors and experiences of my life," Sherritt said in a team release. "I have had opportunities and developed relationships that would not have been possible without this great country and without this league. My admiration and love for this country and league will last for the rest of my life, and I wake up a better person due to my time in the CFL."
The Eastern Washington product finishes his career with 507 tackles, 15 sacks, and 14 interceptions in 109 career regular season games.
"J.C. will go down as one of the best Eskimos of all time," Eskimos General Manager Brock Sunderland said in the team release. "He defines what it means to do things the Eskimo Way, and I know he will have as much success in his post-playing career as he did on the field."