Eskimos sign former standout K Waters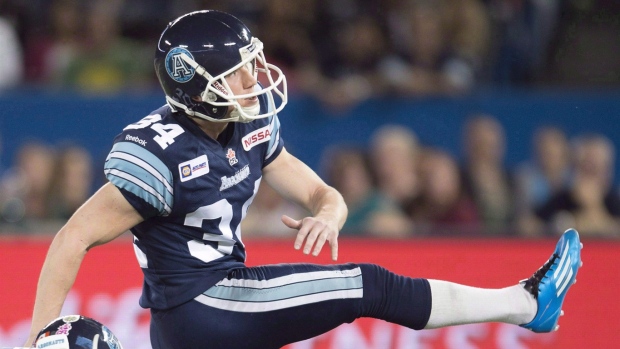 Former standout kicker Swayze Waters has signed with the Edmonton Eskimos, the club announced on Monday.
Waters' signing comes on the heels of Hugh O'Neill going 1-for-3 with his field goal attempts in the Eskimos' most recent game. For the season, O'Neill has connected on nine of his 13 attempts, which currently equates to the lowest average of any kicker n the league.
Waters, whose CFL career has spanned five seasons, was named the league's Most Outstanding Special Teams Player in 2014 as a member of the Toronto Argonauts.
A native of Mississippi, the 30-year-old Waters, spent time in the NFL with multiple teams before landing with the Argonauts in 2012. Waters signed with the BC Lions last off-season, but was released shortly after the beginning of the regular season.
Waters has made 101 of 127 field goals in his career, which equals to an average of 79.5 per cent.
The Eskimos announced the signing of kicker Brett Lauther on Monday as well. Lauther appeared in four games with the Hamilton Tiger-Cats in 2013, converting six of 10 attempts.
In order to sign the two kickers, the team released defensive backs Devin Smith and Ahmad Dixon.