ESPN: Key faces in new places for 2015
March was a whirlwind of fantasy-fueling transactions. I'm hoping you didn't hibernate through it, because if you did, you have homework to do.
Tristan H. Cockcroft, ESPN Fantasy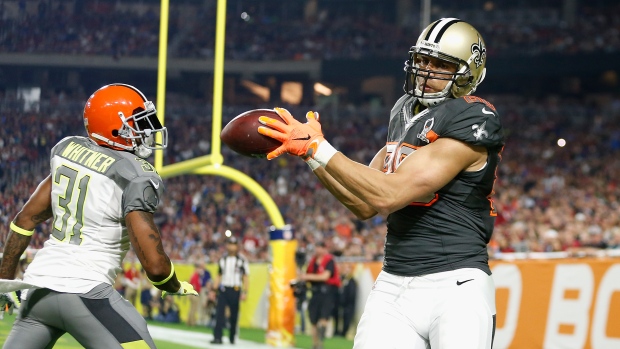 March was a whirlwind of fantasy-fueling transactions. I'm hoping you didn't hibernate through it, because if you did, you have homework to do.
Seriously, cancel the play date. You've got a lot of homework.
Over an 11-day span in March -- or a four-day span, if you count transactions becoming "official" as of the March 10 start to free agency -- a whopping seven of the top 40 flex-play (RB/WR/TE) scorers in ESPN standard leagues in 2014 changed addresses. Overall, 14 members of the ESPN fantasy football top-100 rankings switched teams, giving us arguably the deepest crop of names included in this column in years.
Thankfully, you've got a helping hand on the homework front: The roughly 3,000 words below cover the winter's transactions fiesta, whittling down the potentially 3,000 hours you'd need to research such changes from scratch. Let's get started, because we've got plenty to recap.
Picking a leading, fantasy-relevant transaction was a challenge, just as narrowing the field to a top 10 was. The list below provides the impact each move had on the player's own value, those influenced on his former and new teams, as well as his fantasy position. That's why the first name isn't necessarily the top one in our ranks; he's there because of the ripple effects caused by his trade.

1. Seattle Seahawks trade for TE Jimmy Graham
He's here because his trade influenced the 2015 outcomes for two potential top-5 quarterbacks (Russell Wilson and Drew Brees), a top-5 running back (Marshawn Lynch) and potentially the top tight end (Rob Gronkowski). Everyone's quick take was simple: Wow, did the New Orleans Saints really just trade Brees' favorite red-zone weapon? Good for Wilson, bad for Brees.
That's a fair, albeit simplistic assessment. Graham's arrival in Seattle grants Wilson a red-zone weapon unlike any he has had in three years in the league. For Brees, he must hope Josh Hill steps up or suffer the inevitable, small statistical decline resulting from a team-wide shift in philosophy toward the running game. The numbers reveal the possible impact upon either team: From 2012 to '14, the "Wilson/Pete Carroll" Seattle years, the Seahawks ran the ball on 52.9 percent of their snaps, most in the league. During that time, the Saints ran 36.0 percent of the time, which was second-least often. That's why chatter that Graham might spend a greater volume of his snaps as a blocker needs to be taken somewhat seriously. Lynch's owners shouldn't panic that Graham will cut deeply into his red-zone chances (though it'll happen to a small degree). Gronkowski's owners can feel more assured he'll enjoy enough of a volume advantage that he'll be at the top in his position.

2. Buffalo Bills trade for RB LeSean McCoy
Now that was unexpected. Granted, McCoy suffered a 40-percent decline in fantasy production and a 26-percent decline in terms of average yards gained per touch in 2014, but for the Philadelphia Eagles to deal away a 27-year-old, back-to-back 300-plus-carry running back without a clear replacement in hand -- and yes, they did make it work in the end, as you'll see below -- was bold to say the least. McCoy picked up his pace in the second half of last season, scoring 20 more fantasy points in his final eight games (89) than his first eight (69). His pass-catching ability exhibited in the past marks him as one of the more dynamic running backs. But now he has left an Eagles' team that, when healthy, had a substantially better offensive line than the Bills, with the impact of such an O-line decline evident by McCoy's 2014 first half, when the Eagles were dealing with some injuries on that front. He'll be a featured piece in Rex Ryan's "ground-and-pound" offense, which helps stabilize his fantasy value, but McCoy's tops-in-fantasy upside is probably in his past.

3. Philadelphia Eagles sign RBs DeMarco Murray and Ryan Mathews
With McCoy in Buffalo, the Eagles moved quickly, signing both Murray and Mathews -- Mathews first, then Murray. The Murray deal made the Mathews one appear most puzzling, especially with Darren Sproles also on the roster, giving the Eagles three running backs fighting for the lion's share of the 487 carries, the average number during Chip Kelly's two seasons as the team's coach. From a pure football standpoint, depth was a wise strategy. Murray carried the football 392 times in 2014, the seventh-most by any running back in NFL history, and the history of players who have endured that kind of workload weren't good in their follow-up seasons (and Murray is the first of them to switch teams after such a year). That said, he's a one-cut back who fits Kelly's offense, and it's not as if the drop-off from the Dallas Cowboys' to the Eagles' offensive line is substantial. The Eagles are the ones who have dealt with more injuries recently. Still, any decline in carries and touches is a major story when it involves the No. 1 scoring running back in fantasy football. Let's not forget Mathews was the No. 10 scorer at his position two years ago. There's plenty of fantasy goodness to go around here, but this is going to be a pricey backfield to handcuff, and one with significant danger of a "committee" approach.

4. Kansas City Chiefs sign WR Jeremy Maclin
Sensing an Eagles theme? Maclin's departure was another ingredient to Kelly's makeover of the Eagles. The wide receiver left as a free agent and opted for a reunion with his former Eagles coach, Andy Reid, in Kansas City. Maclin averaged 64 catches, 863 receiving yards, six touchdowns and 118 fantasy points in his four years as Reid's No. 2 receiver. After an 85-1,318-10 and ninth-at-his-position with 182 fantasy points in 2014, he now takes over as the Chiefs' top receiving target. He's the kind of crisp route runner who makes things happen after the catch and should mesh nicely with Alex Smith, who tends to rely on more conservative tosses. It's no surprise that a wideout with Smith as quarterback never managed greater than 72-874-6 numbers in a season in which he started at least 10 games. So which is it? Will Maclin be the one to help Smith statistically thrive, or will Smith be the one capping Maclin's value? Considering Michael Crabtree fell short of expectations so many years in San Francisco, Maclin's odds of repeating his 2014 are somewhat shy of outstanding.

5. Jacksonville Jaguars sign TE Julius Thomas
After consecutive years as one of Peyton Manning's most trusted red-zone targets -- his 27 such catches and 17 touchdowns from 2013-14 combined ranked fourth- and third-most in the league. Thomas scored a big free-agent payday from the Jaguars, signing a five-year deal with a greater average annual value than any other tight end. The difference in terms of passing offense and quarterbacking, however, is enormous. It could have a significant impact on the complexion of the tight end position in fantasy. Consider the Denver Broncos completed 7.4 percent more of their passes, averaged 1.6 more yards per attempt and 25 more passing touchdowns in 2014 than the Jaguars. Manning, meanwhile, was the fifth-best quarterback on throws of 10 yards or shorter in terms of Total QBR in 2014, and Blake Bortles was last of 33 qualifiers. Manning ranked third in the category in the red zone, and Bortles ranked last of 32 qualifiers. The relevance? Short tosses and red-zone targets are Thomas' bread and butter, and while his arrival will give Bortles the best such weapon in those situations that he has ever had, Bortles' limitations will have an adverse impact on his new tight end's production. It's not unthinkable that Thomas' 2015 touchdown production could be a fraction of what it was in 2014.

6. New York Jets sign CBs Darrelle Revis and Antonio Cromartie
Didn't think I'd drop a defensive move in there, did you? Both Revis and Cromartie get listed, but let's face it, it's Revis who matters most, as the statistics alone attest: In Revis' past three fully healthy seasons (2011, 2013, 2014), each played as a member of a different team, his squads managed to score 24 more fantasy points than in their two Revis-less (with him injured for 10-plus games or not on the roster at all) campaigns in closest proximity. (So, for instance, 2012 and '13 Jets, 2012 and '14 Tampa Bay Buccaneers, 2012 and '13 New England Patriots.) It's big news for a Jets team that finished 25th (2013) and 27th (2014) in terms of D/ST fantasy points in the past two seasons, as Revis returns as the "leading man" on a defense that is substantially improved, thanks to these cornerbacks' arrival, the draft-day selection of Leonard Williams and the hiring of a defense-minded head coach in Todd Bowles, among other offseason moves. The Jets have to be the favorites to be 2015's most improved fantasy D/ST.

7. Indianapolis Colts sign RB Frank Gore
Seeking some stability at the running back position after consecutive seasons ranking among the bottom half of the league in rushing yards, the Colts signed Gore, author of eight 1,000-yard rushing campaigns and the league's 20th-best all-time rushing yards total (11,073). Of course, for him to accumulate those numbers means he has been around for some time. Gore indeed enters 2015 at age 32, and only seven players in NFL history have managed a 1,000-yard rushing campaign in a season begun at that age or older, and only three of those seven -- Franco Harris, Walter Payton and Emmitt Smith -- did so with as many as or more career touches at the time than Gore has entering 2015. It's possible that Gore's arrival will be the best news, fantasy-wise, for Andrew Luck, giving the quarterback arguably the most skilled running back he has worked with in his NFL career. Gore could squeeze one more top-20 fantasy running back campaign in such a loaded offense, though much of that might hinge on whether he can reverse a severe pattern of regression in the receiving department.

8. Indianapolis Colts sign WR Andre Johnson
The Colts didn't stop with Gore; they bulked up their already sound receiving corps with Johnson as well. Score yet another "win" for Luck. Though Johnson enters the season at age 34 and coming off one of the worst statistical seasons of his 12-year career, he's still a target hound, tied for the most 100-catch campaigns in NFL history (5, with Brandon Marshall and Wes Welker), and now he's joining a team that attempted more passes than anyone in 2014. At the bare minimum, Johnson could slide nicely into Reggie Wayne's old role, one that fueled a 106-catch, 1,355-yard season from Wayne at the age of -- you guessed it -- 34. Yes, there are plenty of mouths to feed in Indianapolis, but Johnson has intriguing rebound potential, particularly in PPR formats. What's more, his departure from Houston might be equally good news for DeAndre Hopkins, now freed up to be the Houston Texans' unquestioned top receiving target.

9. Philadelphia Eagles trade for QB Sam Bradford
The only thing that might have been more head-scratching than the Eagles trading Nick Foles for Bradford was that the team then didn't make the obvious follow-up move to trade up and draft Oregon star quarterback Marcus Mariota. Granted, Chip Kelly's system has made productive fantasy quarterbacks of Michael Vick, Foles and Mark Sanchez -- 20 of their 32 games combined from 2013-14 resulted in fantasy point totals of 15 or greater -- so Bradford has a chance at top-10 fantasy status ... with some luck in the health department. But that's a significant leap, as Bradford has missed 39 percent (31 of 80) of his team's games in his five-year career to date, and even when healthy, his 12.2 average fantasy point total wasn't even close to the top 20 from 2010 to '14. Kelly is banking a lot on Bradford's ability to stay on the field, and that has a ripple effect up and down the roster, putting the 2015 Eagles very much in the risk/reward basket in the passing game.

10. New York Jets trade for WR Brandon Marshall
Marshall's streak of seven consecutive seasons with at least 140 targets, 80 receptions and 1,000 receiving yards came to a close in 2014, partly because of injuries to his ankle and then ribs (the latter a season-ender in Week 14). Given a fresh start in New York, he'll aim to match or exceed those totals in Chan Gailey's offense, which is likely to keep him heavily targeted. Still, the downgrade from Marc Trestman's offense in Chicago to a passing game potentially helmed by Geno Smith shouldn't be ignored. There's a chance that the 2014 version of Marshall is all we'll get in 2015. Even if it's a wheel-spinner of a transaction, though, his departure from the Chicago Bears thrusts Alshon Jeffery into a more featured role, while his arrival with the Jets could adversely impact now-No. 2-receiver Eric Decker's fantasy prospects.
Listed alphabetically below are some of the offseason's other notable team-switchers, albeit ones whose transactions failed to earn them a place in the top 10:
WR Dwayne Bowe, Cleveland Browns
He's now the Browns' No. 1 wideout, but in becoming that, he trades conservative-throwing Alex Smith for an even sketchier quarterback situation. Fantasy owners fall for the Bowe trap every year, thinking he's a starter in standard leagues. Don't fall for it; he's just outside that group.
RB Reggie Bush, San Francisco 49ers
With Carlos Hyde and Mike Davis also on the roster, Bush will do most of his work in the receiving game. He's a PPR consideration, but little more.
RB Travaris Cadet, New England Patriots
Shane Vereen is now in New York, so there's an opening for a pass-catching running back. Cadet is such a candidate, a PPR sleeper who could surprise with a nice preseason.
TE Jordan Cameron, Miami Dolphins
Ryan Tannehill does target his tight ends and Cameron provides him a more sizable target than Charles Clay, but concussions have been a problem for Cameron throughout his career. Risk/reward pick.
QB Matt Cassel, Buffalo Bills
He's the Bills' fallback in the event that EJ Manuel fails, but that Cassel was working with the scout team during OTAs suggests such a decision is far from imminent.
TE Scott Chandler, New England Patriots
The Patriots do roll out two tight ends at times, but Rob Gronkowski will be the pass catcher of the two, rendering Chandler mostly a non-factor.
TE Charles Clay, Buffalo Bills
Clay completes the AFC East's tight end shuffle, stepping into Chandler's former role. It's a quarterback downgrade, though, so don't expect much improvement.
WR Michael Crabtree, Oakland Raiders
After a six-year career in San Francisco that can't be described as anything short of a disappointment, Crabtree gets a fresh start with the offensively shaky Oakland Raiders. Unfortunately, he might be second, at best, at the position behind Amari Cooper.
TE Owen Daniels, Denver Broncos
Suave fantasy owners know that whomever is Peyton Manning's tight end -- especially good pass-catchers as Daniels is -- tends to be a good value. Daniels is a nice "wait-on-the-position" pick in his new role.
QB Ryan Fitzpatrick, New York Jets
He's the Jets' fallback to Geno Smith, but the team will surely be as patient as it can with Smith. Fitzpatrick could have some matchups appeal in the event Smith struggles and needs be benched again.
QB Nick Foles, St. Louis Rams
Foles' inadequacies were often masked by his offense; Chip Kelly's system can make stars out of most any passer. In St. Louis, Foles might have his days -- exploit the matchups against weak D's -- but he's got a less-skilled receiver corps that caps his upside.
WR Percy Harvin, Buffalo Bills
Harvin will help detract defensive attention from Sammy Watkins, but he's the clear No. 2 getting a second chance by Rex Ryan. Expect some boom-bust days, with the overall result being a bench-player draft value.
RB Roy Helu, Oakland Raiders
He'll be a change-of-pace, passing-down type behind Latavius Murray and Trent Richardson, but considering the histories of those two, stranger things have happened than to see the No. 3 man on the depth chart emerge in a meaningful role, even if only for a few weeks.
QB Brian Hoyer, Houston Texans
He's the Texans' fallback to Ryan Mallett ... sensing a theme here?
WR Greg Jennings, Miami Dolphins
He'll probably begin the season a starter, but the Miami Dolphins have two youngsters they fancy their future starters in Jarvis Landry and DeVante Parker, so Jennings' fantasy relevance could be short-lived.
WR Stevie Johnson, San Diego Chargers
He could serve as the San Diego Chargers' slot receiver, but is coming off consecutive disappointing seasons. Johnson is more bench fodder in standard leagues, but could have a matchup or three to exploit.
QB Josh McCown, Cleveland Browns
Unlike Cassel, Fitzpatrick or Hoyer, McCown was brought on board to be the presumed starter in Cleveland, ahead of Johnny Manziel. He might only be keeping the seat warm, but there could be some matchups play here in larger leagues.
RB Darren McFadden, Dallas Cowboys
Now we get the answer to the question: Can anyone thrive behind the Dallas Cowboys' sturdy O-line? McFadden's injury history makes him a massive risk/reward pick in fantasy ... emphasis on "risk."
RB Bernard Pierce, Jacksonville Jaguars
He'll begin the season third at best on the Jacksonville Jaguars' depth chart, and after disappointing in Baltimore is a long shot to provide fantasy value in 2015.
RB Trent Richardson, Oakland Raiders
He's more of a "why not" pickup than a clear threat to Latavius Murray; Richardson at least provides a viable fall-back should Murray get hurt in the preseason. Still, after back-to-back awful years, Richardson might provide flex-play value at best, even if he's pressed into starting duty.
RB Stevan Ridley, New York Jets
A roster spot is no lock for Ridley, not with him coming off ACL/MCL surgery and the New York Jets possessing plenty of competition at his position. Ridley could figure in a short-yardage role if he makes the team, which could have relevance in TD-heavy leagues.
WR Eddie Royal,Chicago Bears
The Chicago Bears' new slot receiver, Royal could enjoy production similar to his 2014 now that he's reunited with Jay Cutler and OC Adam Gase.
WR Cecil Shorts, Houston Texans
Though Shorts has a chance at capturing the Houston Texans' No. 2 wide receiver role, remember that this a run-heavy team on which DeAndre Hopkins should get most of the targets.
WR Torrey Smith, San Francisco 49ers
The closest name to cracking the above top 10 -- he'd slide in a firm 11th -- Smith's speed could make him a useful weapon as Colin Kaepernick quests to rebound. Considering Kaepernick's historical inaccuracy, however, there's a lot of risk/reward to Smith's signing.
RB C.J. Spiller, New Orleans Saints
He's as obvious a fit for the former Darren Sproles/Pierre Thomas/Cadet roles as there is, and that could make Spiller a sneaky flex play/low-end RB2 in PPR formats.
WR Kenny Stills, Miami Dolphins
Stills was a sneaky pickup for the price for the Miami Dolphins, though he's not necessarily guaranteed a starting role initially, what with Jennings and Jarvis Landry also in the mix. A solid preseason, however, could make him an intriguing WR4/5.
TE Jacob Tamme, Atlanta Falcons
He's battling Tony Moeaki for the role of pass-catching tight end in Atlanta, a role in which Tony Gonzalez thrived in the past. That's not to compare Tamme to Gonzalez; but TE2 potential is possible.
RB Shane Vereen, New York Giants
A PPR asset who tends to be only a borderline starter in standard play, Vereen won't be helped by joining a Giants team that historically takes a committee approach to RBs.
WR Mike Wallace, Minnesota Vikings
Wallace was another strong candidate for the top 10, but in Minnesota, he'll have Charles Johnson to battle for targets. With his speed, Wallace will have his risk/reward days and be a borderline starter in ESPN standard leagues.
RB DeAngelo Williams, Pittsburgh Steelers
With Le'Veon Bell facing a three-game suspension, there could be a three-week window of low-end RB2/high-end flex fantasy appeal in Williams.
--
For more fantasy football action, check out ESPN's Draft Kit.