Falcons' Garland talks military job, Kaepernick
Tristan Garnett, TSN.ca Staff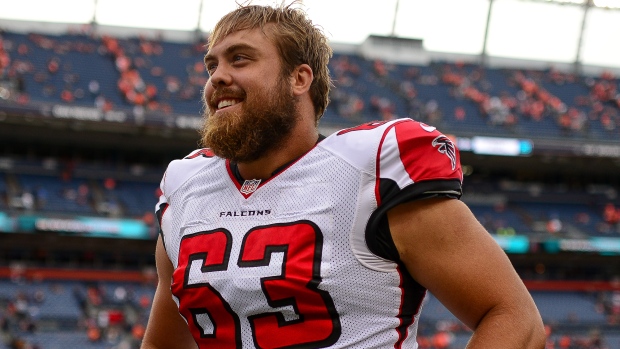 Playing football in the National Football League is a tough job on its own, but imagine combining those duties with that of a second job.
It sounds like it would be an extremely daunting task for most people, but it's one that Ben Garland, an offensive lineman with the Atlanta Falcons gleams when speaking about. When Garland's services aren't required on the football field, he's off helping to protect the citizens of the United States as a captain in the Colorado Air National Guard.
"It's both difficult and easy in the sense where you do have the two obligations and you're working two jobs," Garland, who was in Toronto for this leg of the NFL play 60 Canadian cities tour, told TSN.ca. "But on the other sense, they tie so well together. . . . There's a lot of things I learned in my Air Force career that's helped me along in my football career. And a lot of my football career stuff has helped me become a better leader as an Air Force officer.
"I have the two best jobs in the world, and I get to wear the two best uniforms. I get to put on that uniform on Sundays and go represent the Falcons, which I absolutely love. And then in the offseason, I get to put on that military uniform and represent my country and work alongside some hardworking great people."
Garland, who is currently stationed at the Buckley Air Force Base in Aurora, Colo., began his military career in 2010 upon graduating from the U.S. Air Force Academy. He played football collegiately there but failed to have his name called in the NFL draft that year. Garland wound up signing as an undrafted free agent with the Denver Broncos, who placed him on their reserve/military list for the 2010-11 season, while he fulfilled his obligations to the Air Force Academy.
He began his tenure with the Broncos as a defensive end but later switched over to the offensive line. Most of his time spent with the club was as a member of its practice roster, playing in just eight regular season games overall. In 2015, he signed with the Falcons and appeared in every game last season with the team on its run to the Super Bowl.
One of the highlights of the 2016-17 NFL season was the thrilling finish to Super Bowl LI, in which the Falcons famously blew a 28-3 lead to the New England Patriots en route to losing the game. But the now-free-agent quarterback Colin Kaepernick's controversial decision to protest, what he deemed ill treatment of African Americans in the U.S., by kneeling during the playing of the American national anthem during games, was definitely another.
"[Kaepernick is] a great quarterback. I'm not a GM and I don't know the schemes of everybody's team right now, but he's a great quarterback and he definitely has the ability to play in this league," said Garland, when asked whether he was surprised that Kaepernick remains unsigned. "It's always surprising. But there's a lot of guys out there like that. I got a lot of friends right now who are sitting at home and don't have a job and they're incredible football players."
In regards to Kaepernick's situation, though, many people, including some NFL players, have argued that the 29-year-old's football skills are not the reason that he hasn't yet landed with a team, instead arguing that he is being blackballed based on his decision to protest. Kaepernick, who posted nearly a 60 per cent completion rate along with a 16:4 touchdown to interception ratio last season, has only reportedly met with the Seattle Seahawks this offseason in terms of a potential playing opportunity. Meanwhile, pivots such as Geno Smith, Ryan Fitzpatrick and even the virtually unknown Austin Davis, who the Seahawks chose over Kaepernick, all signed new contracts.
There has been a lot of talk about Kaepernick's protest being disrespectful to America, and in particular, to its service men and women who routinely risk their lives to protect the nation, but Garland says among the military personnel that he's spoken with, opinions on the ex-49ers QB and his mission have been split.
"[For] a lot of them it sucks. It hurts because they put it all on the line. They're sacrificing so much. Their families are sacrificing so much while they're overseas fighting for what that flag represents, so when someone disrespects it, [it] does hurt," Garland said. "But at the same time, that's what we love about America. Those freedoms that you have, that you literally can protest if you want to. So, it's one of those things where on one hand, he has that right and that's what they fight for, but on the other hand, it hurts because it's disrespecting something that means so much to so many."
Garland says that he would absolutely welcome Kaepernick as a teammate if the QB were to join the Falcons. As long as he's willing to acclimate to the brotherhood and other culture aspects that the offensive lineman says that the team currently embodies, then he's good in Garland's books.
But in the meantime, the military captain does have some advice for the forgotten quarterback.
"Think things through," Garland said in regard to the advice that he would give Kaepernick. "Like if you're going to do something, make sure you have the meaning behind it and make sure it's the right method. There's a lot of ways to get your meaning across. A lot of ways to help out. Think things through and find your better path."