Few Canadians competing in Canada's domestic Cup – at least for now
Both Toronto FC and the Vancouver Whitecaps have to start just three Canadians in their two-match, total-goal Canadian Championship final series starting tonight in Vancouver. That number could grow next year, considering rosters of teams playing in the Canadian Premier League in their inaugural season will be loaded with homegrown talent.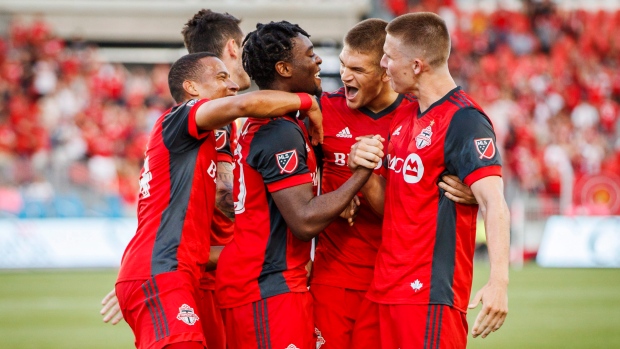 Is an opportunity to create Canada's next Cinderella soccer story just a year away?
Most freshly appointed Canadian Premier League managers treaded lightly ahead of Wednesday night's Canadian Championship final between Toronto FC and the Vancouver Whitecaps (TSN1, TSN4, 10 pm ET; 7 pm PT), stopping short of making any grandiose predictions apart from the expectation that an expanded domestic Cup competition will galvanize soccer fans beyond Canada's three Major League Soccer markets.
But Rob Gale offered something different. Valour FC's head coach spoke about more than the improved theatre of what could become an FA Cup-style tournament.
The 41-year-old Winnipegger raised the bar in forecasting how competitive next year's Canadian Championship will be following the injection of CPL clubs in 2019.
"With the Canadian talent that's out there, there's an opportunity to build an MLS-level team in the CPL within the structures that are going to take place," Gale said.
"I believe in that talent and given the right opportunity they'll have the ability to showcase themselves and prove they're every bit as good as their southern counterparts."
Call it a Freudian slip. It's not that Canada's three MLS clubs aren't Canadian. They just have nowhere near the same emphasis on Canadian players — at least not at the senior level.
Both TFC and the Whitecaps are required to start just three Canadians for each of their two final series matches – tonight at BC Place in the opening leg and next Wednesday at Toronto's BMO Field in the second leg.
That number could grow next year, considering CPL rosters will be packed with homegrown, Canadian talent.
"I think everybody will be excited to have the possibility and the opportunity for an upset," Gale suggested. "That's what makes sports great, the Cinderella story."
The Montreal Impact were, perhaps, the last true Cinderella story at this event, winning the tournament in 2008 following a memorable, come-from-behind 1-1 draw at BMO Field.
Since then, this country's domestic Cup has largely been a battle between three MLS sides, all chasing a single CONCACAF Champions League berth.
And while this year's final features MLS clubs for an eighth consecutive edition, Gale recalls the earlier stages of this year's tournament as being the most memorable.
"I think you just have to look at the games between the League1 Ontario winner and the PLSQ (Quebec) winner — the passion in the fans and the excitement that caused in the preliminary stages," Gale said.
"That showed there's an appetite for it. It just expands that opportunity across the communities, across the country — which is going to make it so appealing."
Looking ahead, an appetizing situation could see the HFX Wanderers, Forge FC, York 9 FC, Valour FC, FC Edmonton, Cavalry FC and Pacific FC pitted against their regional MLS rivals next summer.
All in all, next year's tournament could feature at least 13 clubs across six leagues.
"This is something the country can finally celebrate," Ottawa Fury GM Julian de Guzman added. "We had (four) different leagues involved in one Cup this year. Now there will be a new league [the CPL] involved.
"It creates a different type of excitement. When it comes to bragging rights in a country, beating a team that plays at a higher level than you're playing in is always one of the objectives and outcomes fans like to see in these tournaments."
With more eyes on Canada's domestic Cup, there's an opportunity to bring more capital into the Canadian game and smaller markets that are looking to spur soccer's growth in their communities.
"Outside of the main markets there was very little interest (in the Canadian Championship)," said James Easton, the CPL's vice-president of soccer operations. "So, to have all of these Canadian teams roll out next year, plus the Division 3 teams, that's only good for the competition. It creates interest. It creates something for companies who want to invest in it and sponsor it and market it — all that sort of stuff.
"And it allows more players to play at a higher level and compete … I also think it helps to drive interest. I think it's only good all around for the game and the championship."
HFX Wanderers coach Stephen Hart didn't exude as much confidence as Gale ahead of next year's revamped tournament, but did highlight the charm of a domestic Cup.
"There are always going to be underdogs in it, as most competitions have. And, of course, you will have the established teams coming to town, which doesn't happen at the moment unless you live in those areas," Hart said.
"I think it will be excellent for sort of creating a sort of atmosphere for competition besides just what people will have locally and with the (CPL) itself."
There's a push for CONCACAF to allocate Canada a second Champions League berth, potentially to the CPL's regular-season winner.
Canadian MLS sides are a point of contention, given that many insiders believe the Impact, TFC and Whitecaps should be granted Champions League entry through MLS.
Another point of contention hinges on which Canadian entry — the CPL winner or Canadian Championship winner — will be placed in the CONCACAF League, the preliminary tournament to reach the Champions League. As it stands, Canada's lone Champions League participant receives automatic entry into the final 16-team knockout tournament.
However, all that could change.
"This [the CPL] is our domestic pro league and we should have an automatic entry into the Champions League," York 9 coach Jimmy Brennan added. "A second berth should be through the Voyageurs Cup.
"If you win every other league in the world you go into a Champions League. Your next best way to get in would be through a tournament. I think the domestic league winner has to get automatic entry into the Champions League — 100 per cent."
Gale agreed, but also offered a measured perspective with the CPL's inaugural season less than a year away.
"Let's be honest," Gale said. "The [CPL] teams, the fans, players and coaches will be excited in any capacity that they get a chance to test themselves against that level of team. Whether it comes through the first or second round, everyone will just be excited by those opportunities."
Kurt Larson is managing editor of CanPL.ca and the Canadian Premier League's director of content.