FIFA, CSA have week to respond to artificial turf complaint
The Ontario Human Rights Tribunal has told FIFA and the Canadian Soccer Association it has a week to respond to a bid by a group of elite players for an expedited hearing on whether using artificial turf at the 2015 Women's World Cup is discriminatory.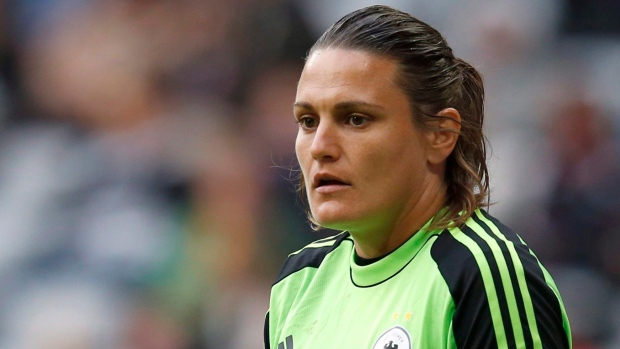 The Ontario Human Rights Tribunal has told FIFA and the Canadian Soccer Association it has a week to respond to a bid by a group of elite players for an expedited hearing on whether using artificial turf at the 2015 Women's World Cup is discriminatory.
The tribunal, after the Oct. 9 deadline for responses, may still deny the players' request for a fast-tracked hearing. But the players' lawyer applauded the tribunal's move, made just one day after the legal brief was filed.
"It is past time for CSA and FIFA to acknowledge that singling out women for artificial turf at the World Cup is a mistake and to work with the players on ways to fix it," lawyer Hampton Dellinger said in a statement Thursday.
"But if CSA and FIFA are determined to litigate against their tournament's own players, we hope they will not seek to delay or duck a decision on the merits of whether they are discriminating on the basis of sex against female athletes."
The Human Rights Tribunal also asked the CSA and FIFA to file their response to the players' complaint by Nov. 6.
Earlier in the day, Dellinger told a media conference call that installing real grass pitches for the tournament slated for next summer in Canada was affordable and the right thing to do.
The lawyer said it would cost $2 million to $3 million at most.
"This has been done before. It is a drop in the bucket in terms of FIFA's coffers," Dellinger said. "Canada is one of the richest nations on earth. This is completely economically feasible."
The players, who include reigning FIFA player of the year Nadine Angerer of Germany and U.S. women's national team forward Abby Wambach, claim that playing their showcase tournament on artificial grass amounts to gender discrimination under Canadian law. Men have always played the World Cup on natural grass surfaces.
Lead Canadian lawyer David Wright called it a clear-cut case of discrimination.
"FIFA and the CSA (Canadian Soccer Association) are treating women differently than they treat men," he said.
Canadian players are not part of the lawsuit, although Dellinger says a number have already spoken out on grass being their preferred surface.
Carrie Serwetnyk, a former Canadian national team player and the first woman inducted into the Canadian Soccer Hall of Fame, spoke out strongly Thursday.
"It's incredible we're holding the World Cup but it's a real shame that we can't step up to put on the best tournament that's worthy of the female athlete," she said. "I think it's like asking an Olympic athlete to 'Just go run on that cinder track. No big deal, you can still run fast there, right?'
"As a citizen, I expect more from my country," she added.
The players filed their brief Wednesday, detailing the facts and law in support of the discrimination claim, as well as the motion to expedite the proceedings.
"Our lawyers will be reviewing any and all applications or information related to this," the CSA said in a statement Wednesday. "We will refrain from any comment until there has been a thorough review."
FIFA, meanwhile, appears unwilling to reconsider the tournament playing surface.
"We play on artificial turf and there's no Plan B," Tatjana Haenni, FIFA's head of women's competitions, told The Canadian Press on Tuesday as she started an inspection tour of the World Cup venues.
Dellinger said the women had been "misled" by the CSA and FIFA on their willingness to use grass at the tournament. He cited a FIFA survey of players, taken at the 2013 Algarve Cup, on grass versus turf at major events "with the clear indication to the players that this was going to dictate what they would do ultimately for the 2105 World Cup.
"The players were overwhelming in their opinion that major tournaments should be played on grass. And yet FIFA didn't do a thing, the Canadian Soccer Association didn't do a thing. They didn't even tell the players they weren't going to do anything."
Dellinger called it "really astounding" that FIFA and CSA world turn their backs on the players and urged them to work together to solve the issue.
"The players, their attorneys just want this fixed ... Let's get this out of court and get the focus back on the pitch," he said.
The players' brief suggests that tournament venues in Vancouver (B.C. Place Stadium), Edmonton (Commonwealth Stadium), Ottawa (TD Place Stadium) and Winnipeg (Investors Group Field) replace their turf with permanent or temporary grass pitches.
Games at Olympic Stadium in Montreal should be moved to Saputo Stadium, which has real grass, or a temporary grass surface could be installed. The brief also calls for a temporary grass surface at Moncton Stadium.
It also suggests that games could be moved to Toronto's BMO Field, which has a natural grass surface.
"I've played on artificial turf, especially now in Vancouver (where the tournament final will be played) and the risk to get injured is very, very high there," Angerer said on the conference call.
"Secondly I think it totally changes the game. It's not fair why our game should be changed."
Added Spanish midfielder-forward Veronica Boquete: "Especially in a tournament where you play every three days, the recovery after playing on a turf field is not the same with being on grass. ... We just want to have the best field to be able to do our best and to show the best that women's soccer has."
The women say they want to play at the tournament and have not thought of boycotting the event. Boquete says it's up to FIFA and the CSA to listen and "do something about it."
Serwetnyk said women would play on "a field of glass and nails" at the World Cup.
"They're so spirited and dedicated and mentally tough. And that's the problem. We just know women would step up — 'OK, well artificial field, sure, we'll do that. Glass, OK. Nails, we'll do that' — because they love the game.
"The CSA and FIFA are getting away with putting the players on artificial turf and they know they can't do that with the men. Men would boycott it. It would just not happen. So they're putting them (the women) in an unfortunate position where of course they're going to show and play. And that's not the kind of tournament we want to have for the World Cup."
Serwetnyk, who started an Equal Play organization two years ago to focus on inequity in sport, says she has paid the price for speaking out.
"I've had a backlash from it," she said.
That's why current Canadian players have not joined the lawsuit.
"The CSA is their boss," she said. "And so I think it's easier for players from other countries to express their feelings."
She also noted the Canadian men rank 120th in the world, wondering if the CSA mentality of playing on turf helps explain why the team is so low.
"The rest of the world would agree that grass is the best and only surface for such a high-level competition and that's what we should be giving the best women around the world."
The Canadian women are ranked No. 8.
Dellinger turf versus grass "an explosive issue" in soccer.
FIFA rules stipulate that matches can be played on artificial turf if special dispensation is granted, as it was in Canada's case. The regulations also state that all matches in a tournament must be played on the same surface.
Lawyers for the women said the fact that FIFA rules allow for playing on artificial turf that meets specified standards does not impact their lawsuit.
Dellinger said all past men's and women's World Cups have been played on grass. And Wright noted that the CSA had ensured that the men's team played its World Cup qualifying games on grass not turf.
Lawyers have asked for a Nov. 26 hearing on their case. The World Cup starts June 6, 2015.
---
Follow @NeilMDavidson on Twitter