Final seeds on the line as First Four wraps up on TSN GO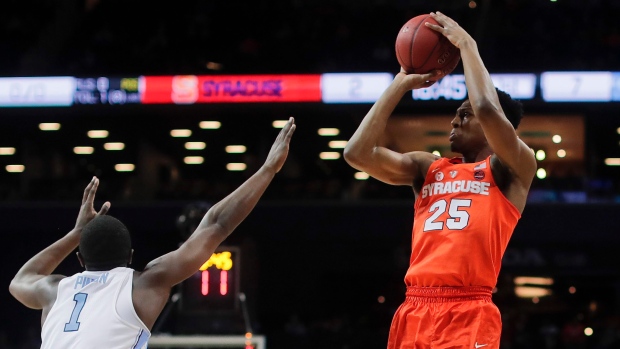 Texas Southern (15-19) vs. North Carolina Centreal (19-15) - 6:40pm et/3:40pm pt. - TSN GO

Differing styles of play will clash when Texas Southern and North Carolina Central battle Wednesday in the opening NCAA Tournament First Four game at the UD Arena in Dayton, Ohio.
The winner will play Xavier, the top-seeded team in the West Regional, on Friday in Nashville, Tenn. No 16th seed has ever toppled a No. 1 seed in the NCAA Tournament.
Texas Southern likes to get up and down the floor and score, averaging 77 points per game and scoring 90 or more in seven games this season. That average is skewed a bit to the low side because the Tigers' non-conference schedule included games against Kansas, Syracuse, Oregon, Clemson, Baylor and TCU.
Texas Southern (15-19) beat top-seeded Arkansas-Pine Bluff 84-69 on Saturday in the Southwest Athletic Conference championship game and secured an automatic bid into the NCAA Tournament for the second straight season.
The Tigers played all of their non-conference games away from home and began the season with 13 straight losses. Once they got back home and into SWAC play they won 15 of their final 21 games, including their last seven. They scored an average of 91 points in the seven victories.
"We all came together at the right time, we all made a decision that winning basketball games were more important than anything else," Texas Southern coach Mike Davis said. "So being 0-13, it only bothered other people."
This will be the Tigers' second straight and fourth overall appearance in the NCAAs, all in the past five years.
They are the first team since 1985 to reach the Big Dance after starting 0-13 and will try to become the first team from the SWAC to win an NCAA Tournament game since 2010, when Arkansas-Pine Bluff beat Winthrop in the opening round.
Last season, Texas Southern was defeated in the first round by North Carolina, the eventual national champion.
"I feel better this year than I've ever felt going into the tournament," Davis said. "This is the first time we have the opportunity to go to the NCAA Tournament with good players at every position; we have a legitimate point guard, we have a legitimate big guy (and) a legitimate scorer.
"Last year, I thought 'Wow, North Carolina?' They lead the country in rebounds, we're in serious trouble. But this year no matter who it is we have guys who can play and they don't fear anybody."
NC Central beat top-seeded Hampton 71-63 to win the automatic bid from the Mid-Eastern Athletic Conference. The Eagles entered the conference tournament as the No. 6 seed but were undaunted.
Based out of Durham, NC Central (19-15) is making its second straight trip to the NCAA Tournament and third in five years. They lost to Iowa State in San Antonio in 2014 in their first trip and fell to UC-Davis last season in Dayton.
"This championship is different because it was unexpected," NC Central coach Levelle Moton said. "To be honest, a lot of people gave up on this team. We've created the standard at North Carolina Central and I'm proud because our guys upheld that standard."
The Eagles prefer a plodding style, averaging about 72 points per game.
"We are playing a really, really good basketball team," Moton said. "Don't be deceived by their record because they played the toughest schedule in the country. They have a 7-footer and a point guard who could play at any high major in the country. We have our hands full."
NC Central and Texas Southern, which represent the only two conferences of historically black colleges and universities that receive an automatic bid to the NCAA Tournament, have never played.
"We are happy to be here because there are 200 and something programs that didn't make it, who are probably crying right now," Moton said. "I've been on that side of the coin, so I'd rather feel it on this side."
---
Syracuse Orange (20-13) vs. Arizona State (20-11) - 9:10pm et/6:10pm pt. - TSN GO

To hear the NCAA Tournament selection committee tell it, Arizona State and Syracuse made the 68-team field before the calendar turned.
The fact that they will meet in a Midwest Regional play-in game in Dayton, Ohio, on Wednesday indicates how much slippage occurred in conference play.
Arizona State (20-11) beat tournament No. 1 seeds Xavier and Kansas in November and December and rose to No. 3 in the AP Top 25 as the last undefeated team in Division I before scuffling in the Pac-12. The Sun Devils had an 8-10 conference record and lost to Colorado in the first round of the Pac-12 tournament.
Syracuse's non-conference resume, while not as impressive at the top, included victories over NCAA Tournament teams Iona, Texas Southern and Buffalo and losses to Kansas and St. Bonaventure.
The Orange (20-13) were 8-10 in the saturated ACC and beat only one ranked team all year, Clemson, in the last home game of the season. The body of work was enough to give them the 36th and final at-large berth over Notre Dame, according to the committee.
"The message sent is that we look at games in November and December as much as February and March if they are against the same caliber of teams," tournament selection committee chair and Creighton athletic director Bruce Rasmussen told NCAA.com.
"It's definitely a factor of who you play. How did you do against the teams considered to be in the tournament?"
Arizona State made the NCAA Tournament for the first time since 2014, although guard Shannon Evans II was there with coach Bobby Hurley and Buffalo in 2015. The Sun Devils lost five of their last six games but were 5-2 against NCAA Tournament teams, including victories over San Diego State, Kansas State and UCLA.
When the Arizona State logo popped up on the tournament selection show, players celebrated by jumping into the swimming pool at Hurley's house.
"Believe me, it was an excruciating three days. We knew it was going to be a very close decision," said Hurley, in his third season.
"Even though it was not looking promising an hour before, we still held out hope that our quality wins on the road and at neutral sites would pay off. That's part of a program philosophy of scheduling hard in the non-conference. We're in a power conference. We don't have to go to Kansas. But we did. It paid off."
Senior guards Tra Holder (18.4 points), Evans II (16.6) and Kodi Justice (12.6) led the Sun Devils in scoring. Evans led the conference with 91 3-pointers, Justice had 74 and Holder 66. Arizona State led the Pac-12 with an 83.5 scoring average and a plus-four turnover margin.
Syracuse, which has made the tournament 33 times in coach Jim Boeheim's 42 seasons, seemed equally as ecstatic.
"The locker room was the most excited I've ever seen our players in all the years we've been in there," Boeheim said.
"Our strength of schedule, something the committee has always talked about, we've been criticized for in the past. But of all the bubble teams, we had just about the strongest non-conference strength of schedule. Buffalo really obviously helped us there. They are really a good team. When you beat a team that is in the top 30 of the RPI ... if the name was different, everybody would be excited."
Buffalo (25-8) has a .596 RPI ranking as calculated ESPN, ranked No. 20 and ahead of Miami, Gonzaga and West Virginia among others.
Junior point guard Frank Howard is the only Orange player with tournament experience. A reserve on the 2016 Final Four team, the 6-foot-5 Howard is averaging 15.0 points and 5.0 assists per game.
Howard, 6-6 sophomore guard Tyus Battle (19.8 points) and 6-8 freshman forward Oshae Brissett (14.7 points, 8.8 rebounds) are the top three scorers, and it is hard to get them off the floor. Battle leads Division I players with an average of 38.5 minutes per game and Howard is second at 38.3. Brissett is sixth at 38.0.
Battle is the fifth player in Syracuse history to reach 1,000 points in his first two seasons, joining Lawrence Moten, Johnny Flynn, 2003 NCAA Tournament winner Gerry McNamara and Billy Owens. Battle broke Owens' record for average minutes played. Owens averaged 38.0 in 1992.
Behind freshman Malachi Richardson and senior Michael Gbinije, the Orange made the Final Four as a 10th seed in 2016 in its most recent tournament appearance before losing to North Carolina.
"Arizona State is a very good team," Boeheim said. "We're happy to be playing."