Fleury headlines Golden Knights' selections
Veteran forward James Neal and goaltender Marc-Andre Fleury lead the list of player selections and draft pick deals that were revealed during the expansion draft for the Vegas Golden Knights on Wednesday.
The Canadian Press, with files from TSN.ca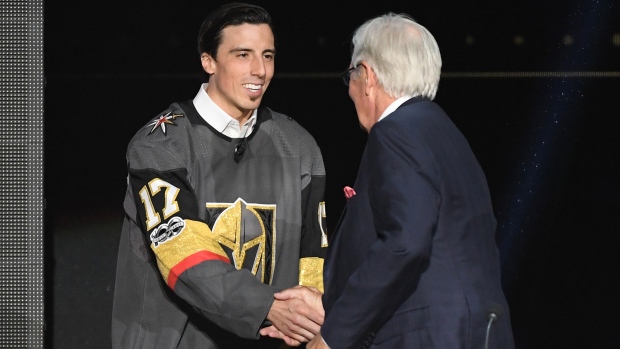 LAS VEGAS — Veteran forward James Neal and goaltender Marc-Andre Fleury headlined the expansion draft selections of the Vegas Golden Knights on Wednesday at the NHL Awards.
Neal had 23 goals and 18 assists last season for the Nashville Predators, who lost to the Pittsburgh Penguins in their first-ever Stanley Cup final.
The 29-year-old from Whitby, Ont., has 238 goals and 213 assists in 632 career NHL games over nine seasons split between Nashville, Pittsburgh and the Dallas Stars.
Fleury was the No. 1 overall pick in the 2003 NHL draft. He won three Stanley Cups with the Penguins.
Last season, he had an 18-10-7 record with a 3.02 goals-against average and a .909 save percentage in 38 games for Pittsburgh.
Fleury has a career record of 384-220-70, with a 2.58 GAA and a .912 save percentage.
Goalie Calvin Pickard was the first selection in the expansion draft. He had a 2.98 goals-against average with a .904 save percentage for the Colorado Avalanche last season.
All of the Golden Knights' selections were announced during the NHL awards show.
Canadian teams lost several players in the expansion draft: Vancouver lost defenceman Luca Sbisa, Winnipeg gave up forward Chris Thorburn, Calgary had defenceman Deryk Engelland selected and Toronto forward Brendan Leipsic was also taken.
Ottawa defenceman Marc Methot was also lost to the expansion and will be joined on the Golden Knights' blue line by Griffin Reinhart (Edmonton) and Alexi Emelin (Montreal).
---
OFFICIAL VEGAS GOLDEN KNIGHTS ROSTER
Forwards
Teemu Pulkkinen (Coyotes)
William Carrier (Sabres)
Cody Eakin (Stars)
Tomas Nosek (Red Wings)
Jonathan Marchessault (Panthers)
Reilly Smith (Panthers)*
Connor Brickley (Hurricanes)
Chris Thorburn (Jets)
Pierre-Edouard Bellemare (Flyers)
Nikita Gusev (Lightning)*
James Neal (Predators)
Mikhail Grabovski (Islanders)*
Brendan Leipsic (Maple Leafs)
David Perron (Blues)
Oscar Lindberg (Rangers)
Erik Haula (Wild)
Alex Tuch (Wild)*
William Karlsson (Blue Jackets)
David Clarkson (Blue Jackets)*
Defencemen
Luca Sbisa (Canucks)
Jon Merrill (Devils)
Brayden McNabb (Kings)
Jason Garrison (Lightning)
Deryk Engelland (Flames)
Jake Bischoff (Islanders)*
Colin Miller (Bruins)
Marc Methot (Senators)
David Schlemko (Sharks)
Griffin Reinhart (Oilers)
Alexei Emelin (Canadiens)
Clayton Stoner (Ducks)
Shea Theodore (Ducks)*
Trevor van Riemsdyk (Blackhawks)
Nate Schmidt (Capitals)
Goaltenders
Calvin Pickard (Avalanche)
Jean-Francois Berube (Islanders)
Marc-Andre Fleury (Penguins)
*Acquired via trade
---
Here is a list of draft picks acquired by Golden Knights:
1st round (2017) from Jets
1st round (2017) from Islanders
2nd round (2017) from Lightning
2nd round (2019) from Islanders
2nd round (2019) Blue Jackets
2nd round (2020) from Penguins
3rd round (2019) from Jets
4th round (2018) from Lightning
5th round (2017) from Hurricanes
6th round (2017) from Sabres
---