Floro out as Canadian men's soccer coach
Benito Floro is stepping down as coach in the wake of Canada's failed World Cup qualifying campaign. The Canadian Soccer Association says Floro's contract is not being renewed.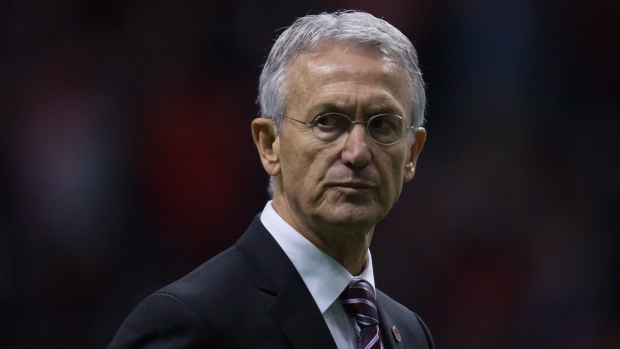 TORONTO — Canadian soccer has claimed another coaching victim.
The Canadian Soccer Association dumped Benito Floro on Wednesday, opting not to renew the well-travelled Spaniard's contract in the wake of Canada's most recent failed World Cup qualifying campaign.
Association president Victor Montagliani, who hired Floro, praised the outgoing coach for his efforts with the men's program but said it was time to step up.
"We've taken a long-term approach to this program, knowing this was the first block," Montagliani told a media conference call. "I think Benito has brought a lot to the program from a technical, tactical perspective.
"At the end of the day, it is a results business ... As we move forward, the program needs now another elevation," he added.
The CSA also parted ways with assistant coach Antonio Floro, Benito's son.
The 64-year-old Floro took charge in August 2013, taking over from Stephen Hart who resigned following the 8-1 humiliation in Honduras that signalled the end of qualifying for the 2014 tournament.
Floro inherited a team ranked 88th in the world and 10th in CONCACAF. Canada is currently No. 100 in the world and No. 11 in CONCACAF.
His record at the Canadian helm was 9-11-10, including a 5-4-4 mark in official games.
Floro did his part developing talent, dressing 77 different players during his tenure with the senior side.
Under his watch, Canada brought in the likes of Tesho Akindele, Junior Hoilett, Steven Vitoria, Fraser Aird and Scott Arfield, all of who had other international options.
"I would like to thank Canada Soccer for the opportunity to lead the men's national team program for the past three years," Floro was quoted in the CSA announcement heralding his departure. "The organization's support for the program has been formidable and will lead to strong results in the years to come. We have a talented group of dedicated players that have a bright future and I wish Canada Soccer all the best for success."
Since Tony Waiters took the Canadian men to their only World Cup final in 1986, the managerial revolving door has included Bob Bearpark, Tony Taylor, Bob Lenarduzzi, Bruce Twamley, Holger Osieck, Colin Miller, Frank Yallop, Dale Mitchell, Tony Fonseca, Hart and Floro.
Some were interim coaches. But all failed to take the Canadian men to the promised land.
Floro exits eight days after a 3-1 decision over El Salvador in World Cup qualifying, a win that was not enough to pull past Honduras, finish second in its group and advance to the so-called Hex, the final round of qualifying in the CONCACAF region that covers North and Central America and the Caribbean.
Lack of offence killed Canada's chances. Floro's team only scored twice in the five games prior to the El Salvador finale.
There were also questions over some of Floro's selection policy with Jonathan Osorio, Russell Teibert and Will Johnson head-scratching omissions at times. Floro's decision on where to deploy others also was questioned.
As for the players, Montagliani said they had not "shied away from putting up their hand" for their part in the qualifying failure.
"I don't think you can fault the players for their attitude, their commitment and all that," he said. "It just didn't go their way."
"I think we've all put up our hand," he said.
Floro's limited English did not help matters. While fluent in French and Spanish and always courteous with the media, his message was somewhat lost. It was in stark contrast to charismatic women's coach John Herdman, an English native who is a master at communicating.
Floro, who doubled as the Olympic team coach, often lamented the lack of a domestic pro league — something the CSA has long been working on — and the fact many of his players were not seeing regular action with their clubs around the globe.
The search for a new men's coach starts while the association looks to secure games for Canada on FIFA international dates in October and November. Montagliani, who said there is no "rush" to hire a new coach, said the CSA will be "open-minded" when it comes to their nationality.
"The reality of our situation is we do have domestic candidates but we also have to look elsewhere as well — as we have in the past, as we have in the present and as we will in the future. I don't think we're excluding anybody and specifically our own."
The goal "is to build on the good things that have happened."
Montagliani said the Canadian men's program is already far more professionally run than in the past.
"I'd equate it to we've gone from a three-star hotel to a five-star hotel in terms of how we prepare how we treat the players, how we treat the staff, how we prepare for whatever it is."
The CSA will increase such efforts, he promised.
"If you keep doing the right things, eventually you'll break through that glass ceiling," he said.
Floro arrived with a well-stocked resume. He managed Real Madrid from 1992 to 1994 and served as director of football with the Spanish powerhouse in 2006. He also coached club sides in Spain, Ecuador, Japan, Mexico and Morocco.
Floro also won high marks for his knowledge of the game.
"You can see how he treats football. It's like art," Canadian captain Julian De Guzman, who played in Spain for Deportivo La Coruna, told The Canadian Press in 2014. "That's something I've experienced with a lot of La Liga coaches and the culture in Spain. It's great to see that here in Canada."
Ironically Hart, who preceded Floro, has succeeded in taking Trinidad and Tobago to the Hex.
"You have to walk before you can run," Montagliani said in hiring Floro. "The first objective is obviously to get us to the Hex (the final round of qualifying in CONCACAF). You can't get into the World Cup if you don't get into the Hex … once you get into the Hex, as we've seen this year, anything can happen."
The search for a Canadian door into the Hex continues.
___
Follow @NeilMDavidson on Twitter