Forde: A growing trend
It's common knowledge that, in the CFL, there are more Canadian starters on the offensive line than there are at any other position. O-Line, however, is not necessarily the position at which the best Canadian talent is currently being produced. Here are five D-Line prospects looking to continue what has been a veritable gold mine of talent over the past few seasons on the defensive end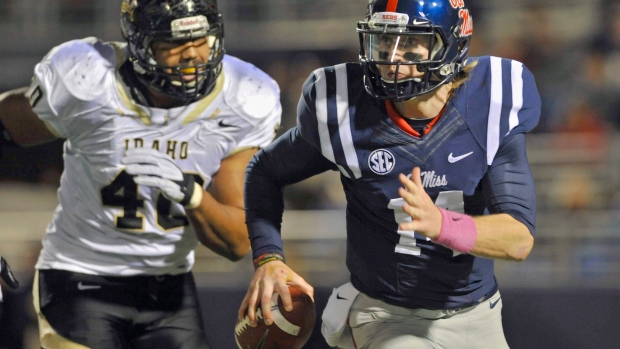 It's common knowledge that, in the CFL, there are more Canadian starters on the offensive line than there are at any other position. O-Line, however, is not necessarily the position at which the best Canadian talent is currently being produced.
Since 2012, several promising National defensive linemen, including Jabar Westerman, Cleyon Laing, Linden Gaydosh and Jake Thomas, have entered the CFL. Consider, as well, that the 2012 to 2014 CFL Draft classes have placed five Canadian D-Linemen (Tyrone Crawford, Christo Bilukidi, Stefan Charles, Brent Urban and Andy Mulumba) on NFL rosters and suddenly, you have a bit of a gold mine. The Class of 2015's best player, Christian Covington (DT, Rice), is NFL-bound and won't be at the CFL Combine, but several other top D-Line prospects will be there looking to continue the trend, including the following (listed alphabetically):
Maxx Forde (DE, Idaho, 6'5", 272 lbs.): The son of former NFL and CFL linebacker Brian Forde was a three-year starter for the Vandals. His numbers dropped slightly in 2014, as he played the entire season with an injured shoulder, however, in 2013, he recorded career highs with 63 tackles, five sacks and nine tackles for loss. Primarily an end in college, he'll likely take some reps inside, as well, this weekend.
Ese Mrabure-Ajufo (DT, 6'3", 275, Wilfrid Laurier): Always a freakish athlete, he dominated the D-Line testing at the 2014 East West Bowl with top scores in the 40, vertical and broad jump. In 2014, that athleticism really began to translate to the field, as he posted more sacks and tackles for loss than he had in his previous three seasons combined, en route to his first OUA All-Star selection.
Brandon Tennant (DT, Laval, 6'2", 310 lbs.): He is something of an enigma, having missed much of the 2014 season due to a broken toe suffered while kicking a garbage can in frustration. This, however, came after his breakout third year, in which he was named an RSEQ All-Star and impressed CFL scouts at the 2014 East West Bowl.
Daryl Waud (DT, Western, 6'5", 295 lbs.): This three-time All-Canadian possesses the size, quickness and long arms of a prototypical defensive tackle. The Hamilton native was one of two CIS participants in the East West Shrine Game in Florida in January and was at times dominant against top NCAA competition. He is expected to be the first defensive lineman taken on Draft Day.