Forde: Who to watch in Toronto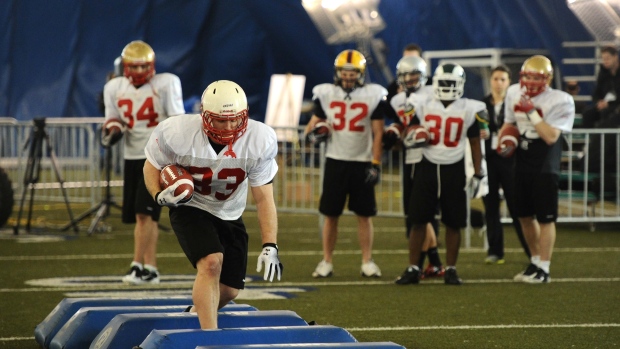 Congratulations to the following four athletes who were promoted from Wednesday's Montreal regional combine to the main event in Toronto this weekend:
Jean-Samuel Blanc (DE, Montreal): Good in the morning testing session, he also lived up to his reputation as one of the top pass rushers in Canadian university football during the on-field workout.
Anthony Coady (DB, Montreal): The Defensive MVP of the 2014 Vanier Cup didn't let a lingering shoulder injury bother him, as he turned in a solid all-around performance.
Mikhail Davidson (REC, Montreal): With speed, precise routes, and sure hands, he demonstrated during one-on-ones exactly why he has been one of the most prolific receivers in the country over the last three years.
William Langlais (FB, Sherbrooke): No player boosted his stock more on Wednesday than this hard-nosed banger, who had flown under the radar in the Vert et Or's five r-receiver offence.
Injuries definitely impacted the selection process on Wednesday, as Laval receiver Matthew Norzil and Saint Mary's linebacker Marvin Golding had both all but punched their tickets to Toronto before going down with hamstring injuries during the afternoon one-on-ones. The injury will make Norzil's path to the draft particularly interesting to follow. In terms of both skill and athleticism, he ranks among the draft's elite receivers but he needed to show that he was back to 100 per cent after missing most of the last two seasons due to injury. He had done that rather convincingly through the testing but the injury left scouts wondering if he's damaged goods. In fact, many of the scouts in attendance still wanted Norzil promoted to the main combine despite yesterday's injury in order to have him to go through that event's extensive medical exam and establish whether his previous knee injury would be a concern going forward.
On Thursday, it's all about the Toronto regional combine. In addition to the obvious sense of competition, there will be a bit of a theme of "family" for CFL fans, as the participants are expected to include Wilfrid Laurier receiver Kelvin Muamba (brother of Henoc and Cauchy), York linebacker Hussein Hazime (brother of Hamilton's Hasan), McMaster defensive lineman Christian D'Aguilar (brother of Calgary's Ben), and Marauders receiver Andrin Masotti (son of former Toronto Argonaut Paul), not to mention two brothers who are both participating in John (LB, Guelph) and Jack (DB, Okanagan Sun) Rush.
Below is a look at some others I'll be tracking in their quest to be invited to the main combine.
Daniel English (REC, 6'3", 223, Langley Rams): As a senior at New Westminster (B.C.) Secondary School five years ago, he was one of Canada's most coveted football recruits. Since then, he has been something of a gridiron nomad, spending a redshirt season (2010) with the New Mexico State Aggies and one season (2012) with University of British Columbia Thunderbirds before settling in for the last two years with the CJFL's Langley Rams. His combination of size, speed, and ability to stretch the field (20.6 yards per catch over the last three seasons) is sure to draw some attention.
Daniel Ferraro (K/P, 5'8", 185, Guelph): One of Canada's top kicking prospects coming out of high school in 2011, he saw his share of ups and downs through his first three years as a Gryphon. However, under the tutelage of former CFLer and current Guelph kicking coach Hank Ilesic, he put it all together in his senior year hitting a CIS single season record 26 field goals and posting a career high 87 per cent accuracy rate.
Jazz Lindsey (QB, 6'2", 193, Guelph): He has never been among the CIS leaders in terms of passing yards but, in his three years as the Gryphons undisputed starter, he has improved his completion percentage every year, thrown more than twice as many TD passes as interceptions (38 TD, 17 INT), and most importantly has led his team to three consecutive 7-1 finishes. He has actually also thrown at the CFL Combine each of the last two years so he would seem to be a logical candidate to at least take part in Sunday's on-field workouts.
Louis Mensah (RB, 6'0", 230, Fort Lewis College): The Toronto native played linebacker at the junior college level for College of the Desert, and was recruited to Division 2 Fort Lewis at that position as well. However, injuries on offence led the Skyhawks coaching staff to move him to the other side of the ball. He had a season high 24 carries for 116 yards in the final game of his college career.
Jacob Myall (OL, 6'2", 295, Windsor): There remains an opportunity for another offensive lineman to join BYU's Quinn Lawlor in advancing from the regionals to the main combine. Myall isn't a player who will stand out physically but he quietly put together a good 2014 season for the Lancers and performing at a similar level on Thursday could earn him a longer look.
Ronnie Pfeffer (P/K, 5'11", 185, Wilfrid Laurier): A long time disciple of well-known kicking coach Ken Urquhart, he has worked extremely hard at his craft for the last four years, culminating in his selection as the Second Team All-Canadian punter in 2014. In addition to leading the nation in punting (42.3 yard average), he also hit a career high 18 field goals last season to establish himself as perhaps the best all around kicking prospect in the draft class.
Matt Rea (FB, 6'1", 242, Michigan State): After two seasons as a backup defensive lineman with the Ivy League's University of Pennsylvania Quakers, he transferred to Michigan State, where he became a fullback, used almost exclusively on the scout team. That said, fullback is always a position of need in the CFL and Rea's very film, though very limited, shows him to be a willing and capable run blocker and his MSU Pro Day numbers (30 bench press reps, 33" vertical, 9'8" broad jump) suggest that he has some of the requisite physical tools to compete in the CFL.
Neil Riley-Grant (DB, 6'3", 200, Concordia): With the Brampton Bears, he was an Ontario Football Conference All-Star in 2010 and 2011 before being named a CJFL All-Canadian in 2012. He played his lone CIS season with the Stingers in 2013, proving to be an impact performer at safety. Last season, he returned to the junior ranks with the Toronto-based GTA Grizzlies.
Garrett Sanvido (RB, 6'0", 200, Western): When Western's 2011 CIS Rookie of the Year Tyler Varga bolted for the NCAA after one season, the Mustangs coaching staff barely flinched, knowing that they had Sanvido ready to step in to the lineup. Although he has shared the backfield with 2016 prospect Yanick Harou for the last three years, he has still managed to rush for 2,343 yards (6.9 yards per carry) in his career, including 1,001 yards and a First Team All-Canadian selection in 2012. Now he has a chance to show he can replace Varga again – this time on the roster of the main CFL Combine.
Dee Simons (LB, 6'0", 220, Wesleyan): This NCAA Division 3 product will compete with some accomplished OUA linebackers, including Preston Huggins of Western, Guelph's John Rush, and York's Hussein Hazime, to establish where he ranks in a deep group of second tier LB prospects.