Fucale to start for Canada in World Junior opener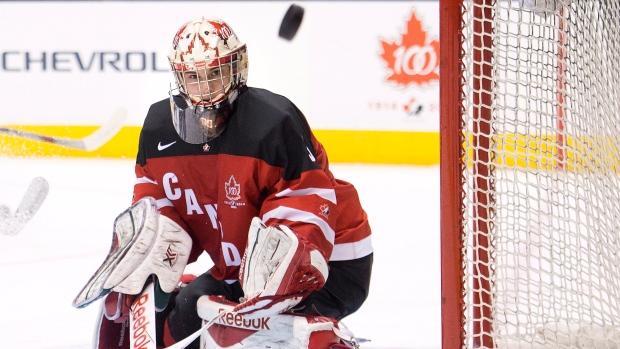 Zach Fucale will start Canada's World Junior opener against Slovakia on Boxing day.
Canada head coach Benoit Groulx informed the 19-year-old he would be the team's starter on the ice during Thursday's practice.
Fucale - who started four games for Canada at the 2014 tournament - posted a 14-save shutout in the team's 6-0 handling of Switzerland Tuesday night in Montreal.
We're comfortable with both goalies, but we just think it was normal to start with the goalie who was there last year and give him a chance," said Groulx, who would not commit to starting either Fucale or backup goalie Eric Comrie against Germany on Saturday.
"It's a good feeling," Fucale said of earning the first start. "Tomorrow I'm starting and it is what it is. Afterwards if it's Comrie or me I don't think the guys in the room care that much."
Comrie made 17 saves in Canada's 5-2 pre-tournament victory over Sweden Sunday night, with one of the goals coming on a William Nylander penalty shot.
Fucale got the start in the team's pre-tournament opener against Russia on Friday, making 18 saves in a 2-1 overtime loss.
In 24 games with the Halifax Mooseheads this season, Fucale has posted a 13-9-2 record with a 3.20 goals-against average and an .890 save percentage. He was traded to the Quebec Remparts shortly after arriving at Canada's selection camp. Fucale went 2-2 as part of Canada's fourth-place showing at the 2014 World Juniors with a 2.42 goals-against.
Fucale said his experience since the 2014 tournament has helped him prepare for this year's World Juniors.
"I've been through a lot the last year," the netminder said. "I've learned lessons and that's helped me to improve. I'm in a much better place now than I was last year. I'm happy about it and I'm excited to get it going."
Canada made one minor change to their forward lines on Thursday, moving Nic Petan to centre on third line after playig left wing against Switzerland.
"I just feel more comfortable in the middle," Petan of the change, "with getting the puck more and working down low and just controlling the play."
The defensive pairings went unchanged on Thursday from the Switzerland game.
Canada's Thursday Practice Lines
Forwards
Domi-Reinhart-Duclair
Ritchie-McDavid-Lazar
Paul-Petan-Fabbri
Crouse-Gauthier-Virtanen
Point
Defence
Nurse-Theodore
Morrissey-Bowey
Morin-Hicketts
Heatherington
Goaltender
Fucale
Comrie