Fucale to start in goal for Canada vs. Slovakia in semifinals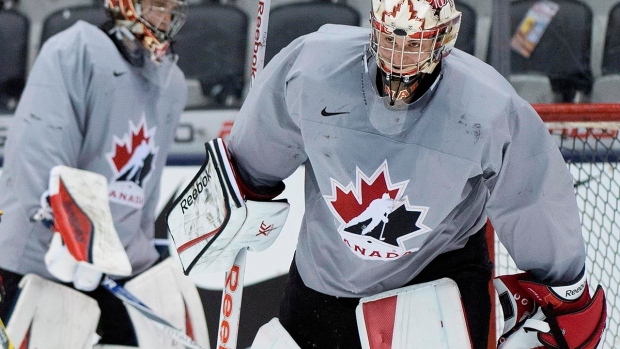 TORONTO — Zach Fucale will have a shot at redemption when he starts in Sunday's semifinal game against Slovakia at the world junior hockey championship.
Fucale was the starter a year ago when Canada lost 5-1 in the semifinals against Finland.
"Last year, we learned a lot from it," Fucale said Saturday. "We thought we were there and we weren't. It hit us hard and it was a hard thing to go through. It helped us out. A lot of us have lived that."
The 19-year-old was 2-2 with a 2.42 goals-against average and .902 save percentage at last year's tournament as Canada settled for a fourth-place finish.
That experience has helped the Montreal Canadiens second-round pick stay focused this year.
"We know that if we don't' take care of this moment right now, if we don't take advantage of what we have in front of us, live in the moment, we won't have that chance at the end," he said. "It's not that hard to just stay right here and take one step at a time and not skip a step."
According to Canadian coach Benoit Groulx, the experience from last year's tournament gave Fucale the edge for Sunday's start.
"We like both of our goalies. They have been very good so far. It is just a matter of picking a very good goalie for tomorrow and Zach has the experience from last year," said Groulx. "So we feel very comfortable having him in net tomorrow night."
Eric Comrie, a Winnipeg Jets 2013 second-round pick, has a 1.55 goals-against average and .933 save percentage in his two appearances at this year's tournament.
Fucale said the conversation on who will start Sunday wasn't long.
"It wasn't much of a conversation really," Fucale said. "Me and (Comrie) were just stretching on the ice and (Groulx) came over to us and told us. It feels really good. Everyone wants to be in there and contribute.
"We're happy to have this opportunity tomorrow and we're preparing well for it."
Fucale made 12 saves to blank the Slovaks in the first game of the preliminary round on Boxing Day but expects a different team in the semis.
"That was the first game of the tournament," he said. "They're going to be a different team, a better team. Certainly we're a better team and we've been different. If we keep playing the way we can, and play out of our comfort zone, we'll have success."
Fucale made 14 saves to shut out Denmark in Friday night's 8-0 quarter-final win and has allowed just one goal in the tournament while posting a .982 save percentage.
"The Slovaks always compete and they're coming off a couple wins and they have some momentum right now," said Fucale. "We can't underestimate them at all. They're in the semifinals so they certainly did something right to be there and they're going to be ready for us."
The winner between Canada and Slovakia will play either Russia or Sweden for gold on Monday night.