Game of Throws: All eyes on the quarterbacks in NFC divisional round
Domenic Padula (@dpadula12)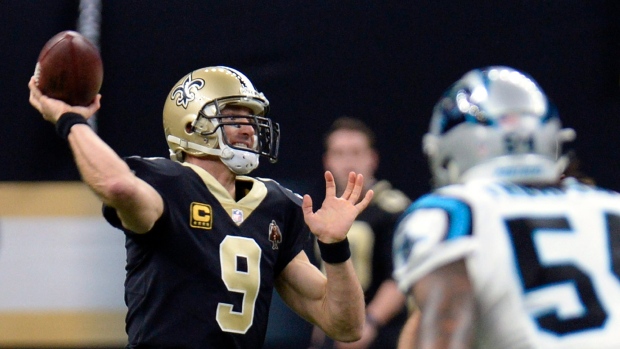 ---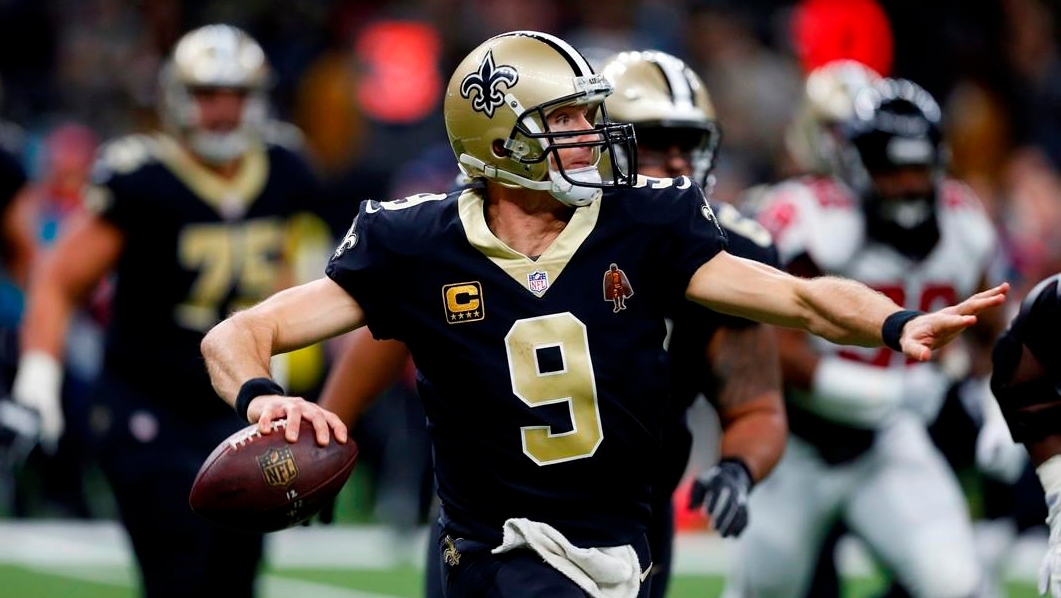 Saints QB Drew Brees Will Face NFL's Top-Ranked Scoring Defence In Minnesota
Six years ago, the New York Giants upset the New England Patriots with a 21-17 win in Super Bowl XLVI. The Giants, the four-seed in the NFC, ran the table with wins over the Atlanta Falcons, Green Bay Packers and San Francisco 49ers before securing their second Super Bowl title in five years.
In each of the five seasons since, the NFC has been represented by one of its top two seeds in the biggest game of them all. This time around it's a pair of NFC South teams attempting to end that trend.
The New Orleans Saints completed a three-game sweep of the Carolina Panthers with a 31-26 win in the NFC wild-card round to set up a date with the Minnesota Vikings. The Falcons spoiled the return of playoff football to Los Angeles with a 26-13 win over the Rams and will now visit the top-seeded Philadelphia Eagles in the divisional round.
Here are five key NFC storylines to keep an eye on this weekend.
The underdog Eagles
The Eagles clinched the NFC's top seed at 13-3. However, the quarterback that got them here will be watching from the sideline when they clash with Atlanta on Saturday.
Carson Wentz is recovering from a torn ACL after putting up MVP-calibre numbers before he was injured in Week 13. That leaves Nick Foles to make just his fourth start since returning to Philadelphia in the divisional round. Foles struggled in his final two starts of the season. He completed just 23-of-49 pass attempts for 202 yards and a touchdown with two interceptions against the defences of the Oakland Raiders and Dallas Cowboys.
The most concerning aspect for the Eagles is the way they've struggled on third downs with Foles under centre. Before his injury, Wentz led the NFL with a 123.7 passer rating on third downs. Since Foles took over, Philadelphia has converted just 1-of-17 third down attempts.
The Eagles are the first No. 1 seed ever to be an underdog in their first playoff game since basing home-field advantage on a team's regular-season winning percentage began back in 1975.
Football fans in Philadelphia are looking forward to watching their team's first playoff game in four years on Saturday. All eyes will be on Foles to see how he performs in place of the injured Wentz.
Eagles RB Jay Ajayi Breaks 46-Yard TD Run vs. Broncos
Pounding the rock
With so much of the focus on Foles, it wouldn't be a surprise if the Eagles decide to take a different approach on Saturday to limit his exposure early in the game.
Philadelphia ranked third in the league with an average of 132.2 rushing yards per game this season. Head coach Doug Pederson could elect to lean heavily on his run game against the Falcons. The Eagles have a healthy and deep stable of running backs with Jay Ajayi, LeGarrette Blount and Corey Clement fresh and ready for a heavy workload against the Falcons. Ajayi averaged 5.8 yards per carry after joining the Eagles, which was the second-best mark among NFL running backs since Week 9.
With rain and snow, heavy winds and freezing temperatures expected in Philadelphia Saturday afternoon, the weather could be a great equalizer for the Eagles in the divisional round.
Falcons QB Matt Ryan Throws Off Balance TD To Julio Jones In 26-13 Win Over Rams
Ryan's redemption
A year ago, the Falcons had home-field advantage against the Seattle Seahawks and Green Bay Packers for the two playoff wins they recorded to reach the Super Bowl. Fast-forward to this season and Atlanta needs three playoff road wins just to get back to the Super Bowl.
They looked good clinching the first of the three in Los Angeles last week. Matt Ryan completed 21-of-30 pass attempts for 218 yards and a touchdown. He was at his best on the Falcons opening drive of the fourth quarter when he went 5-of-5 for 85 yards culminating with a beautiful, off-balance touchdown pass to Julio Jones to put Atlanta up 13 points with 5:48 left in the fourth quarter. While he hasn't been perfect, Ryan has thrown 10 touchdowns and zero interceptions in his last four playoff games.
The defending NFC champions have unfinished business. After taking down the Rams, they are suddenly a betting favourite on the road in the divisional round. Ryan will need to be at his best once again if the Falcons are going to move one step closer to redemption this weekend.
Vikings two wins away from hosting Super Bowl
Minnesota is home to this year's Super Bowl. After earning a playoff bye with a 13-3 record, the Vikings are two wins away from playing for a championship at home.
Minnesota is the 27th team in NFL history to own the league's top-ranked scoring defence as well as a top-10 scoring offence. Fourteen of the previous 26 teams to accomplish that feat made the Super Bowl. However, no team has ever played in the Super Bowl on their home field. In fact, the Super Bowl hosts have failed to ever reach a conference championship game.
If the Vikings are going to end that trend, they need quarterback Case Keenum to deliver opposite Drew Brees. Keenum recorded the second-best Total QBR in the NFL behind only Wentz this season, completing 67.6 per cent of his pass attempts while throwing 22 touchdowns compared to seven interceptions.
With one of the best defences in the NFL and a strong supporting cast on offence, Keenum simply needs to continue to perform at an above average level to help Minnesota advance. After playing good enough to keep Sam Bradford and Teddy Bridgewater on the bench, there is no doubt that the Vikings believe Keenum can lead them to a Super Bowl.
Saints QB Drew Brees Hits Ted Ginn Jr. For 80-Yard TD In 31-26 Win Over Panthers
Vintage Brees
For all of the talk about the Saints' elite running back tandem heading in to the postseason, it's worth noting that Alvin Kamara and Mark Ingram combined for just 45 rushing yards on 19 carries in last week's 31-26 win over Carolina. Kamara and Ingram were held to a combined 2.4 yards per carry. It won't get any easier to move the football on the ground against a dominant Minnesota front seven in the divisional round.
While the run game hit a wall, New Orleans managed to score 31 points thanks to another vintage performance from its future Hall of Fame quarterback. Brees completed 23-of-33 pass attempts for 376 yards and two touchdowns, including an 80-yard bomb to Ted Ginn Jr. that set off the Mercedes-Benz Superdome. Michael Thomas had eight receptions for 131 yards. Ginn finished with four catches for 115 yards and a score. Meanwhile, Kamara, Ingram, Josh Hill and Brandon Coleman combined for another nine receptions for 116 yards and a touchdown.
The Saints offensive line did an excellent job protecting him while the wide receivers made several big plays, but the bottom line is that when Brees performs at the level he did against the Panthers this offence is difficult to stop. This will undoubtedly be the toughest test of the season for the New Orleans offence. The Saints will need another vintage performance from Brees if they are going to find a way to beat Minnesota to reach the NFC Championship game.