Game of Throws: Smith headlines unlikely Week 1 quarterback performances
Domenic Padula (@dpadula12)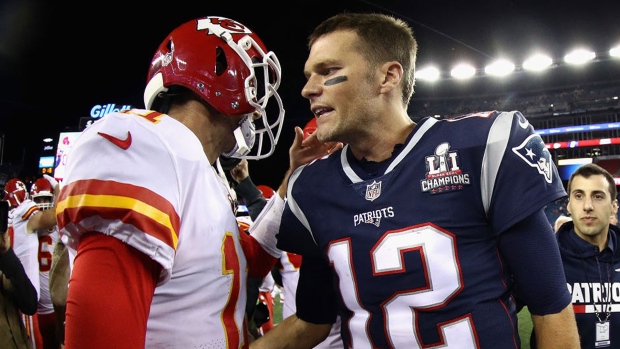 The opening week of the NFL season featured plenty of surprises.
How many experts predicted Alex Smith, Sam Bradford and Jared Goff would lead the league in passer rating after Week 1?
It's early, but scoring is down across the NFL. A year ago, there were eight Week 1 games in which both teams scored 20 points or more. This year, there were only three – the lowest total in more than a decade.
Eli Manning, Andy Dalton, Josh McCown, Tom Savage and Scott Tolzien combined for zero touchdowns, nine interceptions and 19 sacks in their openers.
Meanwhile, Aaron Rodgers, Tom Brady and Russell Wilson all ranked outside of the top 15 in passer rating.
It might be one week, but there are plenty of interesting takeaways at the quarterback position.
The majority of the conversation surrounding Smith before the season had more to do with the rookie quarterback listed behind him on the depth chart than Smith's own potential.
The Kansas City Chiefs traded the No. 27 overall pick, a third-round pick and a 2018 first-round pick to the Buffalo Bills to move up and select Patrick Mahomes at No. 10. That's a huge price for a playoff contender to pay in order to lock in their quarterback of the future. It only made sense that the narrative turned to how long it would be before Mahomes overtook Smith as the starter in Kansas City.
That changed when Smith completed 28 of 35 passes for 368 yards and four touchdowns to stun the defending Super Bowl champion New England Patriots on the road in the season opener.
Smith threw two touchdown passes of at least 75 yards. To put that in perspective, he had only two touchdown passes of at least 75 yards in his previous 11 seasons combined. Smith averaged 10.5 yards per attempt against the Patriots and went three of four on passes targeted 20 yards or more downfield.
Tyreek Hill consistently stretched the field with his speed, while rookie running back Kareem Hunt bounced back from a fumble on his first NFL carry to deliver a dominant debut.
Smith has earned a reputation as a conservative quarterback over the course of his career. With some skilled playmakers and a greater emphasis on pushing the football downfield, it will be interesting to see whether Smith can consistently make big plays and shed the label of game manager.
One thing is for sure: Nobody is talking about Mahomes after Week 1.
There are plenty of numbers that help illustrate the unlikelihood of the Patriots' 42-27 loss to the Chiefs.
Since 2001, New England has gone 113-0 at home when they lead by more than three points at any time in the fourth quarter. Brady was 50-1 against AFC opponents at home dating back to 2007, with the only blemish being Week 17 of the 2014 season when Brady sat the entire second half of a 17-9 loss to the Buffalo Bills after the Patriots had already clinched the AFC'S top seed. Brady and head coach Bill Belichick were 8-0 all-time in season openers at home.
New England took a 27-21 lead in to the fourth quarter, with nobody expecting what happened next.
Brady went 2 for 10 for 34 yards and was sacked three times in the final frame. Kansas City scored 21 unanswered points and won by 15. Brady's final line was 16 of 36 for 267 yards and three sacks. His 44.4 completion percentage was the worst in the NFL for Week 1.
There are a couple of key factors that contributed to Brady's poor performance. Michael Irvin touched on one of them here:
The most important factor is the game plan drawn up by Chiefs defensive coordinator Bob Sutton, which focused on taking away Brady's short and intermediate passing options by rushing three or four while dropping extra linebackers and safeties in to that space.
With top wide receiver Julian Edelman out for the year, Brady relied heavily on Danny Amendola early on. Amendola had six catches for 100 yards before suffering a head injury in the second quarter. Without Edelman and Amendola, it became that much more difficult for Brady to hit his short and intermediate targets against a defence that was committed to taking those options away.
By limiting the short and intermediate targets, the Kansas City defence forced Brady to stand in the pocket and wait for longer routes to develop downfield.
Brady spent an average of 2.94 seconds in the pocket and was 5 for 19 on pass attempts in which he stood in the pocket for 2.6 seconds or longer. Brady also struggled to connect on deep passes. He went 2 of 9 on passes that travelled 20 yards or more downfield. No other quarterback attempted more deep passes in Week 1 than Brady, which is a testament to the success of Sutton's game plan.
The Patriots will travel to New Orleans in Week 2. New England hasn't started a season with consecutive losses since 2001. Brady and company should bounce back with a much more favourable matchup. That won't change the fact that the Chiefs established a blueprint for how to attack the New England offence.
No quarterback was better on deep passes in Week 1 than Bradford. The former No. 1 pick went 5 of 5 for 130 yards and a touchdown on targets 20 yards or more downfield in a 29-19 win over the New Orleans Saints. Bradford completed 27 of 32 passes for 346 yards and three touchdowns while producing a 158.3 passer rating when under pressure.
Bradford's most impressive throw was a completion to wide receiver Jarius Wright with 4:45 left in the second quarter. When Bradford reaches the bottom of his drop, he feels the pressure of a blitz from New Orleans with safety Kenny Vaccaro coming off the edge and defensive end Cameron Jordan attacking the interior. At the moment when Bradford releases the football, Wright is covered by Saints cornerback P.J. Williams. However, Bradford accurately throws to a spot that allows Wright to make the catch in stride between Williams and the safety Marcus Williams. The ball comes out just a moment before Jordan reaches Bradford.
It was an impressive throw under pressure that showcases Bradford's accuracy, anticipation and willingness to stand in the pocket and take a hit in order to make a play.
Goff completed 21 of 29 attempts for 306 yards and a touchdown in a 46-9 win over the Indianapolis Colts. It's impossible to overstate how terrible Indianapolis looked. At the same time, Goff looked better than he did at any point during his rookie season.
One number that stood out is Goff's eight attempts that travelled over 10 air yards. Head coach Sean McVay helped put Goff in position to succeed with a number of quick throws to his first option. At the same time, Goff was able to consistently throw the ball downfield with accuracy. He went 4 of 5 for 112 yards and a touchdown on passes that travelled 20 yards or more downfield.
There were some positives to take from the win over the Colts but nobody should overreact to a strong performance against the Indianapolis defence. The Washington Redskins will present a tougher test for Goff and this new Rams offence in Week 2.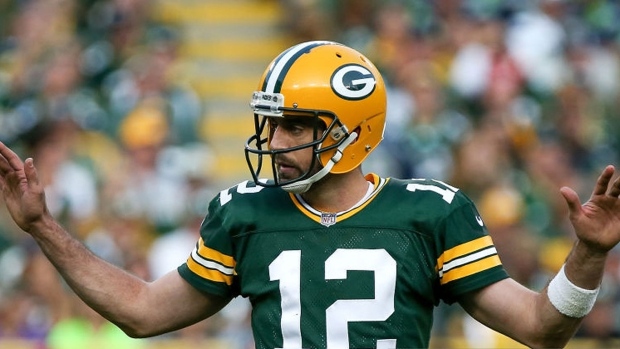 Aaron Rodgers and the Green Bay Packers survived an NFC showdown with the Seattle Seahawks with a 17-9 win. Rodgers was 28 of 42 for 311 yards with a touchdown and an interception.
His numbers weren't great, but that had a lot to do with the excellent performance of the Seattle defence. Michael Bennett, Sheldon Richardson, Frank Clark and Cliff Avril combined for four sacks and 17 total pressures. Earl Thomas returned to complete the Seahawks Legion of Boom secondary, managing a team-high five stops.
The combination of the pressure generated up front and the coverage of the defensive backs kept the pressure on Rodgers all game.
This play late in the second quarter is an excellent example of how difficult the Seattle defence can make the game for opposing quarterbacks. The Seahawks rush four with Bennett, Richardson, Clark and Avril. Clark burns the left tackle David Bakhtiari with the spin move to present the initial pressure. Rodgers spins away from Clark, but runs right into the path of Richardson in the process. Rodgers evades Richardson, but just moments later he is brought down by Bennett and Clark.
The Seattle defensive backs do an excellent job of sticking with the Packers receivers until Rodgers is sacked.
For the first time in seven years, the Green Bay offence was shut out in the opening half of a game at Lambeau Field. Rodgers had his streak of regular-season passes without an interception ended at a career-high 251 when he threw a ball right at defensive tackle Nazair Jones early in the first quarter.
It took a Wilson fumble and a recovery at the Seahawks six-yard line to set up the Packers first score on a six-yard run by Ty Montgomery. It took a rare moment when Rodgers caught the Seattle defence off guard late in the third quarter for Green Bay to score its second touchdown.
The Packers wouldn't have beaten Seattle on Sunday with a lesser quarterback. Rodgers did just enough to pick up a close win over a tough opponent. Now the attention turns to another marquee NFC showdown with Green Bay set to play the Atlanta Falcons on Sunday Night Football in Week 2. Rodgers is two touchdown passes away from tying John Elway for 10th on the all-time list. Nobody will be surprised if he passes him on Sunday night.
Wilson was clearly outplayed by Rodgers in the loss to the Packers. However, it isn't as though Wilson had much help. He was pressured on 39.4-percent of his dropbacks on Sunday. He completed 4 of 10 attempts and was sacked three times on his 13 pressured plays.
Green Bay defensive tackle Mike Daniels dominated the interior of the Seattle line, recording two sacks, six tackles and the crucial forced fumble that set up the Packers opening score.
Wilson's final line of 14 of 27 for 158 yards, three sacks and a fumble can't be completely blamed on the play of his offensive line but it's a big part of it. The line didn't fare much better when it came to running the football. Running backs Chris Carson, C.J. Prosise and Eddie Lacy combined for 53 yards on 15 carries for an average of 3.5 yards per carry.
Carson, a rookie seventh-round pick, clearly appears to be the Seahawks best option in the backfield. It won't be a surprise if he gets the bulk of the touches for Seattle this week. It also won't matter much if the offensive line doesn't play better.
The Seahawks will host the San Francisco 49ers in their home opener this week, with a chance to extend their win streak against their NFC West rivals to eight. Wilson and company might not need to be much better than they were against Green Bay in order to beat the 49ers. If Seattle is going to contend in the NFC, they will need to improve in all aspects of their offence.