Game of Throws: Underdogs will try to prevent Steelers-Patriots rematch
Domenic Padula (@dpadula12)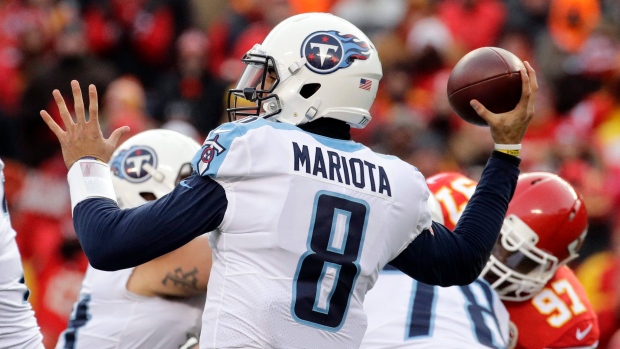 The Tennessee Titans and Jacksonville Jaguars will look to shock the football world in the AFC divisional round this weekend.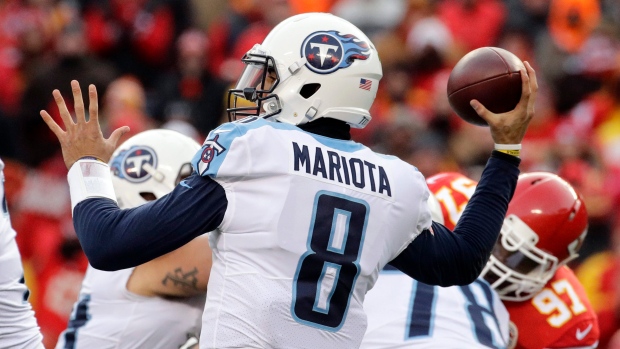 Titans a 13.5-Point Underdog For AFC Divisional Round Versus Patriots
The Tennessee Titans made NFL wild-card weekend a little more interesting with a dramatic upset win over the Kansas City Chiefs.
Tennessee erased an 18-point deficit to clinch its first playoff win in 14 years with a 22-21 victory. While that upset added some intrigue to the wild-card round, it dulled some of the anticipation looking forward to the AFC divisional round matchups.
The Titans will be a 13.5-point underdog when they visit the New England Patriots on Saturday night. Meanwhile, the Jacksonville Jaguars are listed as 7.5-point underdogs for their date with the Pittsburgh Steelers.
Will the underdogs find a way to shock the football world and prevent an AFC Championship game rematch between the Steelers and Patriots? Here are five key AFC storylines to keep an eye on heading into the divisional playoff round.
Remembering the Titans' wild-card win
Tennessee limped in to the playoffs at 9-7 after dropping three of its final four games to close out the regular season. After falling behind 21-3 in Kansas City, the Titans seemed doomed. The 18-point second-half comeback was impressive. However, it wouldn't have been possible without a significant collapse on the part of the Chiefs.
An injury to star tight end Travis Kelce didn't help. That said, play calling and a lack of execution were the most glaring aspects of Kansas City's second-half letdown. The Chiefs had four second-half drives and failed to score on any of them. Kansas City's average time of possession on its first three second-half drives was just 2:19. Harrison Butker missed a 48-yard field goal that could have sealed the win. Running back Kareem Hunt, who led the NFL in rushing yards, was limited to five carries for 17 yards in the second half.
On the other side of the football, Titans running back Derrick Henry had 156 yards and a touchdown on 23 second-half attempts. Dating back to 1933, only four teams have blown 18-point halftime leads in the playoffs. Two of those teams were coached by Andy Reid.
Football fans in Tennessee will remember the big plays that led to a memorable comeback win on the road in the playoffs. For Chiefs fans, it will be difficult to forget the plays their team didn't make in an epic collapse.
We're on to New England
Titans quarterback Marcus Mariota is as healthy as he has been all season. Henry is coming off his best performance of the season after registering 191 scrimmage yards and a touchdown in the win over Kansas City. Tennessee could also have injured running back DeMarco Murray back in time for Saturday night.
The run game will be important for the Titans as they attempt to set up the play-action passing game with their exotic smash-mouth scheme on offence. An efficient rushing attack will help maximize their offensive potential while keeping Patriots quarterback Tom Brady on the sideline.
Tennessee is a substantial underdog. That doesn't mean they don't have a chance to shock the football world with a win in New England this weekend. In fact, our Sportscentre analyst Jabari Greer has picked the Titans to upset the Patriots in the divisional round.
Acknowledging the Patriots biggest obstacle
A lot has been made about the relationship between Patriots quarterback Tom Brady, head coach Bill Belichick and owner Robert Kraft following an ESPN report that there was friction between the three following the trade that sent backup quarterback Jimmy Garoppolo to the San Francisco 49ers.
For all of the speculation surrounding the franchise, they are in a pretty good spot right now. Over the last 18 years, New England has 15 division titles, seven Super Bowl appearances and five Super Bowl wins. The Patriots are coming off another 13-win season in which Brady led the NFL with 4,577 passing yards while throwing 32 touchdowns.
Looking forward to Saturday, tight end Rob Gronkowski, wide receiver Brandin Cooks and running back Dion Lewis have the potential to create matchup nightmares for the Tennessee defence. Brady has a 110.9 quarterback rating in in eight career games against Dick LeBeau defences. He has completed 68 per cent of his pass attempts while throwing 19 touchdowns and three interceptions.
All things considered, time might be the biggest obstacle in New England's way right now. Brady will turn 41 in August. Belichick turns 66 in April. Those inside and outside of the organization understand that after 18 years together it's only a matter of time before this current era comes to an end.
That sentiment should only add to the sense of urgency the Patriots approach this year's playoffs as they look to add to their considerable legacy.
Banking on Bortles
In the other AFC wild-card matchup, the Jaguars beat the Buffalo Bills 10-3 despite the fact that Blake Bortles threw for just 87 yards and a touchdown.
The Jaguars simplified their offence to put Bortles in position to make several easy throws in the first half, but he kept missing open targets and his accuracy didn't improve much throughout the game. Fortunately for Jacksonville, Bortles' best throw was a short touchdown pass to tight end Ben Koyack that ended up being the difference in the game.
The Jaguars escaped with a win thanks in large part to a dominant defensive performance and 88 rushing yards from Bortles, who capitalized on the Bills failure to adjust on defence with several big gains on the ground.
Jacksonville owns the NFL's top-ranked rush attack and the league's No. 2 scoring defence. However, Bortles will have to be better as a pure passer if the Jaguars are going to have a shot at upsetting Pittsburgh this week. Based on what we saw against the Bills, it's hard to predict what to expect from Bortles on Sunday afternoon.
Roethlisberger's revenge
Steelers head coach Mike Tomlin explained how his team has "evolved" since a 30-9 loss to the Jaguars back in Week 5. His coaching staff will need to evolve if Pittsburgh is going to avenge that loss in the divisional round.
The Steelers took a very aggressive approach on offence in their first meeting with Jacksonville, challenging one of the league's best cornerback tandems by going right after Jalen Ramsey and A.J. Bouye. Ben Roethlisberger was picked off five times, including two interceptions returned for touchdowns. Bortles completed just 8-of-14 pass attempts for 95 yards and an interception but his team won by 21 points.
After watching that game again, it wouldn't be a surprise if Pittsburgh took a more conservative approach in the rematch. Running back Leonard Fournette ran for 181 yards and two touchdowns, but that included a 90-yard touchdown run with the game out of hand in the final two minutes of the fourth quarter. The Steelers played to the Jaguars strengths by turning the ball over and taking all of the pressure off of the Jacksonville offence.
Based on their performance against the Bills, the Jaguars don't look like a team that can beat Pittsburgh without the benefit of turnovers and points scored by their defence. The Steelers need to protect the football, contain Fournette and force Bortles to try to beat them with his arm.
After last week's upsets, it will be interesting to see if Jacksonville or Tennessee could surprise and prevent an AFC Championship game rematch between Pittsburgh and New England.