Getcha Popcorn Ready: T.O. invokes 10-day clause on Eskimos
Soon-to-be Pro Football Hall of Famer Terrell Owens has invoked the 10-day clause that forces the Edmonton Eskimos - who holds his negotiation rights - to offer him a contract or release him.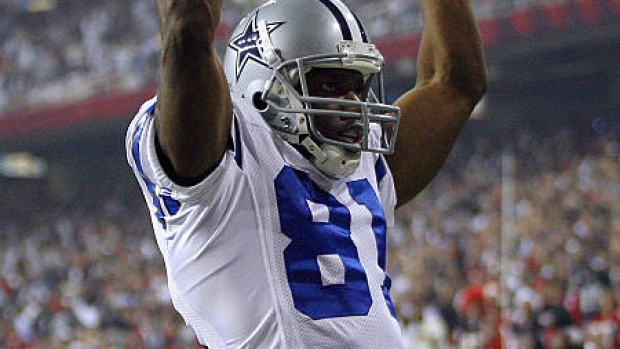 Could T.O. be heading to the Canadian Football League?
Soon-to-be Pro Football Hall of Famer Terrell Owens invoked the 10-day clause on Saturday that forces the Edmonton Eskimos - the club that holds his negotiation rights - to offer him a contract or release him.
Owens' agent Jason Staroszik confirmed the move, saying his client is serious about playing in the CFL.
"Absolutely 100 per cent," he told TSN Football Insider Dave Naylor on Monday, adding that if they cannot come to terms with the Eskimos, there's at least one other CFL team interested in signing him. "He still feels like he has some football years left in him. He just loves the game and wants to get back to playing whether it's the CFL or NFL."
The news was first reported by 3downnation.com.
The Eskimos placed Owens on its negotiation list on June 19. If he signs with the team, he will be eligible to make his CFL debut on Aug. 2 when Edmonton hosts the Saskatchewan Roughriders.
Owens, 44, was a six-time Pro Bowl selection over his 15-year NFL career and was selected for induction to the Pro Football Hall of Fame in February. However, he has said he will not attend the official ceremony in Canton, Ohio on Aug. 4 with fellow player inductees Ray Lewis, Randy Moss, Brian Urlacher and Brian Dawkins.
Owens has not played in the National Football League since 2010, but posted a video last month of himself running the 40-yard dash in hand-held times of 4.44 and 4.43 seconds.
Owens made 1,078 catches for 15,934 yards and 153 touchdowns over his NFL career with the San Francisco 49ers, Philadelphia Eagles, Dallas Cowboys, Buffalo Bills and Cincinnati Bengals. He entered the league as a third-round pick by San Francisco in 1996 but developed into a star known for some memorable playoff appearances, including his winning 25-yard TD catch to beat Green Bay in 1999; his 177 yards in a comeback win against the Giants in 2003; and his nine catches for 122 yards in the 2004 Super Bowl against New England just seven weeks after breaking his leg.
Owens ranks second to Jerry Rice in career yards receiving and is third on the all-time touchdowns receiving list. He is also the only player in league history to score two or more touchdowns against all 32 NFL teams.
CFL teams can have up to 45 players on their negotiation list, giving them exclusive negotiating rights. Players can be added, removed or traded from the list at any time.