Getzlaf OT winner sends Canada past Russia
Ryan Getzlaf beat Sergei Bobrovsky on a breakaway at 3:29 of overtime to give Team Canada to a 3-2 victory over Team Russia in a World Cup of Hockey exhibition Wednesday night.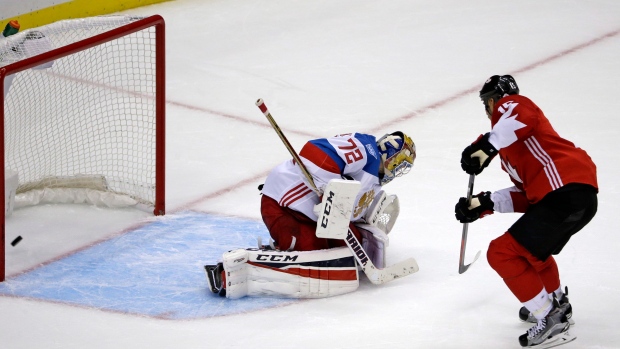 PITTSBURGH — Sidney Crosby and Evgeni Malkin fought to a draw on their home ice.
Canada, however, remains a bit ahead of Russia. At least for now.
Ryan Getzlaf beat Sergei Bobrovsky on a breakaway at 3:29 of overtime to give Team Canada to a 3-2 victory over Team Russia in a World Cup of Hockey exhibition Wednesday night.
Bobrovsky made 45 stops, some of them spectacular, but couldn't wrangle the puck when Getzlaf slipped it between his pads during the 3-on-3 extra session.
John Tavares and Patrice Bergeron scored for Canada. Crosby assisted on Bergeron's score while playing under Bergeron's score while playing underneath the familiar banners at Consol Energy Center. Carey Price had 24 saves for Canada , which finished 2-1 in exhibitions before the eight-team tournament begins in Toronto this weekend.
"I think the whole thing with a short tournament event is to keep getting better, keep improving and keep building off each game," said Crosby, who had two assists in the three exhibitions. "I think we're able to do that. I think there's still another level but I'm sure that's the case for a lot of teams. We need to get to that level gradually."
Artemi Panarin had a goal and an assist for the Russians. Alexander Ovechkin also scored. Evgeni Malkin assisted on Ovechkin's goal to match longtime Pittsburgh teammate Crosby.
"We go up against each other a lot," Malkin said. "He's tough on the boards protecting puck every time. It's a hard battle against him. I like how I play too."
The Canadians open the tournament Saturday against the Czech Republic. Russia, which went 1-1-1 in three tuneups, begins on Sunday against Sweden.
"We didn't lose the game right away," Ovechkin said. "We battled and got the lead. The boys feel much better now and for the future."
Canada is a heavy favourite to continue its run atop international play, a surge that started with a triumph at the 2010 Olympics and continued two years ago in Sochi when they grabbed gold again while the host Russians missed the medal stand completely.
Anything less than hearing "O Canada" play after the finals at the end of the month would be a disappointment, particularly at home. It's a role Crosby and his countrymen thrive in though they've been a bit uneven during their three exhibitions, following up a 5-2 romp over the US last weekend with an up-and-down performance against Russia. Canada dominated early then spent the middle portion of the game on its heels a bit before collecting itself late.
"I think we've gotten more and more comfortable," Crosby said. "Special teams is going to be big ... It's a process but I thought we definitely got better with every game and generated a lot."
Crosby and Malkin both joked about facing against each other on the same sheet of ice they've shared for a decade, with Crosby good naturedly saying he may take a friendly shot at Malkin if the moment called for it. The moment ended up coming in the first period, when the two briefly met in the corner before Malkin skated away with both players unharmed.
Canada controlled the first period and took the lead when Crosby fed a streaking Bergeron , who slipped it by Bobrovsky to put the Canadians in front during a 20-minute stretch in which they outshot the Russians 14-5 and tilted the ice heavily to once side.
Russia slowly found its footing and finally converted when Malkin won a faceoff and dropped it to Panarin, who slipped it across the ice to Ovechkin. The Washington Capitals star drilled a one-time from his familiar spot in the left circle to tie it 3:40 into the third . Panarin put Russia up less than four minutes later when he jumped on a rebound to give the Russians the lead.
Tavares picked up his third goal in as many exhibitions by threading a wrist shot from the top of zone by Bobrovsky at 13:58. Bobrovsky sent the game to overtime with a series of stellar stops in the final minutes of regulation, including a slick glove hand save against Crosby from in close.
"''I like how we play," Malkin said. "Next time we play semifinal or final I hope."