Gilles, Poirier lead after the rhythm dance of virtual Skate Canada Challenge
Piper Gilles and Paul Poirier are the leaders after the rhythm dance of the unique and virtual Skate Canada Challenge. The reigning Canadian champions scored 87.96 points.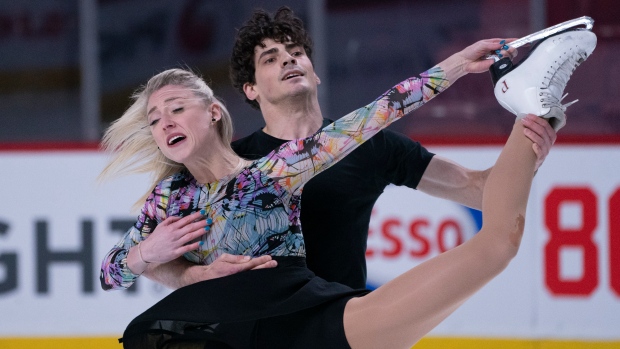 Madeline Schizas knew she'd skated a great free program.
But the 17-year-old from Oakville, Ont., had to wait six weeks to find out just how great.
Schizas won the women's singles title of the virtual Skate Canada Challenge, moving up three spots after the short program.
"My coaches and I were all very excited with how it went. But without knowing how anyone else did, it was really hard to say," Schizas said.
In a season all but wiped out by COVID-19 for Canadian figure skaters, the Challenge was virtual, with athletes pre-recording programs at their home rinks under competition rules that were then broadcast - and judged in real time - Saturday to simulate a live show.
Schizas, who actually skated her short and long programs on Dec. 2 and 3 at her rink in Milton, Ont., watched the broadcast at home Saturday night with her parents and cocker spaniel.
"It was weird sitting at home and watching yourself skate and waiting for the score," she said. "The whole thing was kind of weird, but I guess it's what we're gonna get this year. This has been a year of weird. So, it wasn't so bad. It was just different."
Skating to Michel Legrand's "I Will Wait for You," Schizas landed six triple jumps for a free skate score of 117.95 points, and 175.65 points overall.
Alison Schumacher scored 168.12, for second while world bronze medallist Gabrielle Daleman was third (165.66).
Piper Gilles and Paul Poirier are the leaders after the rhythm dance. The reigning Canadian champions scored 87.96 points.
Laurence Fournier-Beaudry and Nikolaj Sorensen are second (86.55), while Marjorie Lajoie and Zachary Lagha scored 81.58 to sit third.
While skating is a sport uniquely suited to an audience, only skaters, their coaches, a video crew and a Skate Canada official were permitted in the rinks for the programs.
Schizas, who's only skated in four senior competitions, said the lack of fans reminded her of competing in junior events.
"If you've ever been to those events, they're pretty empty to begin with. So it didn't feel that different," she said. "I know some of the older seniors have skated at World Championships and events with like big, huge stadiums filled with people.
"The big difference was not having a panel of judges there actually. Just kind of performing to a camera. That part was kind of odd."
She hopes to be skating in huge, crowded arenas herself soon. After winning bronze at the Canadian senior championships last year, she and coaches Nancy Lemaire and Derek Schmidt knew the 2022 Beijing Olympics were a possibility.
"I've never been one of those kids who said like straight up that they were going to be an Olympian when they were six," Schizas said. "But now it's definitely on my radar that I want to go to the Olympics.
"My coach (Lemaire), we have (training) binders at the rink and she printed out a big huge Beijing 2022 page to put in the front of mine. She's pretty serious about it. I wasn't really ready to buy into it, but t's obviously on my mind now."
The makeshift Challenge competition is the only event for Canadians skaters this season. Skate Canada recently announced the cancellation of next month's Canadian championships in Vancouver over concerns about the global pandemic.
"When we saw that big spike after Christmas in COVID cases, t was pretty clear where this was heading," Schizas said. "It was what was clearly what was best for everyone health and safety-wise. I'm grateful that nobody's putting our health at risk for a competition."
The Canadian championships would have determined the team for the worlds in March in Stockholm. Whether or not the world championships will happen remains questionable.
The U.S. national championships, meanwhile, are happening live this weekend in Las Vegas.
Last year's world championships in Montreal in March were one of the first international sports event cancelled due to the pandemic. Skate Canada International in October was also cancelled.
The Challenge men's free program, meanwhile, is Sunday.
Kirsten Moore-Towers and Michael Marinaro won the pairs competition last weekend.
This report by The Canadian Press was first published Jan. 16, 2021.