Curry shoots 86, finishes last in Web.com event
Stephen Curry dropped 11 strokes to par on the first eight holes and shot a 16-over 86 on Friday to finish last in the Web.com Tour's Ellie Mae Classic.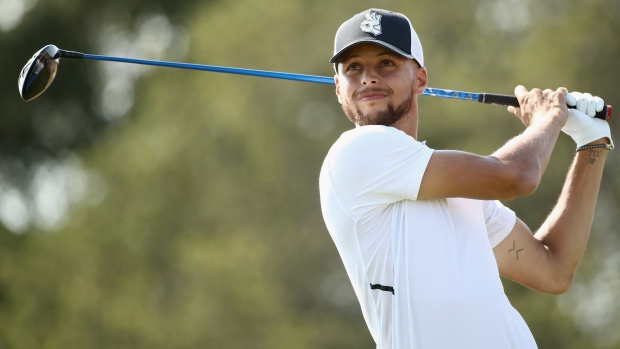 HAYWARD, Calif. — Stephen Curry shot 16-over 86 on Friday to finish last in the Web.com Tour's Ellie Mae Classic.
The Golden State Warriors star dropped 11 strokes to par on the first eight holes. He was at 17-over 157 for two rounds after opening with a 71 on Thursday.
"I couldn't hit a driver to save my life today, so that's how golf goes," said Curry, who was making his second appearance in the event at TPC Stonebrae. "One day you have it, or at least in the amateur world, one day you have it and one day you completely lose it and you have no idea what you're doing over the top of the ball."
Curry was last among the 154 finishers. He was 33 strokes behind leader Alex Prugh and missed the cut by 13 strokes. Last year, Curry shot 74-74 to tie for 148th and missed the cut by 11 shots.
Playing as an amateur, Curry bogeyed the par-3 second, made a quadruple-bogey 9 on the par-5 third after hitting consecutive drives out of bounds, bogeyed the par-4 fifth, made a triple on the par-4 seventh and a double on the par-4 eighth.
"As always, it's an amazing opportunity to be out here to test my game under the ultimate pressure, stressful situations," Curry said. "Today was interesting all the way around. I knew sort of what I had to shoot (to make the cut). I played the first holes OK and then the wheels fell off on the third hole."
On the back nine, Curry birdied the par-4 10th, made a triple on the par-4 11th, bogeyed the par-3 12th, birdied the par-4 14th, had a double bogey on the par-3 16th and a bogey on the par-4 18th.
"It's the same way I do on the court when I'm not making shots," Curry said. "You just find something to focus on that you can do. For me, it was just trying to take each shot and just have fun with it and trying to hit a good shot and not really get too down about the result if it wasn't what I was expecting."
Prugh matched the tour nine-hole record with a back-nine 27 in a 60 that left him 16 under. He birdied the first seven holes on the back nine, parred the 17th and birdied the 18th.
"My putter has been a little streaky here and there, but when it's on, it's on," Prugh said. "I've been making putts and fortunately whenever that happens it makes everything easier. "
Prugh was two strokes short of the tour record of 58 set by Stephan Jaeger two years ago at TPC Stonebrae and one shot off Jaeger's 36-hole tour mark for strokes.
Josh Teater was two strokes back after a 62.
Curry played alongside Cameron Champ and Martin Trainer. Champ, the Utah Championship winner last month who leads the tour in driving distance, was tied for 42nd after rounds of 68 and 67. Trainer, a two-time winner this year, shot 69-70 to miss the cut.