Guay leads Canada to bronze at women's U18s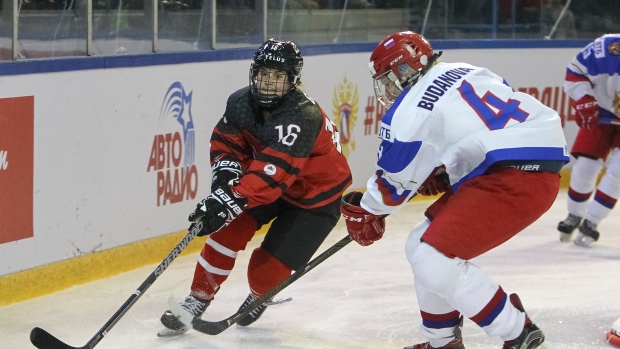 DMITROV, Russia — Alexie Guay scored and had two assists to lead Canada to a 5-1 win over Russia on Saturday in the bronze-medal game of the under-18 women's world championship.
It's the 11th consecutive year the Canadians have medalled at the U18 women's worlds. They now have four gold medals (2010, 2012, 2013, 2014), six silver (2008, 2009, 2011, 2015, 2016, 2017) and a bronze.
"We really stuck together. We faced a lot of adversity throughout the tournament, but it was a great experience playing in front of the crowd and being here in Dmitrov," said captain Sarah Fillier. "We didn't get the colour of medal that we wanted, but it was a really great experience with our group of girls."
Canada controlled the puck for much of the first, outshooting Russia 11-3, but it took until the final minute of the period for Julia Gosling to jam in a rebound on the power play and put the Canadians up 1-0.
Audrey-Anne Veillette scored just past the six-minute mark of the second period when she took a feed from Guay and snapped a quick shot past Russian netminder Diana Farkhutdinova.
Abygail Moloughney converted on a short-handed breakaway at 14:03 to make it a three-goal game.
Russia ramped up its offence in the third period, directing nine shots at Canadian netminder Madelyn McArthur after recording only six through 40 minutes.
But Canada and added two more power-play goals in the third. Courtney Vorster and Guay making it 5-0.
Vita Ponyatovskaya ended the shutout bid by McArthur with 11 minutes to go, but the Russians never got closer than four goals as the Canadians avenged their 3-2 preliminary-round loss.
Guay finished the tournament as the leading scorer for Canada, and the leading scorer among all defencemen, registering a goal and six assists in six games.