Russia edges Sweden for WJC bronze
Denis Guryanov scored at 33 seconds of overtime to give Russia a 2-1 victory over Sweden on Thursday in the world junior hockey bronze-medal game. The medal is Russia's seventh straight at the event.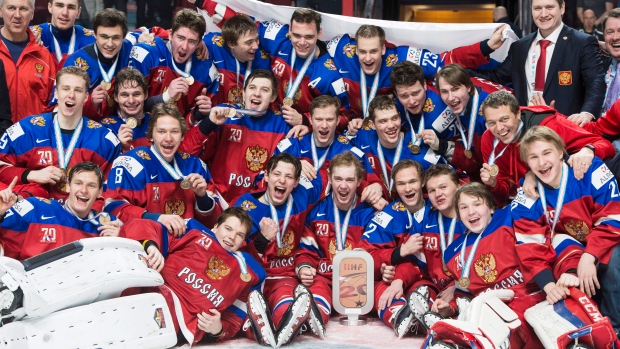 MONTREAL — Russian netminder Ilya Samsonov was at his best on Thursday and it showed in a bronze-medal victory for his team at the world junior hockey championship.
The 19-year-old Samsonov stopped 38 of 39 shots, including 15 in the first period alone, as Russia defeated Sweden 2-1 to claim its seventh straight medal at the under-20 tournament.
"That was his most outstanding game," Montreal Canadiens prospect Mikhail Sergachev said of his goalie. "I've seen him like that before, but today he made the craziest saves of his life. It was pretty amazing to see."
Samsonov stood tall in the first period, keeping the Swedes off the board despite their three power-play opportunities. In the second, he denied Jonathan Dahlen twice on the breakaway then robbed Lias Andersson at the end of the frame. The Washington Capitals prospect made another 10 saves in the third period to force overtime.
"He came up big for them," said Dahlen, the only player to beat Samsonov. "We needed to get in front, get some tips, take some rebounds, and we weren't able to do that."
With Russia leading 1-0, Samsonov pulled all the stops to preserve the lead. But a defensive blunder by Yegor Rykov led to the equalizer at 10:11 of the second period. Rykov's clearing attempt ricocheted off the blade of Dahlen's stick and bounced past an unsuspecting Samsonov.
In overtime, Denis Guryanov took advantage of a sloppy defensive play by Sweden's Rasmus Dahlin, who sent an errant back pass to teammate Alexander Nylander. Guryanov jumped on the loose puck and put it between Felix Sandstrom's legs just 33 seconds into the extra period.
Sandstrom finished the game with 24 saves.
"I think maybe two of the best goalies in the tournament were on the ice today and they both battled hard," said Swedish head coach Tomas Monten. "It's tough to lose this kind of game. (Samsonov) is good. He had some luck, but good goalies have that."
Kirill Kaprizov had the lone goal in regulation for Russia. He opened the scoring 16 seconds into the second period with his tournament-leading ninth goal. The Russian captain crashed the net then slotted home his own rebound after Sandstrom made the initial save.
Kaprizov scored in all but one game at this tournament. His nine goals are the most by a Russian player at any world junior championship.
Kaprizov, a fifth-round draft pick of the Minnesota Wild, and Nylander both finished the tournament with 12 points, tops among all players entering Thursday night's gold-medal game between Canada and the United States.
Kaprizov said it was a challenge for Russia to find the energy to fight for bronze after losing a seven-round shootout thriller against the Americans in Wednesday's semifinal.
"Obviously it was very hard because players were exhausted and emotionally also," he said through a translator. "But we stepped onto the ice and battled and fought until the end. Because even if it's a bronze medal, it's a medal."
Sweden, which dropped a 5-2 decision to Canada in the other semifinal, has now finished fourth in three consecutive tournaments.
"Unfortunately we didn't get the bounces you need to win this type of tight game," said Monten. "But I have 22 players in my room who emptied everything and I'm proud of them."