Hall of Famer Lewis believes Ravens need to let Jackson be himself
Ray Lewis, who starred for the Baltimore Ravens at middle linebacker for 17 seasons, tells TSN.ca that he believes the Ravens should have better utilized Lamar Jackson's skillset in their 23-17 wild-card loss to the Los Angeles Chargers last Sunday.
Tristan Garnett, TSN.ca Staff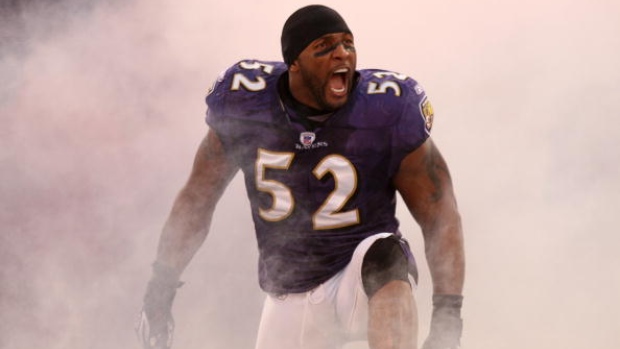 Lamar Jackson and the Baltimore Ravens lost what ultimately ended up being a close game to the Los Angeles Chargers last Sunday in the NFL's wild-card round, but all of the talk in the aftermath has centred around the Ravens' decision to stick with Jackson at quarterback through the entirety of the game.
Ray Lewis, who starred for the Ravens at middle linebacker for 17 seasons and was inducted into the Pro Football Hall of Fame last year in his first year of eligibility, believes the Ravens should have better utilized Jackson's skillset against the Chargers.
"I think not opening Lamar [Jackson] up to let him just be Lamar." Lewis, who is in Toronto this weekend for his No Excuses Lifestyle Boot Camp, told TSN.ca on Friday. "That kid is just dynamic and you have to let him totally be him."
Jackson's final numbers in the 23-17 loss to the Chargers were respectable (248 combined passing and rushing yards, along with two touchdown throws), but most of his production came in the fourth quarter with the Ravens facing a 20-point deficit at that point.
Jackson, as you might expect, has taken a lot of criticism for his performance, and so has Ravens head coach John Harbaugh for keeping the rookie pivot in the game instead of inserting long-time starter, Joe Flacco.
While Lewis believes the Ravens did a poor job with their game plan for Jackson, he credits the Chargers for making the necessary adjustments to win the game just a couple weeks after the Ravens handed Los Angeles a 12-point loss in Week 16 of the regular season.
"You watch the Ravens defence, they gave you everything you wanted: A turnover, blocked field goal, blocked punt. It was just everything, and it's just like 'wow, at this point you got to score, right?'" Lewis said.
After eliminating his Ravens from the playoffs, Lewis thinks the visiting Chargers will now hand the New England Patriots a loss on Sunday at Gillette Stadium, where the Patriots have won nine straight playoff games.
Leading the Chargers under centre is 15-year veteran, Philip Rivers, who has racked up some pretty impressive stats over his career, but has been often overlooked in discussions about his place among the best quarterbacks to ever play.
Lewis, who's now 43, said Rivers is a proven postseason performer.
"You know what's really interesting about Philip [Rivers] is he's one of the scariest quarterbacks that you ever want to play [against]," Lewis said. "But he's the one quarterback that you say, 'How do I rank him or how do I rate him' because he's the one guy that has probably every Hall of Fame number, but no ring.
"So even him, I think he would rank himself differently the moment he gets a ring. He's a deadly person in the playoffs, and one of the reasons why I picked the Chargers to beat New England this week."
In Saturday's AFC playoff matchup between the Indianapolis Colts and Kansas City Chiefs, Lewis likes the top-seeded Chiefs. Why the Chiefs? Well, like so many other NFL enthusiasts, Lewis is all in on second-year wonder, quarterback Patrick Mahomes II.
"We ain't never seen nothing like that," Lewis said, attempting to put into words the vast amount of skill Mahomes displayed during the regular season, in which the Chiefs QB passed for 5,097 yards and posted a league-best 50 touchdown passes versus just 12 interceptions.
Mahomes is Lewis' favourite to win this season's MVP, but he also thinks New Orleans Saints QB Drew Brees also deserves strong consideration as well. Barring something like the final-play 'miracle' that Stefon Diggs and the Minnesota Vikings used to oust the Saints from the playoffs in their 2018 divisional round matchup, Lewis expects the Philadelphia Eagles to have a rough go of things on the road Sunday against the Saints at Mercedes-Benz Superdome.
In Saturday's NFC matchup, Lewis believes the high-flying Los Angeles Rams will be victorious against the Dallas Cowboys, but he's not particularly confident in his pick. He says the combination of Ezekiel Elliott, who was the NFL's leading rusher during the regular season and, conversely, Dallas' top-five rushing defence, has the ability to chew up some serious clock and at the same time, keep Los Angeles' respective star running back, Todd Gurley, off the field.
Who does Lewis, a two-time Super Bowl winner with the Ravens, think will ultimately end up hoisting the Lombardi Trophy this year? The Saints, who have home field advantage this week and would also have it again in the NFC Championship Game, should they make it that far.
Lewis is enamored with what Brees, who will undoubtedly be enshrined as a Hall of Famer himself one day, has to work with for teammates as well as how he says New Orleans has played this season.
"One thing I said, 'You can't give them [the Saints] home field' and they gave them home field throughout the playoffs."
---
Lewis' No Excuses Lifestyle Boot Camp is taking place at the Trio Sportsplex in Vaughan, Ont., starting on Friday Jan. 11 through Saturday Jan. 12. More information about the event can be obtained at noexcuses.raylewis.com.