Herdman working hard on establishing team culture
While he works on building a winning team on the pitch, Canadian men's soccer coach John Herdman is also looking to knit his players together off it.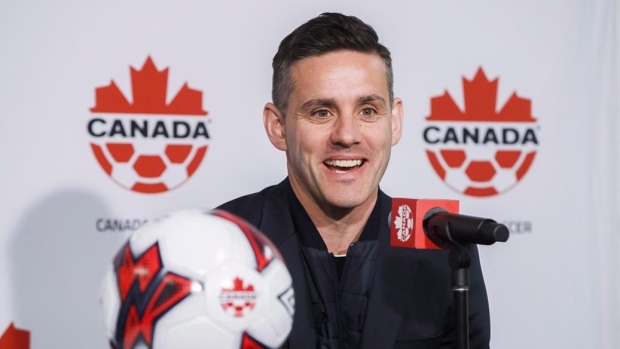 TORONTO — While he works on building a winning team on the pitch, Canadian men's soccer coach John Herdman is also looking to knit his players together off it.
In the buildup to Tuesday's CONCACAF Nations League qualifying match against Dominica at Toronto's BMO Field, Herdman had assistant coaches Jason deVos, captain of Canada's victorious 2000 Gold Cup team, and Paul Dolan, a member of Canada's lone World Cup team from 1986, speak to the players on "the meaning of the shirt."
He had officials from the military speak to the players "about the importance of their uniform and the code of their uniform."
Herdman also brought out a 1968 national team jersey, from the first year the Canadians switched to their now iconic red from the previous blue.
"We're starting to lay a real solid cultural foundation and open some things up that the players may not have been exposed to before," Herdman told a media conference call Friday. "We know we have to deepen their meaning of what we're doing and why we're doing it."
Canadian MMA fighter Elias Theodorou, ranked 13th among UFC middleweight contenders, has also been lined up to speak to the players.
At the team's training base north of Toronto in Alliston, Ont., the players have a so-called performance room, complete with work stations and tablets so they can study training sessions and tactics. The room also has video game consoles and a ping-pong table to help the players bond.
Given the list of Canada coaches since 2000 includes Holger Osieck, Colin Miller, Frank Yallop, Stephen Hart, Tony Fonseca, Benito Floro, Michael Findlay, Octavio Zambrano and Herdman, it is no wonder that the Canadian team culture has been less than solid.
Canada, ranked No. 79 in the world compared to No. 177 for Dominica, opened its CONCACAF Nations League qualifying play with an 8-0 win over the No. 201 U.S. Virgin Islands.
Dominica tied No. 153 Suriname 0-0 in its opener.
The Canadian roster includes teenagers Jonathan David (KAA Gent, Belgium) Alphonso Davies (Vancouver Whitecaps, bound for Bayern Munich), Alessandro Busti (Juventus reserves), Liam Millar (Liverpool FC under-23), Zachary Brault-Guillard (Olympique Lyonnais) and first-time call-up Ballou Tabla (FC Barcelona B team).
Tabla, a 19-year-old midfielder/forward, was born in the Ivory Coast and came to Canada when he was eight. He had represented Canada at the youth level but only recently declared his international allegiance.
Tabla left the Montreal Impact for Barcelona's B team in January.
The Dominica contest is one of four qualifying games that serve as an appetizer for the 2019 debut of a competition showcasing teams from North and Central America and the Caribbean. Eventually, the participating CONCACAF countries will be divided into three tiers with promotion and relegation.
The tournaments are seen as a way to move away from meaningless friendly matches and to ensure all confederation members get meaningful games.
Costa Rica, Honduras, Mexico, Panama, the U.S., and Trinidad & Tobago, the six teams that made it to the final round of World Cup qualifying in the region, will bypass the one-off qualifying stage.
Results from the 68 qualifying games will be used to seed Canada and the 33 other contestants into three tiers for the inaugural edition of the full CONCACAF Nations League in 2019.
Follow @NeilMDavidson on Twitter