Ho-Sang brings new attitude to Canada camp
Josh Ho-Sang is striking a conciliatory tone as he returns to a Hockey Canada camp this week for the first time in more than two years. As TSN's Mark Masters explains from Calgary, Ho-Sang has come a long way from his criticism of Hockey Canada's selection process back in 2013.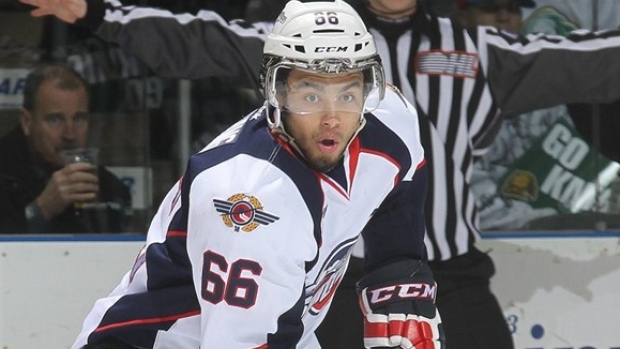 CALGARY – Josh Ho-Sang is striking a conciliatory tone as he returns to a Hockey Canada camp this week for the first time in more than two years.
"Hockey Canada invited me to this camp so whatever they tell me goes," Ho-Sang said on Saturday after completing his first practice in Calgary at the camp for world junior hopefuls. "I mean, there's no ifs, ands or buts. I'm not a rebel. I'm not going to break all the rules. But I'm the first to say something if I disagree with it."
Ho-Sang spoke up loudly last summer when he was not invited to the summer camp for world junior hopefuls after posting 85 points in 67 games with the Windsor Spitfires. He called the snub "insulting."
"They can't invite me to that stuff because they're afraid," he said last summer. "If I go there and do well, then they have no reason not to put me on the world junior team."
Ho-Sang realizes he's starting to get quite a reputation.
"The hockey world constantly wants to know what I'm going to say and I'm not looking to make outrageous comments," he said. "I just, I love hockey and I want to play and I believe in myself. It's nothing more than that."
Ho-Sang badly wants to be on Canada's world junior team. As such, it's no surprise the Toronto native is downplaying his perceived feud with Hockey Canada. He says he hasn't had a heart-to-heart conversation with anyone with the organization. The message when he arrived at camp over the weekend was simple.
"They just said, 'You know, you're here, show us what you got.' And I said, 'Thanks, that's all I need.'"
If you couldn't tell, Ho-Sang isn't short on confidence. He was drafted 28th overall by the New York Islanders in 2014, but felt he should have been picked much higher. In fact, in an interview with the Toronto Sun before the draft he said he would end up as the top prospect picked in that class within three years. If he were a GM, he said, he would pick himself first overall.
"It's unfortunate the power Hockey Canada has," Ho-Sang told Steve Simmons at the time. "They have the power to ruin careers and I feel they've hurt me a lot."
Ho-Sang was last part of the Hockey Canada program at the World Under-17 Hockey Challenge in 2013. Since then he has posted stellar numbers in the OHL with Windsor and then Niagara (81 points in 60 games last season), but has never gotten a sniff at wearing Canada's colours again until now.
Hockey Canada, for its part, has opted not to engage publicly with Ho-Sang regarding his critique. And that trend is continuing this week.
"He is one of 39 players in camp and he is here for a reason," Team Canada head coach Dave Lowry said when asked whether Ho-Sang must prove he has the right attitude. "He has earned an opportunity. Everybody knows they are going to be held to high standards and that's what the message is to all the players."
So perhaps there's a chance for a fresh start here. In fact, Ho-Sang believes some of his earlier comments about Hockey Canada may have been taken the wrong way.
"I never claimed that Hockey Canada wasn't kind," Ho-Sang insists. "It's just, I felt that I should take a stand on a certain matter, but, you know, since I've gotten here they've been great."
Ho-Sang says he wanted other players, who may be left off Canada's roster for perceived flaws, to know they aren't alone. That's why he aired his grievances so publicly.
"It definitely opens up eyes to the other kids who are going to have to face stuff like that. Kids who are going to face criticism towards their game. A lot of those players, you know, they don't even get invited to the camp. Fortunately, I was invited this time and hopefully they will continue to invite those players, who some consider iffy."
But the outburst about Hockey Canada was only the latest in a series of eyebrow-raising comments. Ho-Sang laughs off suggestions that he's letting his self-confidence hurt his career prospects. He acknowledges, for example, the defensive side of his game needs some work.
"I don't think I'm going to end up on the moon tomorrow," Ho-Sang explained. "I don't think I can do things that people say are impossible, but I do believe that I have certain abilities that can help me get where I want to go."
This is an age where many athletes prefer to speak in cliches rather than risk having a comment become controversial and dissected on talk radio and on social media.
"Bad games happen sometimes and sometimes they're unacceptable and sometimes you don't get the bounces and when the media is constantly on those [top] guys they just kind of shut down," Ho-Sang reasons. "They just want to be like, 'Yo, leave me alone, man.'"
Speaking out usually doesn't help an athlete get where he or she wants to go so why does Ho-Sang do it?
"People don't take into consideration that athletes are also every-day people. A lot of these guys in the NHL have families. They have to deal with a lot of the same problems that you do.
"For me, you know, it's just about showing that side. I'm not going to hide that from people. If I'm emotional about something, I'll show emotion with respect. I've always been like that. There's not too much that I care about when it comes to other people's opinions."
But Ho-Sang definitely cares about the opinion of Hockey Canada's scouts and coaches. And he firmly believes the past can be left in the past.
"I think a lot of people are quite skeptical when they meet me, because they're like, 'What are we going to get? This is a crazy guy, who doesn't listen to anyone.' And it's so funny how that image can get portrayed very easily. For me, I don't really care. I have the opportunity to talk to people and show them who I am and if they're willing to accept that and get to know me then most people aren't too disappointed."
As Ho-Sang plots his path to the world juniors he looks to Arizona Coyotes prospect Max Domi for inspiration. The London Knights forward was also not invited to the Hockey Canada world junior selection camp in his 18-year-old season, but bounced back the next year in a big way.
"I've known Max for a while and I thought Max turned it up to a whole other level last year and that was really cool for me to see, because Max didn't get invited in his third year either and he came back in his fourth year and, I'm sorry for who I offend, but I thought Max was the best player on the ice for a majority of that tournament. And that's something inspiring and something I can carry with me. He did it so why can't I?"
Ho-Sang said a chance to represent his country on the big stage would be meaningful for many reasons, but one in particular.
"I know what it's like to be one of those dreamers. Watching Jordan Eberle score those goals, watching Sidney Crosby and watching the Canadians pound on the Russians, that brings people together. A lot of those memories I have are not just hockey-oriented, I spent them with my family and to be able to help create moments like that for other people is just sick."