Hockey Canada names Channel One Cup roster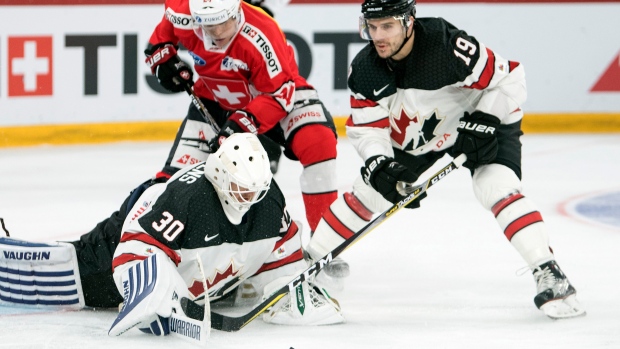 Hockey Canada released its 25-man roster Thursday for the Channel One Cup in Moscow from Dec. 13 to 17 as the 2018 PyeongChang Olympics draw closer.
The majority of Canada's roster is experienced on the international level, with forward Pierre-Alexandre Parenteau and goaltender Barry Brust making their season debuts for the red and white.
With just one tournament left until the Olympics following the Channel One Cup, the three-game tournament will provide one of the last chances for head coach Willie Desjardins and general manager Sean Burke to evaluate potential members of Canada's Olympic roster.
"This has been a very busy few months of evaluation of Canadian hockey talent from around the world, and we are feeling very positive about where we're at in the process. We're looking forward to the Channel One Cup and seeing how this group of players comes together at the tournament," said Burke in a statement released by Hockey Canada.
"Our goal remains to put together the best possible team to compete in PyeongChang in February, and these 25 players are part of a larger group that remains under consideration. We continue to evaluate every Canadian player that's eligible to play at the 2018 Olympic Winter Games in order to gives ourselves the best possible chance for success in Korea."
In addition to Parenteau, ex-NHLers Derek Roy, Max Talbot, Matt Frattin, Simon Despres and Ben Scrivens are some that headline Canada's roster.
Team Canada went 1-2 to finsih in fourth place at the Karjala Cup earlier in November.
Here is the full roster:
Team Canada Roster - Channel One Cup
No.
Player
SH
HT
WT
Hometown
2017-18 Team

8

Wojtek Wolski

L

6'3

220

Zabrze, POL

Kunlun Red Star (KHL)

9

Matt Frattin

R

6'0

205

Edmonton, Alta.

Barys Astana (KHL)

10

Derek Roy

L

5'9

187

Rockland, Ont.

Linköping HC (SHL)

11

Taylor Beck

R

6'2

203

Niagara Falls, Ont.

Kunlun Red Star (KHL)

14

Ryan Garbutt

L

6'0

194

Winnipeg, Man.

Torpedo Nizhny Novgorod (KHL)

15

Eric O'Dell

R

6'1

201

Ottawa, Ont.

HC Sochi (KHL)

16

Brandon Kozun

R

5'8

170

Calgary, Alta.

Lokomotiv Yaroslavl (KHL)

17

René Bourque

L

6'2

216

Lac La Biche, Alta.

Djurgårdens IF (SHL)

18

Linden Vey

R

6'0

190

Wakaw, Sask.

Barys Astana (KHL)

19

Gilbert Brule

R

5'11

187

Edmonton, Alta.

Kunlun Red Star (KHL)

20

Matt Ellison

R

5'11

200

Duncan, B.C.

Metallurg Magnitogorsk (KHL)

21

P.A. Parenteau

R

6'0

201

Hull, Que.

Avtomobilist Yekaterinburg (KHL)

22

Max Talbot

L

5'11

185

Saint-Bruno, Que.

Lokomotiv Yaroslavl (KHL)

25

Teddy Purcell

R

6'2

194

St. John's, N.L.

Avangard Omsk (KHL)

29

Rob Klinkhammer

R

6'3

214

Lethbridge, Alta.

Ak Bars Kazan (KHL)

No.

Player

SH

HT

WT

Hometown

2017-18 Team

2

Karl Stollery

L

5'11

181

Camrose, Alta.

Dinamo Riga (KHL)

3

Shawn Lalonde

R

6'1

205

Orleans, Ont.

Kolner Haie (DEL)

4

Chay Genoway

L

5'9

170

Morden, Man.

Lada Togliatti (KHL)

5

Chris Lee

L

6'0

187

MacTier, Ont.

Metallurg Magnitogorsk (KHL)

6

Maxim Noreau

R

6'0

198

Montreal, Que.

SC Bern (NLA)

7

Simon Després

L

6'4

218

Laval, Que.

HC Slovan Bratislava (KHL)

12

Stefan Elliott

R

6'1

190

Vancouver, B.C.

HV71 (SHL)

28

Mat Robinson

R

5'10

185

Calgary, Alta.

CSKA Moscow (KHL)

No.

Player

C

HT

WT

Hometown

2017-18 Team

30

Ben Scrivens

L

6'2

181

Spruce Grove, Alta.

Salavat Yulaev Ufa (KHL)

31

Barry Brust

L

6'3

240

Swan River, Man.

HC Fribourg-Gotteron (NLA)