Hockey Canada names WJC summer roster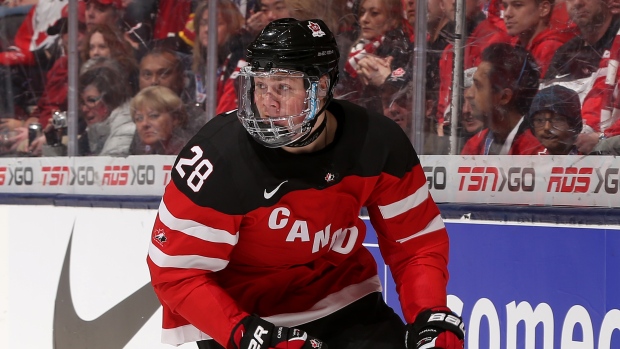 Hockey Canada has announced its summer camp roster for the 2016 World Junior Championships.
The National Team Program released a list Tuesday of 40 players that have garnered invites to Calgary Aug. 1-6 for two days of practices and four exhibition games against both Russia and the Czech Republic.
Highlighting the list are top 2015 draft prospects Mitch Marner, Dylan Strome and Lawson Crouse. Previous top-10 NHL Draft selections Jake Virtanen, Haydn Fleury and Michael Dal Colle were also invited.
2015 first-overall pick Connor McDavid was not among the invitees.
The list of invited prospects drafted by Canadian NHL clubs included Vancouver Canucks 2014 first-rounders Jake Virtanen and Jared McCann as well as Calgary draftees Mason McDonald and Brandon Hickey.
Val d'Or forward Julien Gauthier was the lone invitee who is eligible for the 2016 NHL Draft.
Hockey Canada's director of player personnel Ryan Jankowski hand selected the three goaltenders, 13 defencemen and 24 forwards that will take part.
The full invite list is as follows:
GOALTENDERS
| NAME | HT | WT | DOB | CLUB | DRAFT |
| --- | --- | --- | --- | --- | --- |
| Mackenzie Blackwood | 6-4 | 215 | Dec. 9, 1996 | Barrie (OHL) | NJD 15 |
| Mason McDonald | 6-4 | 200 | Apr. 23, 1996 | Charlottetown (QMJHL) | CGY 14 |
| Samuel Montembeault | 6-3 | 166 | Oct. 30, 1996 | B-Boisbriand (QMJHL) | FLA 15 |
DEFENCE
| NAME | HT | WT | DOB | CLUB | DRAFT |
| --- | --- | --- | --- | --- | --- |
| Alexandre Carrier | 5-11 | 168 | Oct. 8, 1996 | Gatineau (QMJHL) | NSH 15 |
| Travis Dermott | 6-0 | 197 | Dec. 22, 1996 | Erie (OHL) | TOR 15 |
| Vince Dunn | 6-0 | 185 | Oct. 29, 1996 | Niagara (OHL) | STL 15 |
| Haydn Fleury | 6-3 | 203 | July 8, 1996 | Red Deer (WHL) | CAR 14 |
| Joe Hicketts* | 5-8 | 175 | May 4, 1996 | Victoria (WHL) | DET 14 |
| Brandon Hickey | 6-2 | 168 | Apr. 13, 1996 | Boston U (NCAA) | CGY 14 |
| Noah Juulsen | 6-1 | 175 | Apr. 2, 1997 | Everett (WHL) | MTL 15 |
| Olivier Leblanc | 5-11 | 168 | Feb. 17, 1996 | Cape Breton (QMJHL) | CBJ 14 |
| Roland McKeown | 6-1 | 195 | Jan. 20, 1996 | Kingston (OHL) | CAR via LA |
| Jeremy Roy | 6-0 | 185 | May 14, 1997 | Sherbrooke (QMJHL) | SJ 15 |
| Travis Sanheim | 6-3 | 184 | Mar. 29, 1996 | Calgary (WHL) | PHI 14 |
| M. Vande Sompel | 5-10 | 185 | Feb. 11, 1997 | Oshawa (OHL) | NYI 15 |
| Jake Walman | 6-1 | 193 | Feb. 20, 1996 | Providence C (NCAA) | STL 14 |
FORWARDS
| NAME | HT | WT | DOB | CLUB | DRAFT |
| --- | --- | --- | --- | --- | --- |
| Nicolas Aube-Kubel | 5-11 | 196 | May 10, 1996 | Val d'Or (QMJHL) | PHI 14 |
| Mathew Barzal | 6-0 | 181 | May 26, 1997 | Seattle (WHL) | NYI 15 |
| Anthony Beauvillier | 5-10 | 170 | June 8, 1997 | Shawinigan (QMJHL) | NYI 15 |
| Conner Bleackley | 6-1 | 198 | Feb. 7, 1996 | Red Deer (WHL) | COL 14 |
| Rourke Chartier | 5-11 | 190 | Apr. 3, 1996 | Kelowna (WHL) | SJ 14 |
| Lawson Crouse* | 6-4 | 211 | June 23, 1997 | Kingston (OHL) | FLA 15 |
| Michael Dal Colle | 6-2 | 190 | June 20, 1996 | Oshawa (OHL) | NYI 14 |
| Jake DeBrusk | 6-0 | 178 | Oct. 17, 1996 | Swift Current (WHL) | BOS 15 |
| Robby Fabbri* | 5-10 | 170 | Jan. 22, 1996 | Guelph (OHL) | STL 14 |
| Julien Gauthier | 6-4 | 212 | Oct. 15, 1997 | Val d'Or (QMJHL) | 2016 |
| Jayce Hawryluk | 5-10 | 197 | Jan. 1, 1996 | Brandon (WHL) | FLA 14 |
| Joshua Ho-Sang | 6-0 | 170 | Jan. 22, 1996 | Niagara (OHL) | NYI 14 |
| Travis Konecny | 5-10 | 176 | Mar. 11, 1997 | Ottawa (OHL) | PHI 15 |
| Mitch Marner | 5-11 | 160 | May 5, 1997 | London (OHL) | TOR 15 |
| Jared McCann | 6-0 | 185 | May 31, 1996 | S.S. Marie (OHL) | VAN 14 |
| Nick Merkley | 5-11 | 190 | May 23, 1997 | Kelowna (WHL) | ARI 15 |
| Brendan Perlini | 6-3 | 205 | Apr. 27, 1996 | Niagara (OHL) | ARI 14 |
| Brayden Point* | 5-10 | 163 | Mar. 12, 1996 | Moose Jaw (WHL) | TB 14 |
| John Quenneville | 6-1 | 205 | Apr. 16, 1996 | Brandon (WHL) | NJ 14 |
| Dylan Sadowy | 6-1 | 180 | Apr. 2, 1996 | Saginaw (OHL) | SJ 14 |
| Mitchell Stephens | 5-11 | 188 | Feb. 5, 1997 | Saginaw (OHL) | TB 15 |
| Dylan Strome | 6-3 | 185 | Mar. 7, 1997 | Erie (OHL) | ARI 15 |
| Jake Virtanen* | 6-1 | 207 | Aug. 17, 1996 | Calgary (WHL) | VAN 14 |
| Spencer Watson | 5-9 | 170 | Apr. 25, 1996 | Kingston (OHL) | LA 14 |
* - returnee from 2015 squad