Switzerland stuns Canada in overtime at world championships
Fabrice Herzog's second goal of the game was the overtime winner as Switzerland stunned Canada 3-2 on Saturday at the world hockey championships.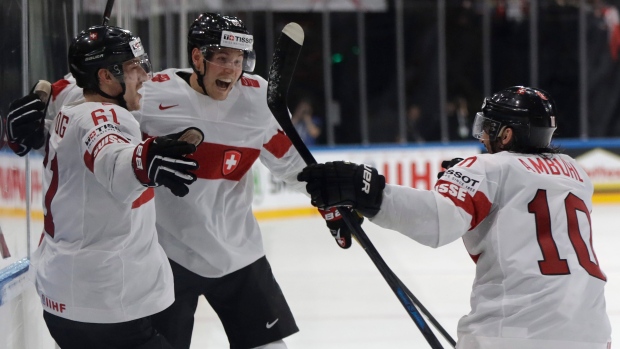 PARIS — John Cooper had a simple message following Canada's first loss at the world hockey championships on Saturday: Just move on to the next game.
"This situation that we're going through — I'm glad we're going through at this stage of the tournament, and not in an elimination game," Canada's head coach said following a stunning 3-2 overtime loss to Switzerland, Canada's first at the world championships since a 4-0 preliminary-round defeat against Finland last year.
"We just move on, that's it."
Fabrice Herzog's second goal of the game was the overtime winner. Herzog beat Calvin Pickard at the 3:40 mark of the extra period after the Swiss (2-2-1) erased a 2-0 deficit in the third.
"Nobody lays over for Canada," said Cooper. "This is the one that gets circled on the calendar. The Swiss compete really hard. When they play like that, you're going to get games like this sometimes. They deserved (the win)."
Leonardo Genoni came on in relief for Switzerland and stopped all 35 shots he faced.
Genoni, who had two shutouts earlier in the tournament, relieved starter Jonas Hiller at the 6:28 mark of the first period. Hiller was making his second start, but was beaten twice on 10 Canadian shots.
Ryan O'Reilly opened the scoring for Canada (4-0-1) on the power play at 4:22 of the first period, picking up his own rebound and depositing it off a sprawling Hiller.
Mitch Marner doubled the lead just over two minutes later when his pass attempt bounced into the net off Swiss defender Romain Loeffel. "I was just trying cut it across to (Brayden Point) there," said Marner. "It went off a skate and luckily it went in."
Switzerland cut the lead to 2-1 with 13:23 to play in the third on Herzog's power-play goal while Mike Matheson served a delay of game penalty.
The heavily pro-Swiss crowd at AccorHotels Arena exploded in jubilation just over three minutes later as Vincent Praplan beat Pickard to tie the game 2-2.
Pickard faced 25 shots through three periods, 12 of them in the third. He finished the game with 23 saves.
"They got that first goal and I kind of gave them one off a bad bounce and it's 2-2," said Pickard. "We pressed pretty hard, just couldn't score."
Claude Giroux had the best Canadian chance in overtime, but couldn't corral a bouncing puck off a pass from Marner.
"I saw it bounce on him and kind of saw it start slipping behind him," said Marner. "As a player, when that happens, it sucks. You kind of lose control of it. Nothing you can do about it."
Defenceman Colton Parayko made his debut for Canada after his St. Louis Blues were eliminated from the Stanley Cup playoffs earlier this week.
"It's pretty special," said Parayko of his first appearance with the national team at any level. "I dreamed about it as a kid, it's a proud moment for sure. I'm looking forward to continuing to play with these guys. We have a great group and it's going to be a lot of fun."
Canada remained in first place in Group B, two points ahead of Switzerland. Earlier on Saturday in Paris, Finland beat Norway 3-2 and Slovenia failed to avoid relegation after a 5-2 defeat by Belarus.
In Group A action in Cologne, Germany, the United States beat Latvia 5-3, Russia remained unbeaten with a 6-0 shutout of Slovakia and Germany beat Italy 4-1.
Canada will take a day off on Sunday, then finish off its preliminary round with games against Norway on Monday and Finland on Tuesday. The quarter-final games take place on Thursday.