Holmstrom scores winner as Sweden edges Russia
Axel Holmstrom scored the game-winning goal as Sweden edged Russia 3-2 Monday night at world junior hockey championship. Vancouver Canucks prospect Gustav Forsling scored twice for Sweden (3-0) while Toronto Maple Leafs 2014 first-round pick, William Nylander, had two assists.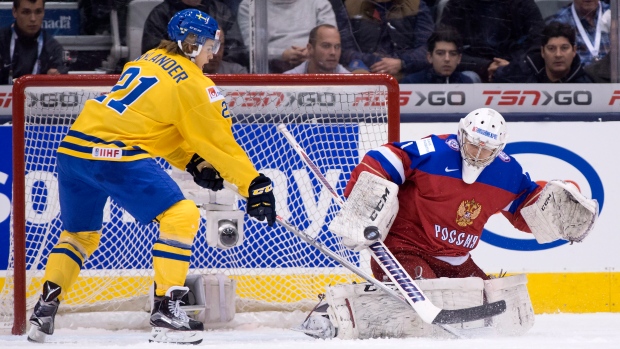 TORONTO — Sweden slipped past Russia 3-2 Monday night at the world junior hockey championship to remain undefeated in round-robin play.
After the game, however, Toronto Maple Leafs 2014 first-round pick William Nylander said his team still has more to give.
"I think we've got a little ways to go," said Nylander, who had two assists in the win. "We're still not at our top level yet. We'll get there as the playoff round starts."
Detroit Red Wings prospect Axel Holmstrom scored the game-winner at 10:53 of the third period, one timing an Oskar Lindblom feed.
Vancouver Canucks prospect Gustav Forsling scored two power-play goals for Sweden (3-0) while New York Islanders 2014 fourth-round pick Linus Soderstrom made 27 saves for the win.
Nylander now has two goals and two assists at the tournament.
Vyacheslav Leschenko scored both goals for Russia (2-1) while Islanders 2014 third-round pick Ilya Sorokin stopped 23 shots in the loss.
With the win, Sweden improves to 3-0-0 at the tournament and sits atop Group B while Russia drops to 1-1-1 with the loss.
Sweden dominated the opening period, out-shooting Russia 11-2 at one stage. However, Sorokin stood tall keeping his team in it.
Sweden's first quality scoring chance came at 7:33 of the opening period as Lindblom, a Flyers' prospect, got a wrist shot off in the slot that Sorokin gloved to keep it scoreless.
"I think as a team we played a lot better in the first," said Nylander. "We want to try to get our game to be as consistent as we played in the first. I think we gave them some more chances there in the second and then picked it up in the middle of the third.
"We just need that consistency and we'll be good."
Moments later Sorokin went cross-crease to rob Adam Brodecki of another quality scoring chance.
Forsling got Sweden on the board at 10:38 of the first with Calgary Flames prospect Rushan Rafikov serving a hooking penalty. Forsling, Vancouver's 2014 fifth-round pick, put his point shot past a screened Sorokin for his first of the tournament.
Leafs 2014 third-round pick and Russian defenceman, Rinat Valiev, knows his team needs to have better first periods to compete at this tournament.
"We always know we have to start fast from first period," he said. "But we're always starting slowly and then second period better and then third period (even) better. I don't know why."
Sweden held a 1-0 lead until late in the second period.
Leshenko got his first of the night at 14:15 of the middle period after putting home a rebound off of Ziat Paigin's shot.
Leshenko netted his third of the tournament at 3:33 of the third period, backhanding a rebound past Soderstrom on his glove side to give Russia a 2-1 lead.
"We increased our tempo, increased our speed and increased our intensity," said Russian captain Vladislav Gavrikov of the message from the coaching staff between periods.
Buchnevich nearly gave Russia a two-goal advantage at 3:56 of the third, on a partial break, but Soderstrom managed to get his right pad out to keep it a one-goal game.
Forsling tied it 2-2 at 6:44 of the third, on a power play, putting a point shot past Sorokin for his second of the night.
"It was nice. There was many people in front of the goal so I just get a shot through the guys and to see it go in —it was nice," said Forsling of his two nearly identical goals. "Nylander sets me up really good. We've got some people in at the goal so I've got to give thanks to them."
Russia thought they'd taken a 3-2 lead prior to Holmstrom's winner as Ivan Barbashyov re-directed a shot on Soderstrom, but officials ruled the puck did not cross the goal line.
Gavrikov declined to comment on the ruling.
Sweden concludes the preliminary round against Switzerland on Wednesday while Russia plays the Czech Republic.
Notes: Russian forward Anatoli Golyshev missed the game serving a one-game suspension for his hit on Switzerland defenceman Phil Baltisberger. Baltisberger, who has two goals and 10 points this season with the Guelph Storm of the Ontario Hockey League, is listed as day-to-day.