In appreciation of the best fans in hockey
Latvian fans bring their unmatched passion, enthusiasm and stamina to the World Hockey Championship year after year, Kevin Pratt writes.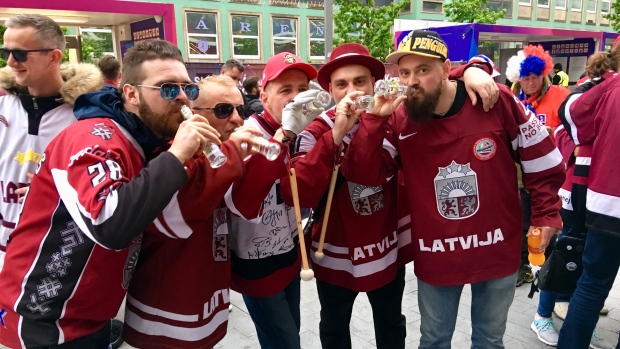 There are a lot of things to love about the World Hockey Championship.
This year is the fourth Worlds that I've had the privilege to work on, and all of them have been great. The experience of travelling to Europe and covering the sport I love is a dream come true.
Of all the things I enjoy about it, the one thing that really stands out for me is seeing the passion on display by the fans. Whether they root for a powerhouse like Finland or Russia, a bottom-feeder like Italy or Great Britain, or a team somewhere in the middle, the support every country receives from their fan base is unconditional and impressive.
Every year, travelling groups from all over Europe converge on the host country for a 17-day celebration of hockey. They proudly wear their colours, sing and dance and chant in support of their team, and get to do it all while spending a couple of weeks in a great city.
There are so many great groups of fans. The Swedes are easy to spot, all dressed in yellow. The Swiss faithful arrive dressed as cows or yodelers. When the Czech team is on a roll, thousands of their fans bounce up and down while chanting, "If you're not jumping, you're not a Czech."
Of course the fans cheer for their home country, but they're also friendly with rival groups. It's not uncommon to see an arena full of two different sets of fans sitting in different sections during the game and then see those same groups taking photos and drinking together post-game in the beer garden. It's always quite the spectacle and is something that sets the hockey culture in Europe apart from that in North America.
While there are many groups that can challenge every year to be the second-best fan base, none of them really have a chance to be labeled as the best. That title has been held by the same fans for years, and the owners show no signs of giving it up anytime soon.
The best hockey fans in the world are from Latvia, the smallest country at the championship.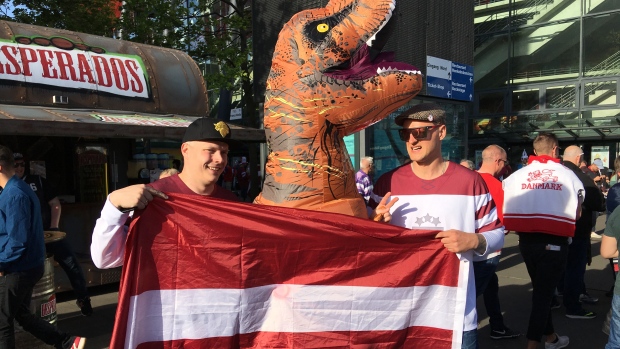 It's hard to explain to people who've never been to this tournament exactly what it's like to see them in action. I suppose I can best sum it up this way: The Latvians basically treat a trip to the Worlds in the same way those of us in Canada treat an all-inclusive trip to the Caribbean.
An average day looks like this: Wake up, party all day, then eventually go to bed (or more accurately go to sleep – they don't necessarily make it to their beds). Then they wake up the next day and do it all over again. And again and again and again – until the tournament mercifully ends.
Let's face it, we've all kept that same type of schedule on a trip south in the winter. Well, these Latvians do it every year in May for twice the amount of time.
It's a familiar sight at every Worlds. By midway through the trip the adventure starts to take a toll. You can see it in the Latvian faces. Breakfast beers are needed on many days to shake out the cobwebs. Hangovers are then replaced by a new buzz and they soldier on.
This goes on for as long as Latvia remains in the tournament, and sometimes for a couple days after they've been eliminated. It's impressive to see the stamina they possess. And once you get to know them, it's even more impressive to discover that they're absolutely wonderful people, too.
These aren't just frat boys on a bender – they're incredibly passionate and knowledgeable hockey fans. They love their team and support them unconditionally. And they do it in a manner that makes them impossible not to love.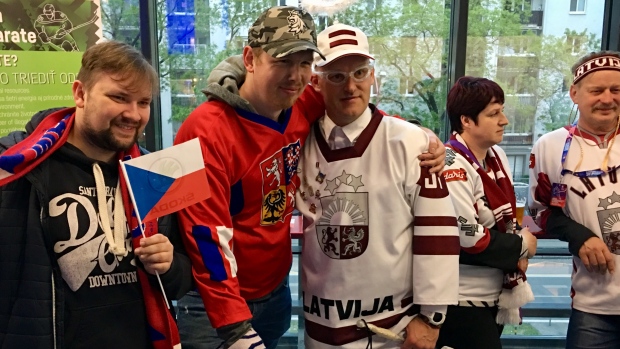 Entire Latvian families make the trek every year to the Worlds to support their team – one that has virtually no chance of ever winning the gold. That fact doesn't matter one bit to them. Win or lose, they are there to support Latvia as loudly as they can. They always have a good time. Always.
My first encounter with the Latvian fans happened on the morning of May 6, 2017. Prior to that day I'd only heard about them and admittedly thought a lot of the stories I'd been told were lies, or at the very least greatly embellished. They had been in the other host city at the previous tournament I'd been to, so I didn't see them first-hand.
I figured there was no chance the wild tales I'd been told could possibly be true. But after that morning two years ago I believed them all. I first saw with my own eyes the hard-partying and kind-hearted nature of these wonderful folks. I've been a fan ever since.
The Latvians played their first game at noon on the tournament's second day that year in Cologne. My colleague Tessa Bonhomme and I left for the rink around 9 a.m., making the 25-minute walk from our hotel to the arena. We had to broadcast three games that day and it made for an early start.
An absolutely beautiful spring morning greeted us as we made our way over the bridge, crossing the Rhine River. Ducks and geese that had returned for the summer were merrily splashing in the morning sun. There was virtually no one on the streets, save for a few locals out for a morning stroll with their dogs.
During the walk both of us had remarked how strangely quiet it was. I remember Tessa commenting, "I guess everyone was out partying last night. People must still be in bed."
That was indeed true. It was a Saturday morning after all, and the night before in Cologne had been quite spirited. But as we would soon discover, not everyone in town was having a lazy start to their day.
As we got about five minutes away and could see Lanxess Arena in the distance, the serenity started to change. First came the distant hum of a few voices, then many more – and then the sounds of a drum and chanting.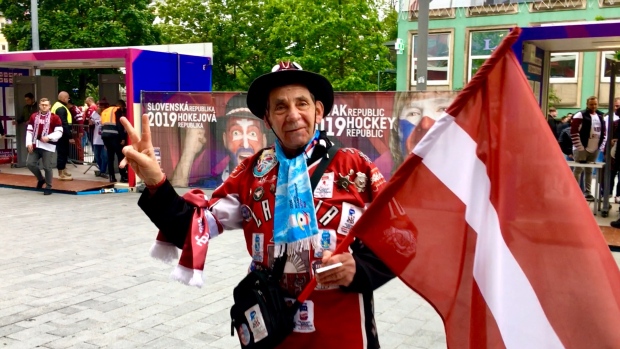 We weren't exactly sure what the commotion was all about. Was there some sort of political demonstration taking place? What exactly had broken the silence of this very sleepy start to the day? Upon rounding the corner just before the arena, the noise became deafening. Outside the locked building were a couple of hundred hockey fans from Latvia. It was 9:20 in the morning.
One man furiously banged on a large drum while the rest chanted "LATVIA… LATVIA… LATVIA…" They weren't chanting to anyone in particular, as there were literally no other people around.
The beer garden wasn't set to open for another 90 minutes. Puck drop for Latvia's opener against Denmark was nearly three hours away. Their team was about to start their tournament, and the party was already in full swing. None of the kiosks outside the rink were open. Nearly all still had tarps over them and their owners were arriving to set up for the day, surprised that so many people were already there.
There was nowhere to purchase a beer yet, but that didn't matter to this group. They had brought their own refreshments – many drinking straight vodka from a giant bottle that was being passed around. In fact the only outlet serving anything was a portable hot dog stand, and it had a quickly growing lineup of men in maroon shirts in front of it. The older gentleman working it was placing hot dogs on his grill as fast as he could, realizing he might earn a day's worth of profits before the first game even started.
The arena employees starting to file in for the day were dumbfounded by what they saw. Even to the local German workers – a country whose fans are also incredibly passionate about their sports teams – this was something new.
One local man out for a walk with his dog stopped to take some pictures of the spirited group. A few of the supporters bent down to pet the man's Saint Bernard, posing for pictures of their own. They offered both the man and his dog a swig of their vodka (the man obliged – and thankfully stopped his dog before it could drink any). The local continued on with his dog and the Latvians continued on partying.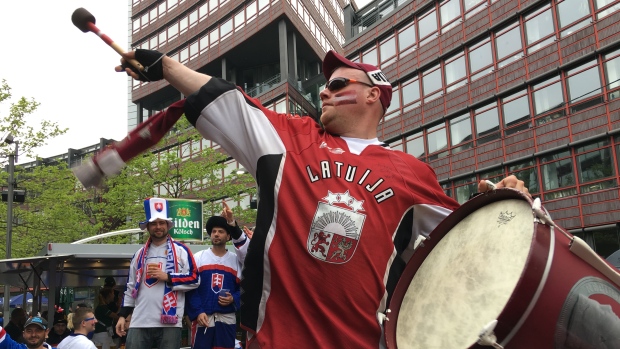 The contingent grew by the minute as more Latvian fans appeared seemingly out of nowhere. By the time the fan zone opened at 11 a.m. they were more than a thousand strong. They happily made their way into the beer garden once it opened its doors.
Most would file into the arena just in time for the 12:15 p.m. puck drop, politely placing their empty beer cups in the garbage on the way in. Many more stayed in the fan zone and partied for a while longer. A few had already passed out. It should be noted that for the entire time I observed this gathering, the group never caused a single problem. The greatest offence I saw was a man in an Arturs Irbe jersey urinating in the bushes beside a fence around 10 a.m. In his defence, the nearby washrooms weren't unlocked yet.
This year's tournament in Slovakia is one of the easier ones for Latvians to get to. Air Baltic – the national airline of the country – has direct flights to Vienna, the main airport in the area. The flight only takes two hours. From there it's a short 45-minute bus ride across the Slovak border to the heart of Bratislava.
But not all Latvian fans have arrived by plane. Some came by train and/or bus. They simply couldn't afford the cost of flying. Many also made the 15-hour drive by car and their primary reason for that is quite unique.
At every World Championship there are Latvian fans who stay in campgrounds for the duration of the tournament. Coming to Slovakia in their own vehicles allowed them to bring everything they needed – food, blankets, barbecues, tents, you name it. Not all Latvian fans can afford the cost of a hotel or apartment. It's a gritty way to spend 16 days but these are gritty folks. They may not have much, but they do whatever they can to support their team.
The Worlds is somewhat of a family reunion for the fan base. As I noticed that morning in Cologne and again here in Bratislava prior to Latvia's opening game against Austria, their fans are overjoyed to see one another. Although I can never understand exactly what they're saying, the high-fives and hugs that happen between them upon seeing each other suggests they know each other from previous years and are happy to meet once again.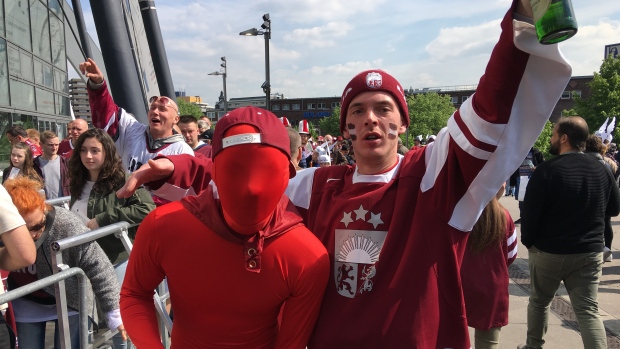 There are lots of people to hug, too. A few thousand Latvian supporters make the trip every year. They come in all ages, all shapes and sizes, and all levels of wealth.
Perhaps the coolest quartet I've seen here in Bratislava are four women who appear to be in their late sixties. They've been at every Latvia game so far, cheering, chanting, singing and drinking. They jump and down when the Latvians score. They whistle in protest when the Latvians take a penalty. They all proudly wear their maroon colours. They seem to be on some sort of girls' trip – and what a trip it is.
There are only three countries on earth where ice hockey is unquestionably the most popular sport: Canada, Finland and Latvia. It's wildly popular as well in places like Sweden, Russia and Slovakia, but in those other hockey-playing countries soccer is at least an equal passion, if not greater.
No one seems to be too sure why hockey became so popular in Latvia. In nearby Estonia and Lithuania (the other two countries that form the Baltic States), hockey is somewhat of an afterthought. Sandwiched right in between those countries is Latvia, where the sport is almost a religion.
The game was first played there in 1909, and the current "North American" style of hockey first appeared in the 1930s. For a long time it was only played outdoors. Much like in many parts of Canada, Latvians played games on frozen lakes and ponds.
In fact it wasn't until 1970 that the first indoor rink was built in the country. It was around that time that the man most consider to be the 'Wayne Gretzky' of Latvian hockey was starting to make his mark.
His name is Helmut Balderis. Aside from having one of the truly great names in hockey history, Balderis was one heck of a player.
Born and raised in Riga (the Latvian capital), Balderis was the first true hockey star the country had seen. In the 1970s and '80s he played in the Soviet Hockey League for both Dinamo Riga and CSKA Moscow – amassing more than 300 goals. During the prime years of his career, Latvia was occupied by the communist Soviet Union, meaning there was no such thing as a Latvian national team.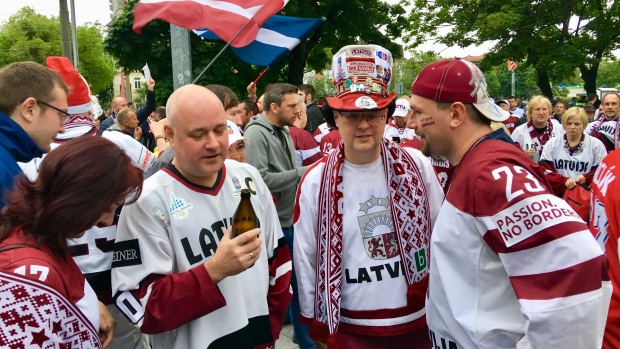 Instead, Balderis played more than a decade for the Soviet Union, winning three World Championships. He was also on the ice at the 1980 Olympics in Lake Placid when the Americans upset the Soviets for gold in the Miracle on Ice.
He retired in 1985 and became a coach in Japan. Soviet players were finally allowed to be drafted into the NHL in 1989, so Balderis came out of retirement at the age of 36. The Minnesota North Stars selected him in the 12th round, making him the oldest player ever to be drafted. He scored three goals in 26 games for the North Stars in the 1989-90 season before retiring once again.
That retirement didn't last either. When Latvia regained its independence in 1991, Balderis finally got the chance to do what he had always dreamed of: play for a Latvian national team. At the age of 40 he put on the maroon and white jersey of Team Latvia for the very first time. He would later coach the national team and became its general manager as well.
While no one knows why hockey became so popular in Latvia, there's no question that the events of 1991 played a role in making it more popular than ever. Once the country gained back its independence that year and could finally have its own national team, it meant they could finally compete on their own – and against places like Russia, who they admittedly (and understandably) don't like very much.
As a 'new' country, Latvia was placed in the Division III of the World Championships that year. By 1994 they were promoted to Division II, and by 1997 they made it up to the top flight.
In their very first appearance in Division I, Latvia shocked everyone by tying Team Canada 3-3 in round robin. It was the first time the Latvians had faced a team full of NHL players, and they proved that they belonged. Canada eventually went on to win gold, but for Latvia it was a momentous occasion.
In the 22 years that have followed, the Latvians have managed to stay in the top group. They've never finished better than seventh, and never worse than 13th. They've always been that middle-of-the-pack team who's a threat to knock off one of the big boys at any point. And when they do, you can likely imagine what the celebrations are like from their passionate supporters.
It's always fascinating to watch the crowd outside the arena before Team Latvia plays. The fans of their opposition will invariably start chanting their own songs, only to quickly be drowned out by the Latvian fans. They may try a number of times to outdo them, but every time it's a fail.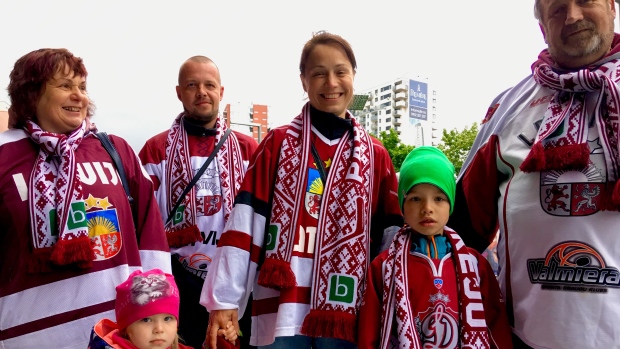 You may think that a fan base like the Latvians – one that is so deeply passionate – could cause problems, but that is simply not the case.
Two years ago in Cologne I had a great chat with the head of security at Lanxess Arena. I'd watched near the entrance as she and her team had perfectly managed a situation involving an unruly fan from another country. After things calmed down, I felt the need to tell her how wonderfully her team had handled things. She shrugged it off. "Just doing our job," she told me.
We chatted about the fans of each country – how they are to deal with, and what problems her team had encountered with each.
"There are very few problems in general," she told me. "We have had a few incidents with some Russian and Slovak fans, but it's been nothing serious – just minor things and mostly because they've had too much to drink. I've worked many German football matches and things there can be very stressful. Ice hockey fans are much better to deal with."
And she was right. In my experience you barely see any problems with fans at the Worlds. For the most part everyone is partying together and having a great time.
I asked about the Latvian fans. Considering they seem to consume more adult beverages than anyone else I wondered if there were ever any issues with them.
"Oh no, no problems with the Latvians," she said with a smile. "They party more than everyone else but they're the friendliest people I've ever met."
Here in Bratislava the plight of the Latvian team has gone as expected. They certainly won't win this year's Worlds, but they'll once again steer well clear of relegation.
The plight of their fans has been routine as well. Once again they are the liveliest bunch by a mile. Before Thursday's match with the Czech Republic, they found themselves outnumbered for the first time this week.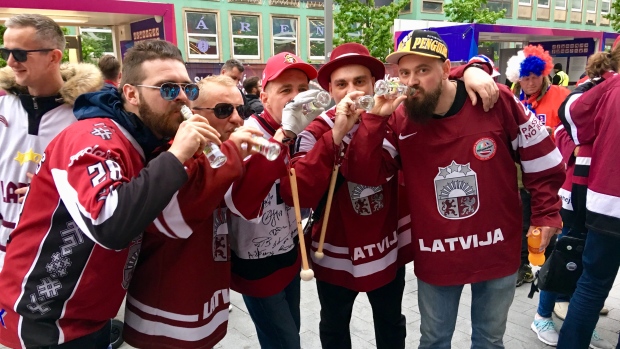 Thousands of Czech fans came over the border for the game – giving them nearly four times the amount of supporters. Despite that, the Latvians were still just as loud. At one point in the second period, they put up a message on the jumbotron encouraging the fans to "make some noise." It wasn't really necessary. The game was by far the loudest yet in Bratislava. And in the true spirit of the Worlds there were no problems between the two rowdy supporter groups.
Prior to the game, there were lineups of Czech fans waiting to pose for pictures with the most outlandishly dressed Latvian fans. The two groups shared laughs and drinks during the intermissions. It was kind of an equal admiration society. But as one Czech fan put it, "We have more numbers, but they have more spirit."
Next year's tournament will take place in Switzerland. It's one of the most expensive countries to visit in all of Europe. There are worries that the fan base will dwindle in numbers because of this, but I don't think there's a need for concern. Team Latvia will be there - and because of that, their fans will find a way. That's pretty much a guarantee.
There's one other guarantee as well. No matter what the result is for Latvia next year in Switzerland, they have already qualified for the tournament to be held in two years' time. Latvia will co-host the 2021 Worlds along with Belarus.
I hope the good folks at TSN keep me around long enough to experience that. Actually, I hope I win the lottery some time before then because I would dearly love to spend those two weeks as purely a fan. I'm not sure if I'd survive, but I'd have one hell of a time finding out.
Either way, I can't wait to see how the Latvians throw a party in their own backyard. The best fans in all of hockey won't have far to go at all.
Kevin Pratt is a producer on TSN's coverage of International Hockey, Season of Champions Curling, and MLS.