Prince Harry in Toronto setting stage for Invictus Games
The royal founder of the Invictus Games will be in Toronto today to set the stage for the multi-sport competition. Prince Harry is slated to take part in events in the city the day before the games for wounded and sick soldiers get underway.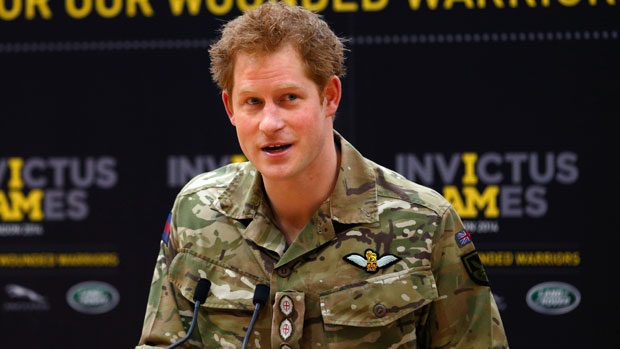 TORONTO — Wounded soldiers from several countries shook hands, conversed and shared a laugh with Prince Harry on Friday as the royal readied to launch the Invictus Games in Toronto this weekend.
The Games, a multi-sport event for injured and sick soldiers, including current and veteran members of the forces, run until Sept. 30 and are being hosted in Canada for the first time.
Harry founded the Games in 2014 as a way to inspire and motivate wounded soldiers on their paths to recovery. For participants training at a Toronto arena on the eve of the event, the royal's approach appears to be working.
"We're using the Games to get out of dark holes and back into life — and without Harry, we wouldn't be here having fun and enjoying the camaraderie, which is what you miss from the army days," said Charlie Walker, a coach of the United Kingdom's sitting volleyball team.
Walker, who was with the British army's bomb disposal unit, lost both his feet after contracting meningitis. He got a chance to have a solo chat with Harry for five minutes on Friday.
They spoke about the team, the sport, the Games, and how Walker was doing, he said.
Nearby, Canadian athlete Gaetan Lortie made eye contact with the prince as he walked through the sports centre. The two nodded at each other briefly, he said.
Lortie, a veteran of the Canadian Forces and a retired civil servant with the Department of National Defence, came to the court early to catch a glimpse of the royal.
"These games got me going again, got me active," said Lortie, who is also competing in swimming.
He has had major surgeries on both knees, has trouble with his hearing and struggles emotionally at times.
"I think the Games give us the opportunity to push ourselves, to prove to ourselves we are still capable, still able people," Lortie said.
As Harry moved between groups of athletes training for various sports, he stopped at one point by a pool, beside Poppy Pawsey, a swimmer from the United Kingdom. The royal leaned over to watch her leap off the blocks into the pool and applauded after her dive.
A beaming Pawsey said she'd never been coached by a prince before.
"That was pretty good, wasn't it," she told reporters after climbing out of the pool. "I just said to him, would you do me the honour of starting my dive? And he went, 'yeah, sure, how do I do it?'"
Earlier Friday, Harry attended a symposium on veterans' issues, where dozens of onlookers gathered outside to catch a glimpse of royalty.
The prince, however, appeared determined to keep the focus on the Games and didn't stop to interact with fans who cheered and called out to him.
Adele Eccleston, who is originally from England, was among those who waited to see the royal.
"I just popped over from across the street just to see Prince Harry and show support for his support of the Invictus Games," she said. "I think it's wonderful that he's taking a stand and supporting the efforts."
Some in the crowd, however, said they had hoped to see a bit more of the prince.
"I wished he would have waved," said Amanda Shovlin, who took a break from work to join those gathered outside the building.
"It was very quick, but I am sure he is very busy," added her friend Melissa Barkley.
On Saturday, Harry will visit Toronto's Centre for Addiction and Mental Health before meeting with Prime Minister Justin Trudeau. Later in the evening he will attend the Games' opening ceremony at the Air Canada Centre, which will feature performances by Sarah McLachlan, Alessia Cara and the Tenors.
Toronto Mayor John Tory said the Games allow people to come together and celebrate the bravery of veterans from a number of countries.
"These athletes are heroes. And I hope they will inspire this city and this country," he said at a flag-raising ceremony for the Games held outside Toronto City Hall on Friday. "They all collectively had the courage to serve, the courage to come back from injury and disability, and now they will show us the courage and skill of competitors in sports."
At least 550 athletes from 17 countries are slated to compete in 12 sports, including track and field, swimming and golf.
The first Invictus Games were held in London, England, in 2014.
— with files from Marie-Espérance Cerda