Is this finally Canada's moment?
The Canadian women's soccer team entered the Olympics ranked No. 10 in the world and are the only squad with a perfect 4-0-0 record. Seems like quite a magical ride through the tournament. "Magic ride? No," said Christine Sinclair. TSN's Mark Masters has more ahead of today's semifinal match against Germany.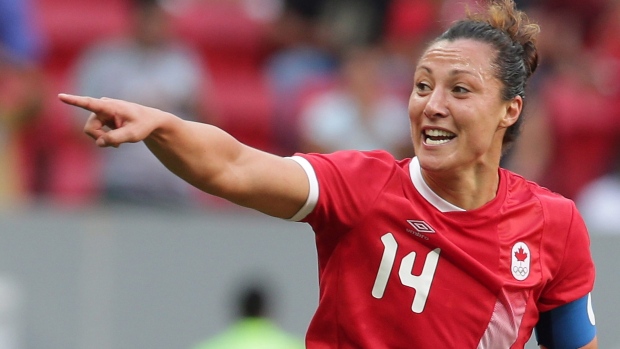 BELO HORIZONTE – The Canadian women's soccer team entered the Olympics ranked No. 10 in the world. They opened with a win over No. 5 Australia. Finished the round robin by beating No. 2 Germany for the first time ever to clinch top spot in the group. Then, in the quarterfinals, Canada beat No. 3 France. Seems like quite a magical ride through the tournament.
"Magic ride? No," said Christine Sinclair firmly. "We've earned this. For me, it's been, God, since I was 16 and joined the national team. Yeah, it's been a lot of hard work, a lot of sweat, a lot of sacrifice. I don't think any of us consider it a magic ride. We've earned every result here and hopefully the other teams are fearing us now."
They should. Canada is the only squad with a perfect 4-0-0 record. They've scored seven and conceded just two.
"You talk to any player on this team and we expected this," Sinclair said. "We set a lofty goal for ourselves knowing that we're capable of reaching it."
That goal isn't just the podium, which Canada reached four years ago in London winning an unlikely bronze medal. The goal is gold. Before the Olympics began, Sinclair didn't mince words. Rio 2016 was about proving that four years ago was what Canadian soccer was all about. It wasn't a fluke. This country is a contender to win it all. And, so far in Brazil they've proven just that.
"I think we're the best defensive team in the world," Sinclair said, "and we catch teams on breaks and set pieces and hopefully that can continue."
It won't be easy. On Tuesday, Canada will once again face the Germans, who Sinclair said will feel like "they have a point to prove," because of the group stage loss.
But there's a special feeling around this Canadian squad, which is a blend of a veteran core featuring six players returning from the London team as well as a group of up and comers, who seem ready to take the torch and run with it. It could have been a recipe for poor chemistry. Instead, the team has gelled just as head coach John Herdman hoped.
"They're in great spirits," Herdman said with a laugh when asked about the mood around his team. "I was in a meeting room last night and they were doing something (to do with pop culture) and I could hear them belly laughing and it's not often you hear that. I was chuckling away at myself, because I can't remember anyone doing that since my young daughter when I was tickling her so I was wondering what the hell was going on."
"The team's very relaxed right now, very confident," said goalkeeper Stephanie Labbé. "We're getting results, but we know with those results we've put in a lot of hard work and there's a lot behind the scenes that's happening with that. The team's really coming together. We have great spirits right now and the biggest thing you're seeing is we're overcoming adversity on the field and that's because we're remaining so tight off the field."
But good chemistry alone won't win anything. The veterans on this Canadian team know that all too well. Four years ago, Canada seemed to be a team of destiny. Sinclair put forward a performance for the ages scoring a hat trick in the semifinals against the Americans, but it wasn't enough.

"Personally, I learned a lot from London, not to get ahead of ourselves, it's one day at a time," Sinclair said when asked if she felt the excitement building.
"This is our third Olympics for a core group of us," said Melissa Tancredi, who scored twice in Canada's win over Germany. "We know what to expect now and can kind of calm the nerves and have more control over our emotions."
The devastating loss to the Americans four years ago, aided by a controversial call by the Norwegian referee, still stings even for the players, who weren't on the pitch that day. For this Canadian team, a win on Tuesday would almost be righting a wrong.
"I think this has probably been the most enjoyable Olympics for most of us," Tancredi said. "Again we're in the semifinal game and we have a chance to do it right this time."
Herdman has a plan to channel all the emotions into the right direction heading into Tuesday's semifinal showdown. Before every match, the team will do something to galvanize and focus them. Before the quarterfinal win against France Desiree Scott sang the national anthem and the group took a moment to talk about the people who helped them get to the Olympics.
Herdman has something extra special planned for the lead-up to the semifinal.
"We got a nice little message from GSP, which the girls don't know yet," the coach said with a smile.
He's referring, of course, to Canadian UFC great Georges St-Pierre.
"If anyone knows how to become a world-class athlete and do it the hard way, that fighting spirit and grit to grind out fights (it's him)," Herdman explained. "There's always something we do trying to connect the group emotionally and spiritually and clear things up so they just have one thing in their mind."